Content Marketing Trends to Inform Your New Year Marketing Strategy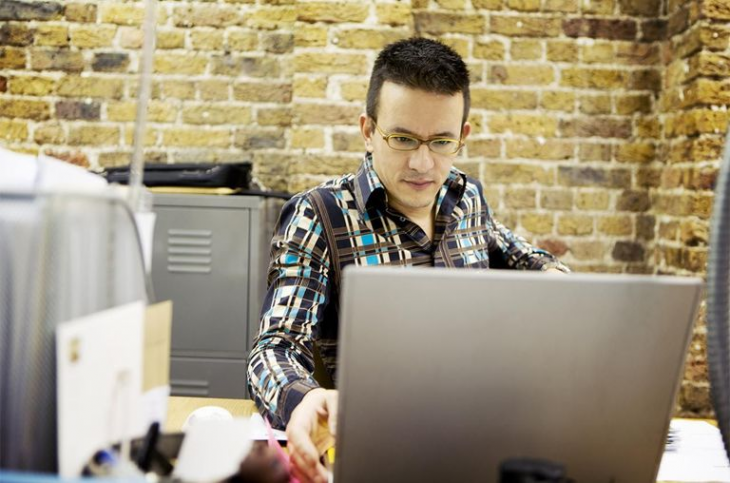 The year is coming to an end, holiday packing is almost done, and it is high time to unwind and make plans for the upcoming year. If you are a marketer and you're all about making informed decisions, any plans for the next year need to be guided by data. After all, it is after learning from experience that we are able to make better decisions that bring positive results.
The best example to illustrate the value of data and learning from experience would be the rise of content marketing as a trend within the digital marketing landscape. Those who understood the importance of content marketing and how it fits perfectly with the needs of the digital consumer have spent the past few years adapting to the change. In fact, almost 70% of consumers prefer learning about products through content. 
One may think that marketers would then take this fact and start targeting their customers the right way with content marketing. However, according to a survey published back in 2017, 70% marketers lack a consistent and integrated content strategy. As a result, generating leads and traffic remains a significant challenge for many marketers.
Because a new year symbolizes a new beginning, there is still time for marketers, entrepreneurs, and business owners to observe the prevailing trends, understand what their consumers really want, and make informed decisions to meet market needs successfully.
Top Content Marketing Trends & Lessons of the Year
Without wasting time, let us look at some of the top content marketing trends of the year and what we can learn from them going forward:
1. Display Advertising Builds Traction Yet Again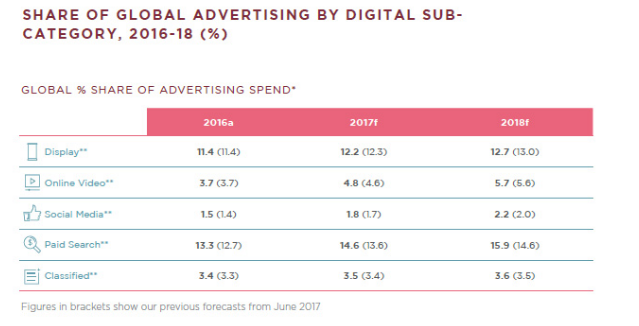 As you can see from the diagram above, display advertising continues to enjoy the interest of marketers.
At first, it may not make sense when you think about the rising popularity of inbound marketing. Wasn't display advertising dead? The whole idea is to make customers come to you, right? That is exactly what is happening here. Display ads are being used for remarketing. 
Simply put, remarketing is showing the visitors ads about the product or content that they once consumed on your website and left. Most users on the internet have been subject to remarketing, and for good reason. In fact, 25% of users enjoy retargeted ads!
The Takeaway:
Website visitors who are retargeted are 70% more likely to convert into customers. Retargeted ads command a 10X higher CTR than their normal display ad counterparts. The takeaway here is pretty evident, if you are not already investing in remarketing, this is a great time to start.
However, don't expect the competition to be easy. 49% of brands and almost 70% of agencies already have a budget dedicated to retargeting. Here are four ways you can begin retargeting before the holidays:
Google Ads Remarketing: Remarketing on Google AdWords is super simple. All you need to do is build your ad, add it to the campaign, and add the remarketing tag to your website.
Facebook Remarketing: With a similar concept to Google AdWords, Facebook remarketing allows for more precise targeting options such as targeting by customer list, website traffic, and engagement on Facebook.
Link Retargeting: Link retargeting is a relatively new technology pioneered by 

ad-tech 

firms like RetargetLinks founded by Serge Salager. The technology lets you share a link through the platform. Whoever clicks on the link can then be shown your banner ads again later.
2. Mobile Users Take Centre Stage

This comes as no surprise considering that the number of mobile device users surpassed desktop users in 2016-17 and have continued to rise todate. 
However, as we can see in this next chart above, the parity in the ad spend continues to increase. While this trend was one of the most noteworthy in the previous years, and several webmasters have prepared for it by adopting responsive website design, mobile users want more.
As our devices get smaller, our attention span does too. This means written content may still hold its importance in the coming years. And more users are looking for more engaging content as the stats show in the chart below: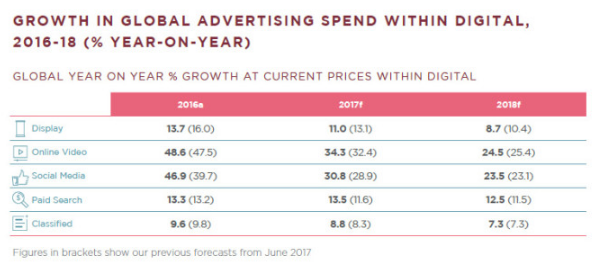 Online video continues to enjoy a hearty share of digital advertising budget. Video is arguably the most engaging and enticing form of communication, especially if you are a brand. According to Forbes, 90% customers agree that video helps them make better purchase decisions. 64% say that watching a video makes them more likely to buy a certain product.
The Takeaway:
While the simple takeaway here is to start making videos, it is important to remember that users on YouTube consume over 500 million hours worth of videos every day. This means that there is an abundance of video content being produced. This, in turn, means two things:
Making videos is becoming easier: Several small businesses are producing videos without the help of a professional agency or an endless marketing budget. With free tools like Animatron, anyone can make a video.
A lot of poor content is being created: When something becomes so easy, and everyone starts doing it, the quality of the outcomes is bound to degrade. While making videos is cheaper and easier than ever before, brands need to be very cautious about what they are putting in front of their viewers. A great explainer video can be the differentiating factor between you and your competition.
Video is projected to claim 82% of all consumer web traffic globally by 2022, up from 73% in 2017. It is time to invest not just money, but diligence and thought into producing great videos that add value to the lives of our consumers.
3. Personalization wins
Customers love personalization, and this year has fortified this claim with plenty of data to support it.
We already knew that consumers are willing to give up personal information in exchange of personalized experiences. It is no surprise that a Hubspot study found that personalized calls to action perform 202% better than default CTAs.
Interestingly, in a survey conducted at the beginning of the year, only 7% marketers cited personalized marketing as their number one priority. Bottom line, personalization is a low hanging fruit that you should grab quickly.
The Takeaway:
The takeaway here is simple, embrace personalization. Early adopters are already enjoying several benefits. However, keep in mind that your consumers are now more informed than ever before. Basic personalization, for example, an email that uses their first name, is not enough to engage consumers.
When you start with personalization, keep the following things in mind:
Understand your buyer personas in depth. Personalization is a time consuming effort, and it is important to make sure you are reaching the right customers on the right devices.
Analyze each customer interaction to enrich your buyer personas. This will help in scaling your personalization efforts and growing out of basic personalization.
Personalization doesn't stop with the purchase. In fact, customer success, i.e. making sure your customers enjoy the maximum benefits of your product, is an important factor in fortifying long-term relationships and propagating positive word-of-mouth.

When done right, a data driven personalized approach can enable brands to reach to the right customers, at the right time, and deliver the optimal message. When you can do that, you can even convert uninterested prospects into paying customers!
Conclusion
Content marketing is still a critical form of marketing. The only way to excel at it, though, is to understand the needs of your audience and produce engaging content that addresses their needs. The need of the day is to use content to build relationships instead of merely using it to make sales. 
Pay attention to adding value to your customers at every stage of the purchase journey, and use content to empower them after the sale is done.