Why Connecting with Your Customers Should Be a Core Business Priority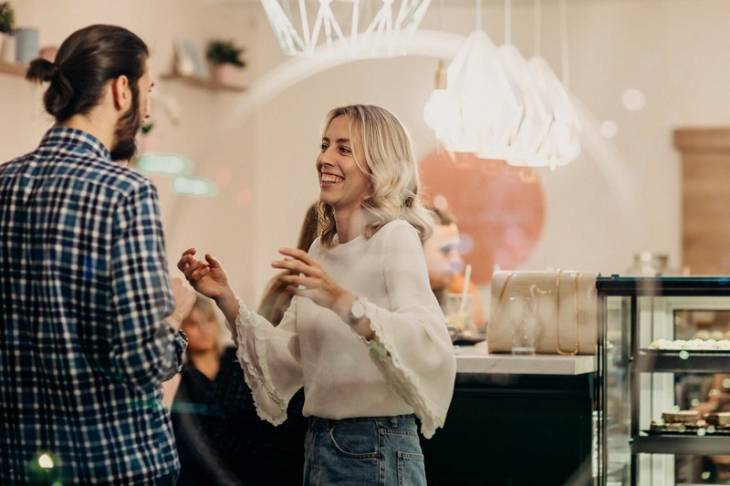 We all know that customers are essential to our businesses. Your returning customers will make up the bulk of your income, while you need to continually attract new ones.
Limiting your customer attrition is also important. Research from Accenture shows that 68% of customers who leave a business will not return.
With this in mind, let's highlight why connecting with your customers and building lasting relationships is essential to the success of your business, as well as how you can connect effectively and deliver excellent customer service.
Reasons Connecting with Customer Is So Important
Connecting with customers and building lasting relationships with them hinges on your professionalism and service delivery.
Think about some good and bad experiences you've had with businesses. Which ones did you feel an emotional connection to or strong sentiments towards? Did you stop doing business with the company whose customer service let you down and continually return to those businesses with great customer service?
The same applies for your customers too. A good customer experience – whether that's with your customer service team, self-service tasks online, or simply using your products or services easily – will create a positive connection and foster customer loyalty. A bad experience, on the other hand, could see you lose this customer for ever.
Not only does your customer experience affect your relationship with and retention of customers, but it can also impact your brand perception. As such, you can use loyal customers you have connected with and their testimonials as powerful marketing tools. But customers who've experienced difficulty with your business can have the opposite effect.
Someone who has had a bad experience with a business will tell on average 9–15 people about their experience. In this age of online reviews, it's easy for them to splash this across your website, third-party review forums, or on social media. And research shows it takes 40 positive reviews to undo the effects of one negative one, so you can see why this is a concerning issue.
How to Connect & Deliver Outstanding Customer Experience
Customer experience comes in a lot of forms. For many businesses, your customer services will have the most impact. If your team is difficult to get in touch with or they struggle to resolve your customers' queries, this will impact their view of your business and you won't be able to engage and connect with them.
It doesn't stop at your frontline staff though. Can your customers easily buy through your website, or does it involve a number of unnecessary steps? Are your products high quality, or will they break easily? Do you stay in touch regularly with your customers?
Below are some tips on connecting with your customers to ensure a great experience that can keep them loyal to your brand.
1. Offer benefits that your customers want
Many businesses will offer benefits that they think customers want when, in reality, they're demanding something completely different. Free returns, if you're an e-commerce business, is one of the most popular incentives for customers – 19% wouldn't complete an online transaction if they weren't offered it.
For businesses that offer services, use customer feedback to inform the benefits you offer. Hotels, for example, could see more bookings by offering free breakfasts if previous guests have fed this back.
Don't forget about promoting your add-on benefits, too – using an IPTV portal (an interactive interface) on the TV in your guests' rooms will allow you to promote your benefits, as well as the additional paid products and services you offer, giving you the opportunity to generate more revenue.
2. Give your customers different options
If your customers need to contact you, don't use a one-size-fits-all approach. In the digital era, many businesses are replacing human customer service representatives for chatbots. Although this can be an effective strategy, it's important to ensure your customers can contact you in their preferred way.
Half of UK consumers, for example, prefer to interact with a human over a chatbot. Research shows that, while at their lowest level ever, phone calls with live agents are still the most common form of interaction, accounting for two-thirds of inbound enquiries.
So, while businesses are implementing digital contact methods, it's important to not do this at the expense of more traditional forms of contact.
3. Offer incentives for loyal customers
Your loyal and returning customers are the lifeblood of your business. Their experience matters, so it's vital to keep them happy. By offering tailored incentives – whether that's money off their next order, free delivery, or complementary services – you can show them how valued they are.
What's more, you can also take this a step further and offer rewards or incentives in return for a positive review, testimonial, or case study. 90% of people will trust a brand if it has been recommended, even by strangers, so this type of marketing is very powerful.
4. Check in regularly with your customers
Checking in with your customers, whether or not they're actively purchasing, will show that you care about them. There is a fine line to walk, however. While personalized email marketing, for example, can ensure your brand is always front of mind, irrelevant messaging can put people off. 28% of people would unsubscribe from a mailing list if they received irrelevant communications.
Don't forget about the human touch either. Often, when a customer is thinking of switching suppliers, they won't clue you in or discuss their concerns with you. If you keep in touch with them via regular review phone calls, you can identify any potential issues before they become unresolvable issues.
In Conclusion
In the digital era, delivering an excellent customer experience is more important than ever. Poor reviews can ruin the reputation of your business. On the flip side, keeping your customers happy presents opportunities to attract new clients.
Whether you're a large or small business, taking on board these tips can see you improve your customer satisfaction.