CertifiKID Acquires Macaroni Kid, Creating Parent-Focused Digital Media and Advertising Powerhouse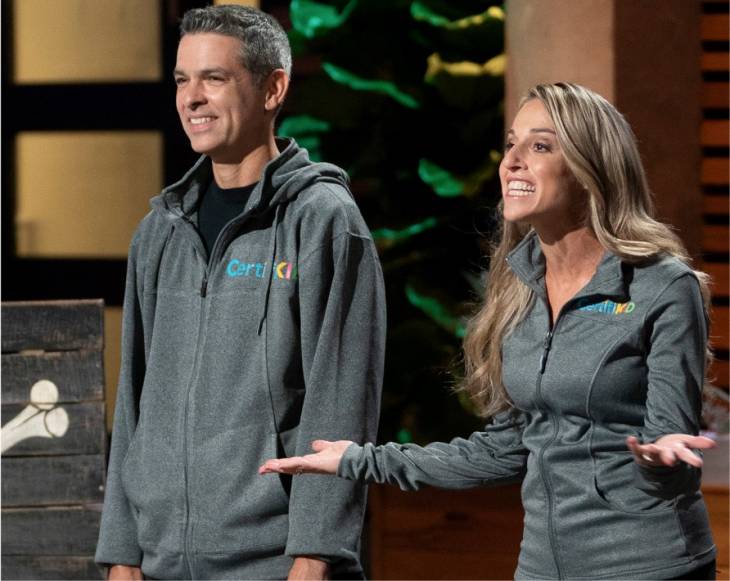 CertifiKID Founders, Jamie and Brian Ratner, pitching their company on ABC's Shark Tank. © 2018 American Broadcasting Companies, Inc.
CertifiKID, a Maryland-based and nationally recognized website that offers discounts on kids activities and family experiences, has acquired Macaroni Kid, a digital media powerhouse that delivers hyperlocal content on kids activities and family-friendly events, destinations, products and services to parents nationwide.
The acquisition positions CertifiKID as one of the largest parent-focused digital media and advertising companies in the country, as well as the premier resource for parents nationwide to discover and save on everything families want and need – from kids activities, camps, classes and birthday parties to family-friendly experiences, events, products and services.
"We are extremely excited to welcome Macaroni Kid to the CertifiKID family and look forward to leveraging the tremendous capabilities each of our companies has built over the past decade to deliver unmatched value to our parent members and business partners across the country," said Jamie Ratner, CertifiKID Founder and CEO.
"We believe we have found the perfect home for the Macaroni Kid community with Jamie, Brian and the CertifiKID family. Our passion has been to create family-focused content and empower women. CertifiKID shares this passion and we are confident their leadership will lead to enthusiasm, growth, and success for our loyal readers, fabulous publishers, and dynamic advertisers, said Joyce Shulman, Macaroni Kid Founder and CEO.
Ratner, a Washington, D.C.-area mom and self-professed "Expert Deal Finder," launched CertifiKID with her husband Brian in 2010 focusing on deals specifically geared to kids and families. CertifiKID took off immediately and has since grown into a $6M+ per year business with scores of parent members nationwide who purchase deals that save them up to 50% off on everything from indoor play places and amusement parks to family getaways and summer camps.
The business received a jolt last year when the founders appeared on ABC's entrepreneurship reality show "Shark Tank" and secured an investment from Shark Kevin O'Leary (aka "Mr. Wonderful"), one of his largest in 12 seasons on the show.
"The exposure CertifiKID received from 'Shark Tank' and our partnership with Kevin O'Leary and his first-rate team have allowed us to grow exponentially over the past year to offer our family-friendly deals to even more parents across the country," said CertifiKID Cofounder and President Brian Ratner. "Our acquisition of Macaroni Kid builds on this success by providing broader resources and more nationwide and hyperlocal capability that are truly unparalleled in the industry."
Founded by husband and wife team Eric Cohen and Joyce Shulman in 2008, Macaroni Kid's unique business model leverages a grassroots army of local mom publishers who provide parents the scoop on the best things to do and places to go with kids in more than 4,000 communities across the country via hyperlocal e-newsletters, websites and social media. These influencers are also a key component of Macaroni Kid's national advertising campaigns, connecting millions of local parent subscribers with major national brands via authentic, experiential digital content and events.
"During this time when the local experience market is severely impacted by COVID-19, we saw an opportunity to connect parents with products and services that will help them get through this challenging time at home with their kids. Macaroni Kid will help us provide an unparalleled platform for brands to reach this highly sought-after parent demographic, and will be instrumental in allowing us to more rapidly scale our family-focused experience deals to communities nationwide once demand returns," said Jamie.
CertifiKID will keep the Macaroni Kid team and platform in place as a complementary division, seamlessly integrating both businesses to provide a singular destination for the best in digital parenting lifestyle content and a comprehensive resource for helping parents on a budget provide the best experiences for their kids. Joyce Shulman and Eric Cohen will stay on in an advisory role for a transition period before turning their full focus to their new venture, 99 Walks.