Blueprint for an Efficient, 5-Star Restaurant Kitchen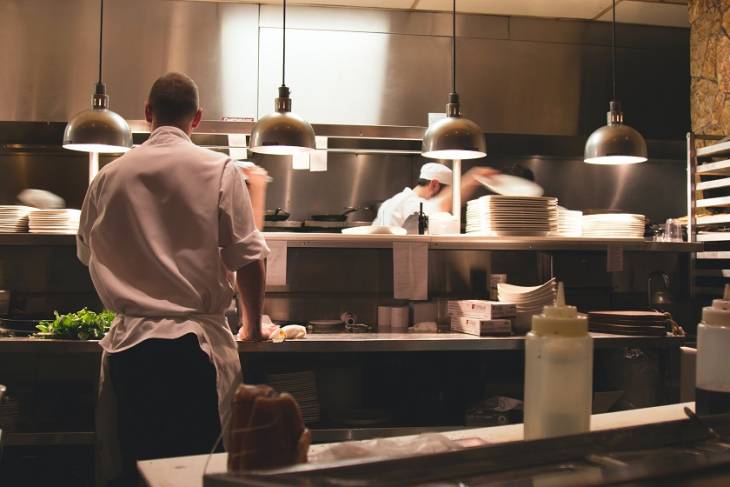 Kitchens are at the center of action in every restaurant. For a restaurant to succeed, having an expertly-skilled staff is not enough. A well-designed kitchen goes a long way in improving operational efficiency while remaining aesthetically pleasing.
What sets restaurant kitchens apart from their home counterparts is that they are designed to accommodate the high-level preparation and operations needed to serve customers.
The proper layout creates a smoother workflow, as the kitchen is built and arranged to be a good match for specific functions.
Must-Haves for an Efficient Restaurant Kitchen
There are several essential elements to any restaurant kitchen. These features allow the staff to keep the kitchen in order, make and prepare dishes, and do other necessary kitchen tasks. They are:
Walkable paths
Set fixtures and appliances
Interior features
Windows and doors
Tables for preparation, and
A washing area.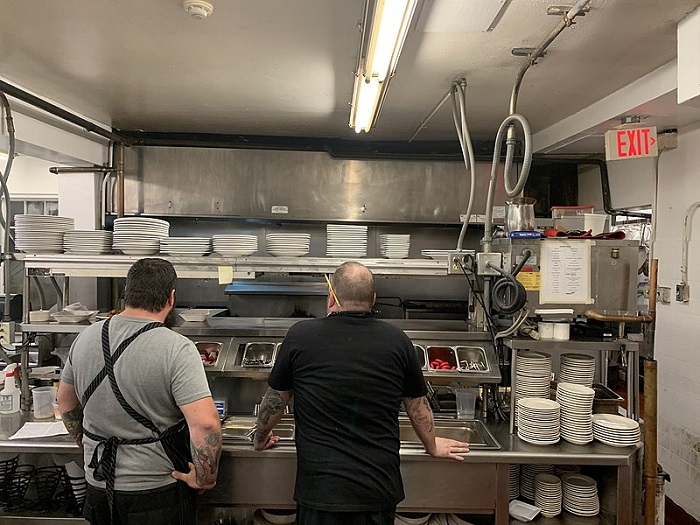 Movement is unavoidable in a kitchen—it is necessary for cleaning, stocking the inventory, cooking, plating, and so on. Walkable paths ensure that staff can move around without bumping into each other or blocking the flow of movement from one station to another.
Set fixtures and appliances like refrigerators, stoves, and ovens make it possible to keep up with the cooking and preparations necessary for serving customers.
Meanwhile, interior features like countertops and shelves provide the space required to work and store items in easily-accessible places. Both these features will require a well-planned layout to ensure they are installed in places that help the overall kitchen workflow.
Food preparation is a critical part of putting together dishes, making it necessary for restaurant kitchens to have dedicated tables for it. This is also to avoid contamination or spillage, as well as to keep the general area clean and organized. These preparation tables can either be fixed or mobile (through wheeled tables), depending on the space available and other needs.
A dishwashing area ensures that dining ware can be properly washed and sanitized for subsequent use, allowing the kitchen staff to clean up after meals. This area is also essential for washing produce, cooking and preparation tools, and other items that need to be cleaned before and after use. This ensures that proper health and sanitation standards are upheld.
Finally, windows and doors provide vital connections between the back-of-house and front-of-house staff. The position of windows and doors plays a major role in improving the restaurant kitchen's efficiency, as it determines the direction of food leaving the kitchen and used dining ware entering it.
Characteristics of a Winning Restaurant Kitchen
A combination of capable staff and good kitchen design is what makes a restaurant kitchen efficient. Efficient kitchens enable a smooth workflow, improve staff training capabilities, provide easy access to specific kitchen equipment, and have good ventilation.
Choosing the right layout—assembly line, zone-style, island-style, and gallery, to name a few—provides each aspect of kitchen operation a position that matches the overall workflow. As a result, the workflow is smooth and uninterrupted, and the staff can accomplish tasks with ease.
The right layout also affects the positioning of storage solutions and workspaces, putting the necessary tools and equipment that chefs, cooks, and other staff need within easy reach.
Good ventilation is also key to keeping operations efficient within a restaurant kitchen. Proper circulation through range fans and hoods reduces heat, smoke, and odors mixing to ensure that staff breathe well and work comfortably. This also prevents dishes from becoming compromised by various smells.
Finally, training new employees for cooking and back-of-house jobs can be challenging. With an efficient restaurant kitchen, training is simplified by logical workflow and well-organized areas.
Blueprint of a 5-Star Restaurant Kitchen - Infographic
To learn more about the making of an efficient, 5-star-worthy restaurant kitchen—from essential features, typical layouts, and characteristics—check out the infographic below by the folks at Charlie's Fixtures.