High School Classes That Are Great for Business & Entrepreneurship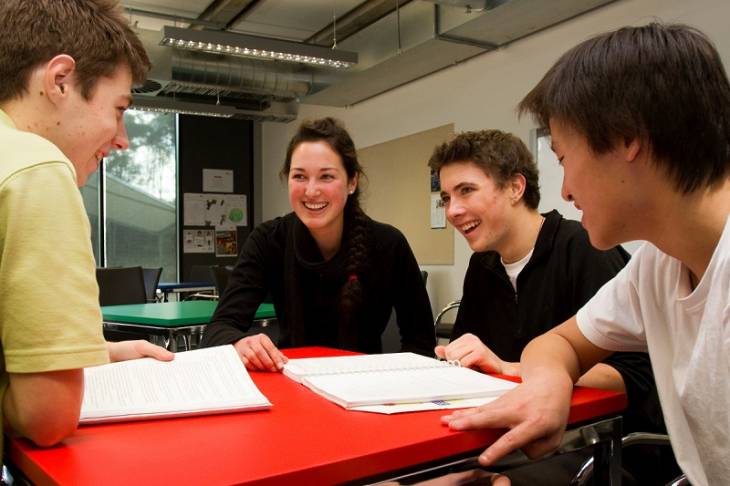 Students at Albany Senior High School, New Zealand. Photo: Mosborne01 / Wikimedia.
For young people looking to start their own businesses after high school, taking advantage of all the educational opportunities available at their school is important.
Students must decide which classes to choose in school that will get them off to a good start as entrepreneurs, while also taking advantage of all the learning options online.
With dozens of different classes and course options in schools, however, it can be difficult to choose the right classes and courses to hone your business and entrepreneurial skills.
To help entrepreneurial students make the right decisions and pick the right classes to hone their business skills for the modern world, we'll highlight some of the best classes, learning and training courses for business they can take while in high school and after.
Business-Aligned Classes in High School
With the advent of online learning, many new online business classes and training courses have been introduced to cover all bases of starting a business.
Classes commonly available that students in high schools can choose include:
Entrepreneurship
Personal Finance
Computer Science
Media Studies
Social Studies
Some of the options in this bullet list above might surprise you, such as computer science and media studies, but they are actually very important in our digital age.
All of those classes, however, are excellent subjects to choose in high school and they go really well with the current business landscape. More on that below.
1. Computer Science
Computer Science is a vast field. You have the opportunity to get up close with the devices you'll use every day in business. If you love computer science, you can combine it with other business courses and excel.
Whether you want to open up your own software hub or become a freelance IT specialist, studying computer science will give you the opportunity to start your business and know how to thrive in today's digital world, thanks to your computer science background.
You will learn computer languages, which will come in handy when building your business websites and apps that'll help your business grow and reach customers and leads online.
With the proliferation of the internet and digital technology, more people are hanging out online and engaging using various computer-powered, internet-connected devices. That means learning computer science can open vast and unending opportunities for you.
2. Management Class
An important aspect of any business is management. Without proper management, no business can succeed and continue to thrive.
From teamwork to decision-making, and organization skills, everything is taught in management classes. This education will be invaluable when you start your business.
Some high schools also teach financial management, which is a huge bonus. You get to learn how to open up and run a business without blowing past your budget.
By learning management, you not only learn how to run your business like a professional, but you also learn more about managing people and being efficient through and through.
3. Marketing Classes
Now, marketing is the key to growing your business exponentially. With the right marketing, you can win new clientele and help your business grow exponentially.
No business can prosper without marketing. After all, how will you reach new clients and offer your business' services or sell your products to the world?
4. Social Studies
Social studies are especially useful for young social entrepreneurs aiming to develop and implement solutions for social, cultural, or environmental issues in society. But all business people stand to benefit by taking social studies classes.
Social studies is essentially the study of man and his environment. It focuses on making us understand the interrelationship between man/woman and their environment. The primary social sciences include: Anthropology, Economics, and Political science.
However, social sciences include many elements of other disciplines, including ethics, psychology, philosophy, art, and literature, which can make you an all-round better business person able to interact and understand the nuances of human behavior and social codes of conduct when interacting with people in your business.
Social sciences are widely-used and valued by business people and you can use these studies to understand consumers and markets, in strategic planning and risk analysis, in running businesses day-to-day (including finance and HR), and much more.
5. Media Classes
Media classes teach students critical-thinking skills and helps them become more aware of the impact media has on their thoughts and actions. It can help you become more attune with the impact of social media and other media in the success of your business.
And in this day and age where everyone peruses the internet, has a presence on social media networks, and news spreads fast, often going viral in no time, you need to be media savvy to succeed in business.
Taking media classes in high school will teach you all you need to know about digital and traditional media early on, including how to create effective content for different media to spread your messages successfully, including your marketing messages.