10 Awesome Ideas for Your Next Virtual Event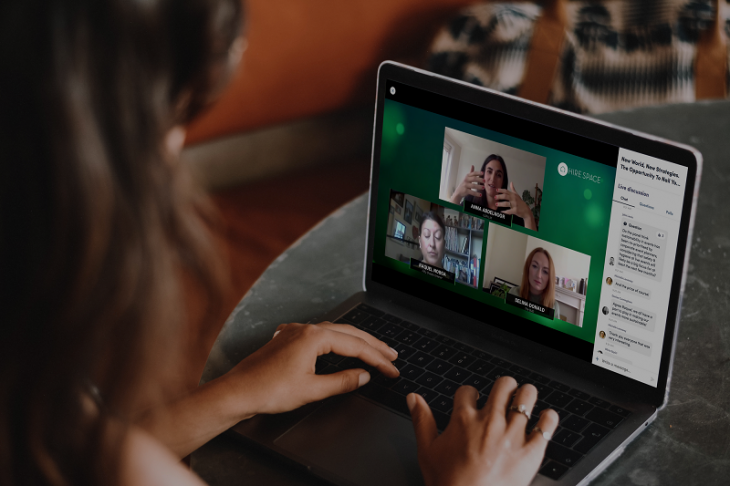 The age of virtual events is upon us. During the coronavirus pandemic, virtual events exploded onto the scene as a safe, exciting way to conduct business and social affairs.
Since virtual events are high yield with comparably low overhead, they are likely to remain popular long after pandemic restrictions and virus itself fades away.
But how can you ensure your virtual events stand out from all the events now happening online?
There are many innovative ideas you can use for your next virtual event that we'll highlight shortly. But first let's list some of the different types of virtual events you can organize.
Types of Virtual Events You Can Organize
1. Virtual Product Launch
Doing something new? Let the world know with a virtual product launch. Virtual events have the benefit of scalability and international access.
Grow your audience with potential clients around the globe by hosting an event with minimal barriers to attendance. No expensive plane tickets, no travel expenses, and all of the brand exposure! What's not to love?
2. Virtual Employee Recognition
Don't let employee milestones and achievements go unnoticed. Virtual employee recognition events are a great way to acknowledge the hard work your team put into growing and supporting your company.
Recognition events can aid in employee satisfaction and retention, as well as networking across teams and locations which can benefit the entire company.
From anniversaries and awards to general appreciation, virtual events are a good way to acknowledge and reward your employees with an event just for them.
3. Virtual Fundraising
Organizations, especially nonprofits, have a wealth of opportunities available to them in the virtual world. Auctions, galas, and other fundraising events are perfect for a virtual format.
You don't have to sacrifice any of the ambiance of a traditional event to host online—the right platform can elevate your event to meet any theme or level of formality.
Virtual events can broaden your audience to donors beyond the scope of a traditional fundraiser. So, take advantage of chat functions and breakout rooms to incorporate the networking benefits of in-person contact.
4. Virtual Holiday Events
Bring on the twinkle and shine! Between November and January, celebrations abound around the world. This is the time to start planning your company's holiday events.
Advantages to a virtual holiday party are numerous—connect teams that work in different cities, reduce overhead, and encourage networking throughout the company.
Take the time to celebrate with your clients and colleagues alike the pandemic challenges.
5. Hybrid Events
As the world slowly returns to a new normal, hybrid events—that feature both in-person and remote attendees—provide the best of both worlds.
The excitement and drive of a traditional event meet the expanded audience and exposure of a virtual event to create an event to remember.
Technology can bridge the gap between the physical and remote attendees, allowing for a broad networking base and real-time data gathering for presentation and marketing purposes.
Best Tips to Host a Successful Virtual Event
Once you decide on an event, you not only want it to be memorable, but also effective. Here are some success tips and innovative ideas that'll help you make the most of your next virtual meeting.
1. Choose the right platform
Different events require different services, and you will want to know that your virtual platform can handle everything you throw at it.
Companies focus on different markets and types of gatherings, which means choosing the right provider can make a huge difference in the outcome of your event. Getting the right provider and platform may be the most important decision you make while planning. Take your time to understand the offerings available to you.
If that seems like a high-pressure decision, don't worry. Directory sites can help you sift through your options to find one that fits your needs like a glove. They can help you find providers, see their offerings, and even showcase premium services.
2. Spread the word early
Having the world at your fingertips only matters if you can draw your audience in. Start spreading the word on social media and other outlets early and often.
Targeted omnichannel marketing, which focuses on delivering a consistent, personalized experience for shoppers across all channels and devices, will increase the number of potential attendees you can reach as well as build excitement surrounding your event.
Get your company on client, sponsor, and marketer calendars as early as possible to ensure that your event will reach your attendance goals.
3. Know—and test—your tech
Technology is the key to your virtual event's success. It is mission critical that presenters, emcees, and support staff all understand exactly how their roles will play out on the platform you choose. Testing prior to going live will help find and eradicate potential issues, as well as make sure everyone understands how the event will flow.
Attendees will access the event services in a myriad of ways, including mobile phones, tablets, and computers with different operating systems. A good platform will provide seamless access and communicate how to use their services in advance of the event, allowing attendees the freedom to choose how they use event resources. They should also provide support information and contacts in advance for attendees who may encounter issues.
4. Be safe
Security is another crucial part of your technological services. Allowing attendees uninterrupted access to the correct data and services while preventing the misuse of data, recordings, and other secure information is absolutely essential to the success of any event.
Providers should have measures in place to provide the necessary security that protects both corporate and individual data.
5. Let's talk
Networking is a basic component of any event, traditional or virtual. Chat functions, breakout rooms, and other technology can provide attendees a chance to connect and interact with presenters, sponsors, and each other.
Attendees should be able to ask questions, receive answers, and, when appropriate, mingle. Relying too heavily on any one method of information dissemination, be it textual or visual, can also reduce the effectiveness of your message.
Shake it up! Allow attendees to interact, vary presentation styles, and build in breaks to refresh attention spans.
Final thoughts
Virtual and hybrid events are excellent solutions for companies looking to connect a geographically diverse audience or comply with COVID safety measures.
Like any event, virtual events require proper planning and appropriate venues, and there are a lot of moving parts to consider. This is where choosing the best virtual event platform can make or break your event.
If you have questions or need guidance, a virtual event management site is a great resource. From there, you can find the right fit for the event you have envisioned.