Trade Fair Booth Design Ideas & Tips for a Great Business Exhibition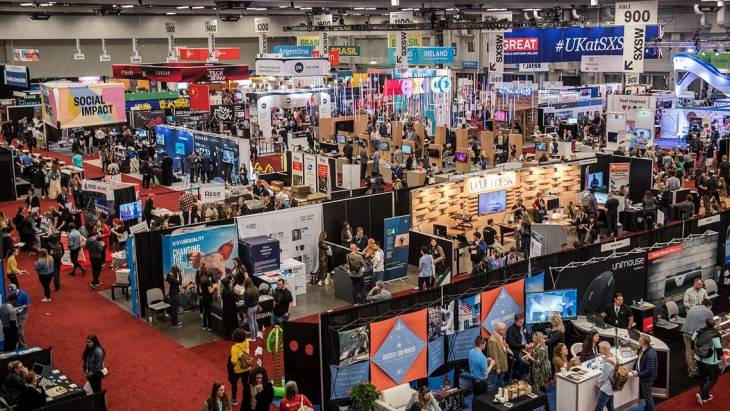 SXSW Trade Show 2018 - Photo by Merrick Ales
Trade shows (trade exhibitions, or trade expos) are avenues where you can set a good direction for your company in terms of finding new prospects and new connections for your business. In fact, about 81% of trade show attendees are potential customers.
Among the attendees at trade shows are prospects, potential partners and supporters. A trade fair presents a great opportunity to not only promote your products, services and brand, but also study activities of rivals, and examine recent market opportunities and trends.
If you get an opportunity to exhibit your business at an industry trade fair, you need to present a good showing. That means you need to make the right preparations in setting up your booth.
Don't know where to start? Don't fret, we're here to help.
Top Trade Fair Tips & Ideas for Successful Business Exhibition
Here are some ideas and booth design tips that you can make use of as you get ready for a great show and business exhibition:
1. Be Distinct and Obvious
In your search for booth design ideas, your goal here is to stand out and be distinct. With a good number of booths in the expo area, you will be vying for visitors to check out what you have on display and what you offer.
In this case, look into having a design that is eye-catching and inviting. Aside from your brand logo and your color combination, also look into the layout and design of your booth.
Your first consideration is your brand's design theme. Make sure it is consistent throughout your booth design. This should reflect on the color choices and on the design.
Meanwhile, on the part of the graphics and text, make sure that they are of the right format. Text size should be at least 3 to 4 feet to ensure easier reading at far distances. Have your company logo in various areas of the booth for easier recognition and recall.
There are other designs that you can take note of. You can check them out through this selection of booth design ideas.
Whichever you choose, remember the goal behind the booth. You have to stand out and be distinct amidst the countless other booths. Show them what you can offer.
2. Tell Them Exactly What You Do
In the line of what we mentioned earlier, do note that there are times where a brand name and logo is not enough. When you look at other brands like Google and Apple, they have built their brand image that people know what the offer.
Let's say, for example, you're a startup company and are in the business of making writing apps. Being new to the scene, how do you proceed?
Aside from showing your company's logo and name, you will have to tell people what you do as a company. Don't proclaim it too often, however. You can let your signs and banners do the talking.
This can also appear in your banners, as well as in your brochures which you can also provide to your prospects.
If you are using videos shown on monitors, you can also make a presentation through that. It serves as a sort of a more visual explanation.
Also, this would be a great opportunity to show what your company offers. If you have products that you can put on display, do so. Entice them with what you offer and it may also pique their curiosity to find out what your company is all about.
3. Highlight Your Brand Story
Consider this particular idea as an approach that you can take when setting up your trade fair booth. Think about how you tell and convey your brand story to your prospects. For instance, one of the things that you can share is the journey of your company through different signs or pamphlets.
If you happen to be an organization or a foundation, think of setting up details on how the organization started and what factors led to its formation. What pushed you to be there? What is your driving force?
You can present this in various ways. Whichever your brand story is, remember to respect it when conceptualizing an idea for your trade fair booth.
Every now and then, you might encounter other booths that have amazing creative ideas that unfortunately have little to do with what they offer. Don't fall into this same trap.
When thinking about what to put on your booth, have this thought in mind. This adds consistency and thought to how you would layout and design your booth for the fair and what to offer.
For instance, it is the same as how you would conceptualize and design your logo to stand out.
4. Don't Showcase, Invite
Entice your prospects. Don't simply show off what you have; lure them in.
You can do this by engaging them with some creative activities and features that you can set up. You can also set up some items that they can interact with. Engage with them instead of keeping the audience as outside observers.
For example, Intel has several demos set up on their booths where people can try out and interact with their latest products.
The idea of setting up places like furniture and charging stations would come out as helpful. Keep in mind there is an inherent danger to this approach. While helpful, these locations may end up as a barrier to people so plan out your floor space.
The tendency is that trade fair-goers would expect someone giving them a pitch once they sit there.
In case you plan to set up chairs, tables, and charging stations, set it up in a way that it is inviting and the space is free. You can put your brochures, flyers and promotional items there. Make it clear that the space is free for them to use.
5. Exercise Balance in Space
As we talk of layout and effective use of space, think about how you would set up your booth in the venue. Think about which items would go on which portions of the booth.
When laying out your booth, make good use of the space that you have available. Maximize every square foot to your advantage. Make it enticing and stand out while being cohesive as well.
Focus on the quality when you think about the materials that you will use to build the booth or in setting up the stations and zones for your booth.
Remember to not make it cluttered. This is where striking a balance comes in. You would want to make sure the allotted spot comes to good use. Yet in the process, ensure you have space to keep everyone comfortable.
This applies in both the layout of the booth and in the graphics. Ensure that there is space to breathe to make sure it doesn't overpower or look cluttered. A good proportion for the graphics side is having about 40% of empty space in the graphics layout.
Even when you have a huge enough space, at times you don't need to use up all of it. Strike a good balance when you layout your booth.
6. Make Use of Colors and Lights
As one of the booth design tips to put to heart, make use of lighting and color to your advantage. Colors happen to be one of the factors that can affect people's mood. Certain colors also cause people to gravitate to them as well.
Your color choice for your brand would have both creative reasons and color psychology in play. With this in mind, think of using the colors from your brand with the moods they project in mind.
Colors like blue, green, and white have a professional feel to them but these colors tend to be cool to the eyes and might not easily grab attention.
On the other hand, colors like red, orange, and yellow would be more engaging. However, you need to be wise in using these colors and not have them put in excess.
Aside from colors, lighting can draw attention to the booth's unique spots. For example, you can put LED lights around the edges of your graphics. Or you can also install lights to add accents to certain parts of your booth.
With the right amount of lighting and color, your booth can become enticing to the eyes. This can make your booth attractive that it brings them to you.
7. Give Something Away
Once they have paid your booth a visit, do they go empty-handed? Do they at least leave with something? When you set up your booth, also have something that they can take with them for free.
Note that this is not something that you give to people only to end up in the trash bin. Make this something that they can and will use because they like it. You can approach this in many ways that would make the experience memorable.
Trade fairs can be pretty exhausting. Seeing areas to get a pick me up or a bit of refreshment could help fair-goers to enjoy their visit. With this in mind, use the evident need and provide something they can remember you by.
A good example to look at would be the LG-MRI's ThruVu cooler stocked with water and soda for visitors to have. Others went for offering free coffee for visitors can get and enjoy. Something which they appreciated.
This way, they have something to take with them. It's something they can use and in some way, they have something to remember your business by.
Take Advantage of These Booth Design Tips Today!
When setting up for a trade fair booth, you need to have your creativity come to life in creating something enticing while telling them your brand story. It has this mix of letting your creative flow come to life while keeping the company's vision in mind.
Follow these simple but effective booth design tips and ideas to entice new prospects and open more doors for your business.