Key Ways to Prepare Your Home for Winter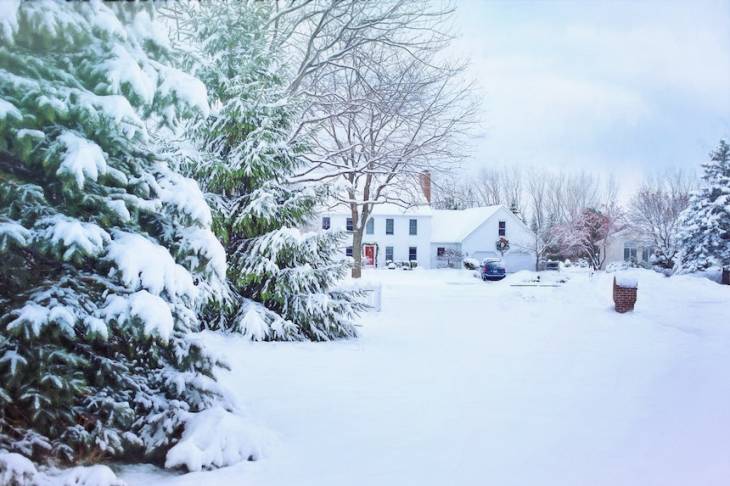 When you look at the calendar, you may be surprised to see that winter is already right on the horizon. Winter means plunging temperatures that affect people, animals, plants, and trees alike.
As you approach those colder months, take a moment to look around your home to identify the changes that you should make to stay warm and safe, while also eliminating the excess clutter. 
In this post, we will highlight three key steps you should take to prepare your home for winter and also tricks you can use to not only stay comfortable, but also save energy this winter. 
Let's begin…
1. Store Away Your Warm-Weather Items
The first step that you should take is to start packing away your spring and summer items so you can make room for the winter stuff. This is a chance to put away your portable fans, lightweight blankets, and beach supplies so you can make room for the thick comforters, portable heaters, and all of your holiday decor. 
This is also an opportunity to go through your closet and select all of your short-sleeved shirts, shorts, and skirts so you can trade them for your heavy coats, sweaters, pants, hats, and everything else that you use to stay warm both inside and outside.
Sometimes, when you are low on storage space around the house, it's easy to just leave everything out in the open. However, you can avoid that excess clutter by reevaluating your current storage and making adjustments. 
If the closet or the garage is filled, then consider adding shelves that will store your extra items out of the way and out of sight. You can also think multifunctional and buy an ottoman or a bench that has storage space inside. That way, it doubles as a piece of furniture and is not as intrusive.
If you live in a colder climate that provides a chance of snow, then you will want to go outside and protect your outdoor furniture. Store any chairs and tables in a dry place like a shed or heated basement so they don't get destroyed by moisture. 
If you truly do not have storage space inside, then, at a minimum, you should cover everything with at least one tarp and make sure it is secured tightly so the wind cannot pull it away and moisture cannot leak inside. Also, make sure to winterize your inground pool ahead of time so you can bring it back to life when spring returns.
2. Seal Physical Cracks to Stay Warm and Save Energy
This is also the time to prepare your house for the cold. Some of us like to crank up the heater in the winter so we can stay warm. If you do that, then it is wise to make the proper adjustments around your home so you are not wasting energy or dealing with unnecessarily high utility bills. 
If your house has cracks around the windows and doors, then when you run your heater the energy leaks outside, meaning your heater has to work harder and for longer. Not only will this cause your HVAC system to burn out faster, but you could also be paying a lot more each month than you should.
Electric heaters require the burning of fossil fuels to operate, so if you waste more energy then you are also hurting the planet. To avoid this issue, put a bead of caulk around your windows to fill the cracks, or go all in and make a choice to switch to new energy-efficient windows for extra security and warmth.
You can also reduce your home's carbon footprint and stay warm by having a technician come out to inspect and upgrade your HVAC system as soon as possible. If your system has an issue, then it could be working less efficiently and require more energy to run. That is not to mention the fact that if your heater works better, then you can also heat your home faster.
3. Use Smart Thermostats to Heat Your Home
While properly managing your HVAC systems will do wonders for warmth and sustainability this winter season, there are other tactics that you can use to prepare your house and save money. A big one is to invest in a smart thermostat. 
One of the reasons why you may have higher heating bills is that you are keeping the heater at the same temperature all day, even when everyone is out of the house. That is an unnecessary waste of energy and money. 
Instead, a smart thermostat will allow you to preset the temp for different times of the day. So, it could be lower when everyone is out at work and school and higher around the time everyone returns home. Use this tactic, and you'll more than make up the cost of the thermostat.
Bonus Tip: Another option is to install solar panels on your roof. Solar panels work all year long, even when there are cloudy skies, and they could radically reduce your utility bills while providing clean energy. While there is often a hefty cost up front for installation, over time, you will pay off the panels and see a drastic reduction in your monthly electric bill.
In Conclusion
There are many other ways you can winterize your home and several other energy-efficient tactics you can try to keep warm, including using a simple hybrid heat pump or adding a humidifier that will provide proper air moisture via a warm mist. You can also do as the eco-friendly Scandinavians do and install heating panels under the floor for clean and efficient heat. 
As you can see, you have your work cut out for you to prepare your home for the colder winter months. Consider these tips, and have a safe, cozy, and happy holiday season.