Celebrities' Real-World Salaries if They Were Not Stars, from Bradley Cooper to Kourtney K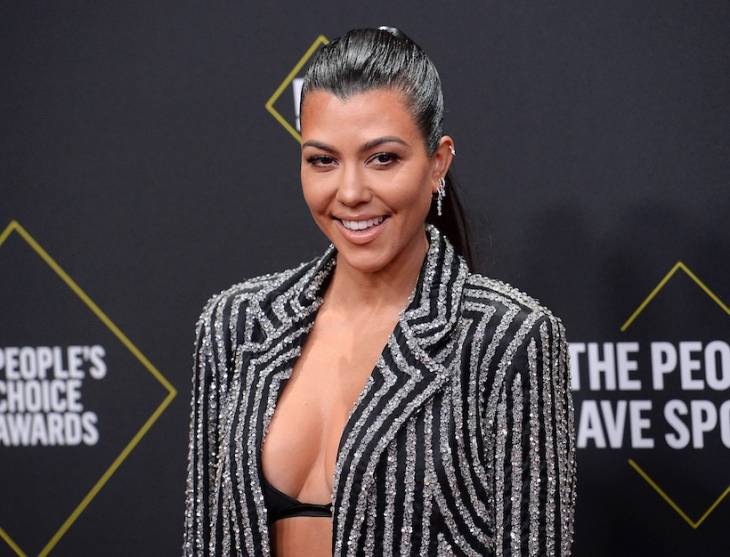 Kourtney Kardashian. Broadimage/Shutterstock
We all know that lots of people aren't doing a job directly related to their university degrees, but did you know that many celebrities are also in the same boat? This makes us wonder what would happen if they weren't famous and if they had to survive in the "normal" job market, relying simply on their degrees like we do?
Interested to find out how much celebrities could earn from their university degrees if they weren't famous, SEO provider Reboot utilized Payscale.com and estimated the potential 2023 annual salary of 27 celebrities based on their university degrees, revealing the mind-blowing number of years they would need to reach their current net worth if they took an alternative job!  
How Long It Would Take Celebs to Reach their Current Net Worth 
Coldplay's lead singer Chris Martin ranked first as the celebrities who would take the longest to reach their current net worth, if they had to earn their fortune based on a university degree alone! 
He graduated from University College London with a degree in Ancient World Studies. The British singer would be most likely to be a museum curator like other graduates with the same degree. 
It is estimated that he would be earning an annual salary of £40,000 this year, which would have required him to work 3,293 more years in order to reach his current net worth! 
Prince WIlliam ranked second. Despite his current net worth standing at £83 million, most typical Geography graduates would earn £33,000 on average in 2023 after 17 years of work experience. 
If Prince William was born into a different family, he may have instead become an architectural technologist - meaning that it would have taken him 2,494 years to become as rich as he is now. 
In third place is actress Emma Watson, who graduated from Brown University with a degree in English literature. 
With her English degree and interests in journaling and reading books, she could have become a writer after graduation, earning potentially a salary of £31,000 this year. 
That means it would take her 2,257 years to reach the same net worth she has now if she didn't step into the acting industry playing Hermione Granger. 
Top ten celebrities and their likely salaries if they were not stars:
| | | | | | |
| --- | --- | --- | --- | --- | --- |
| Celebrity | University | College/university degree | Potential job role | Predicted salary 2023 £ | Number of years to reach current net worth  |
| Chris Martin | University College London | Ancient World Studies | Museum curator | 40,000 | 3,293 |
| Prince William | University of St Andrews | Geography | Architectural technologist | 33,000 | 2,494 |
| Emma Watson | Brown University | English literature | Writer | 31,000 | 2,257 |
| Bradley Cooper | Georgetown University | English | Editorial assistant | 49,379 | 1,667 |
| John Legend | University of Pennsylvania | English, African American literature | Writer | 56,786 | 1,449 |
| Tom Hiddleston | University of Cambridge | Classics | Archivist | 30,000 | 1,098 |
| Kourtney Kardashian | University of Arizona | Theatre Arts and Spanish | Production Manager, Theater | 50,202 | 1,066 |
| Gerard Butler | University of Glasgow | Law | Lawyer | 65,000 | 1,013 |
| Natalie Portman | Harvard University | Psychology | Clinical psychologist | 79,007 | 938 |
| Eva Longoria | California State University | MA Chicano studies | Higher education lecturer | 73,804 | 894 |
Celebrities Who Would Earn the Most With their University Degree
As a medical graduate and an officially licensed physician for a few years, it was estimated that American actor and comedian Ken Jeong would be earning £157,646 a year now if he chose to pursue his medical career. 
American actress Mayim Bialik, graduated with a PhD in Neuroscience from UCLA, ranked second as the celebrity who would earn the most with university degrees (£134,147).
Rapper 2 Chianz, in third place, would be earning approximately £86,414 as a clinical psychologist in the US based on his degree in Psychology. 
Top ten celebrities who would earn the most with their university degree:
| | | | |
| --- | --- | --- | --- |
| Celebrity | College/university degree | Potential job role | Predicted salary 2023 £ |
| Ken Jeong | Medical degree | Doctor / General Practitioner | 157,646 |
| Mayim Bialik | PhDin neuroscience | Neuroscientist | 134,147 |
| 2 Chainz | Psychology | Clinical psychologist | 86,414 |
| Christy Turlington | Masters in Public Health | Healthcare Consultant | 83,122 |
| Natalie Portman | Psychology | Clinical psychologist | 79,007 |
| Eva Longoria | Masters in Chicano studies | Higher education lecturer | 73,804 |
| Wanda Sykes | Marketing | Marketing executive | 70,777 |
| Gerard Butler | Law | Lawyer | 65,000 |
| John Legend | English, African American literature | Writer | 56,786 |
| Issa Rae | African and African-American studies | Broadcast journalist | 51,025 |