How Affiliate Marketing Is Empowering Online Retailers in Singapore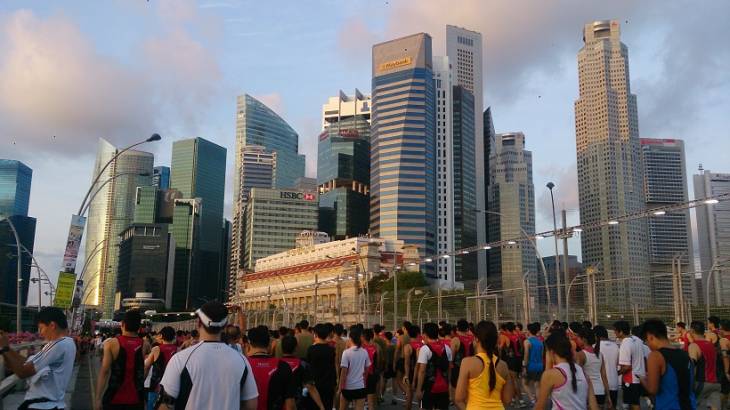 View of the busy financial district in central Singapore. In the foreground are runners preparing for a 10-km morning run in the area. Photo: ProjectManhattan/Wikimedia Commons.
Singapore is considered an economic powerhouse, not just in Asia but worldwide. With a GDP of S$ 507.568 billion in 2019, the city's economic prowess is evident.
For entrepreneurs and international investors looking to enter the Asian market, which is the world's largest e-commerce market and continues to grow rapidly, Singapore's economic potential presents a great opportunity for online retail businesses.  
Singapore boasts 3.1 million users of online retail services, driving ecommerce revenues of US$2.4 billion (2020). This is expected to grow at 11.1% annually to reach US$4.079 billion by 2025.
According to a GlobalWebIndex report, Singaporean ecommerce shoppers spent an average of more than US$1,000 each on online purchases of consumer goods in 2018, significantly more than the global average of US$634.
You may wonder what's driving this high conversion rates for Singaporean ecommerce stores?
Internet access, speed and affordability, logistics, and delivery capabilities are all part of the crucial ecosystem that allows e-commerce to thrive in Asia, per a report by the United Nations Economic and Social Commission for Asia and the Pacific (UNESCAP).
Besides affordable and reliable internet connections, enabling e-transaction laws also help ecommerce platforms to thrive. And it's not just giant international ecommerce platforms like Amazon and Alibaba that are thriving and driving ecommerce growth and success in Singapore.
When it comes to online shopping in Singapore, there are also many local ecommerce startups and online stores making a mark and contributing to a thriving ecommerce market in the city-state.
Moreover, affiliate marketing has emerged as a key strategy local online retailers and independent ecommerce startups are using to grow their market share, leave a mark in shoppers' minds for greater conversions, and turnover good profits – even amidst stiff competition.
5 Ways Affiliate Marketing Is Powering Singaporean Ecommerce Success
Affiliate marketing in Singapore is enabling online retailers and entrepreneurs to not only grab large shares of the market, but it is also empowering them to achieve higher ecommerce conversions rates even when judging by international standards.
As 2021 looms closer, it's worth looking at the ways affiliate marketing is powering Singaporean ecommerce success, taking stock of it as a useful case study, and drawing insights that can be transferred and used to grow your own business in the coming year.
Here're top ways affiliate marketing is powering Singaporean ecommerce success:
1. Unrestricted Scaling
The uncertainty of sales is one of the biggest obstacles businesses face when scaling. Affiliate marketing, the process by which a third-party (or an affiliate) earns a commission for marketing a company's or another person's products for a commission, helps mitigate that uncertainty.
Influencers hired for such marketing purposes come with large user bases of their own. Converting even a small percentage of that crowd can have a great impact on sales figures.
Furthermore, these users spread word about the brand to their peers and others online and offline, it enables rapid scaling of potential customers. This strategy has worked especially well with Singaporean online stores and ecommerce entrepreneurs and could work for you too.
2. Improved Tracking
Managing the flow of products and finances is a tough job for online retailers to perform manually. This problem is exacerbated with scaling. Numerous measures have to be put in place to streamline and get this vital bit of an ecommerce business in order.
Affiliate marketing can help here as it is doing in Singapore. Every action/response from users can be tracked and logged clearly on ecommerce platforms. Bounce rates and conversions related data are generated with ease and studied to improve strategies and modes of operations further.
That helps drive better sales and conversions for ecommerce businesses.
3. Targeted Sales
Random marketing to a broad mass of potential customers might not get their attention and often fails to convert well as the product being marketed might not be what they are looking for.
On the other hand, a focused and targeted approach of marketing specific products to a carefully scrutinized and selected group of potential customers yields better results in successful sales.
Partnering with carefully selected and targeted affiliates who are influencers in their field can give customers exactly what they need. Associating the right type of product with relevant influencers will sharply increase the chances of it being bought by their fans and followers.
In 2019, clothing, footwear, and sporting goods held the most share (65%) amongst all online goods sold in Singapore, following a strategy that included partnering with influencers.
Using a similar strategy of working with carefully selected influencers who can market your products to a targeted group of potential customers (their fans and followers) can increase conversions and grow your business tremendously.
4. Increased Brand Awareness
Influencers rely on their reputation to attract and retain their followers. The more they attract, the greater will be their value and popularity.
Affiliate marketing uses this notion to carry a brand's name and fame to newer heights.
An affiliate's followers will associate the brand's value with that of the affiliate's when considering any purchases. And the brand's value will also rub off on the influencer, as well.
This improves the reputation and awareness of the brand, along with that of the influencer, leading to a compounding symbiotic growth and popularity of both parties.
5. Strong ROI
E-commerce is a massive undertaking with rather low margins per unit sold. Scale is what drives profits for online retailers. Thus, marketing budgets have to be watched carefully and implemented strategically to get the maximum ROI.
Affiliate marketing enables cost-effective scaling and brings strong conversions from investments of small amounts paid as commission to affiliates, making this type of marketing not only perfectly suited for ecommerce businesses, but also one of high ROI.
With affiliate marketing, brand visibility, sales, and ROI can be increased at low cost.