Enhance Your Business Cybersecurity with These 7 Key Steps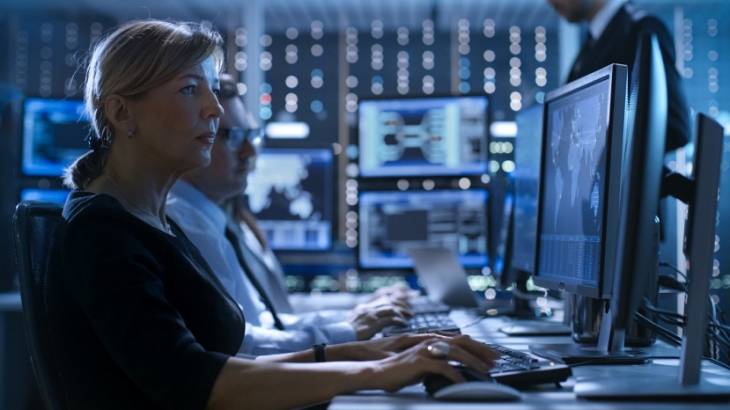 Have you ever thought that your business could be the victim of a cyberattack? By 2018, an alarming 70% of businesses had reported some cybersecurity attack.  Even worse is that an estimated 60% of small businesses will close for up to six months after a major cyberattack.  
These statistics show that every business is vulnerable to cyberattacks, especially the ones that aren't prepared for an attack. With minimal security, hackers can gain access to your business' finances, customer data, vendor information, employee details, and more.
A data breach can not only damage your reputation, but also your relationship with your employees, vendors, and customers. That's why it's imperative to improve your business cybersecurity. The good news is that there are measures you can implement to ensure your business is well prepared in case of an attack.
Once you understand the basics of cybersecurity and ways to protect your business from criminal cyberattacks, you can get on with growing your business in a safe and secure environment.
What Is Cybersecurity?
Simply put, cybersecurity is the act of protecting computer systems, networks, and programs from all types of cyberattacks.
In recent years, due to the rapid occurrences of cyberattacks, most companies consider cybersecurity a crucial business issue. It should also be a priority in your business
Essential Steps to Enhance Your Business Cybersecurity
Use these seven tips to better protect your business against cyberattacks.
1.Train Employees 
To begin with, ensure that your employees participate in your business security plan.
To achieve this, you need to come up with a cybersecurity policy for your business. The policy should entail cybersecurity best practices, which you plan your employees to adhere to.
You should also ensure that your cybersecurity policy includes safety procedures for the customer, employee, and vendor information. Consider also to include protocols that employees must follow in case of a cyberattack.
Request all your employees to create strong, unique passwords for their accounts.
The passwords should be challenging to crack but simple to remember. Ensure that they understand the importance of having a different password for all their devices as well as for business accounts.
You should also request your employees to set up two-factor authentication whenever possible. This helps you add another layer of security to your business' accounts as the sign-in process requires two-step verification.
You also need to issue cybersecurity tips to your employees regularly. This is mostly when you learn new ways of tackling cyberattacks or once you implement new security approaches.
Simply put, training should be aimed at helping your employees be vigilant and conscious of possible security threats. Training should help everyone in the company understand the value of the business' data and assets.
Understand the privacy regulation by state to help you determine the applicable cybersecurity legislation for your business. This will also help you take the necessary steps to align your business' security measures.
2. Update Computers 
Another effective way to curb cyberattacks is through regularly updating your computers and mobile devices. You can do this by ensuring your web browsers and operating systems are well-updated.
Since software updates include some new security patches, keeping up with updates helps your business stay away from the latest threats.
Make sure that all computers in your business are installed with the latest versions of software, especially security software. Most cloud software providers automatically update their software.
For your employees' mobile devices, they should be installed with the latest app versions, including a security app.
While most hackers exploit loopholes in computer security, ensuring proper updates for all your computers and mobile devices can help tackle the weaknesses.
3. Create Backups
Cyberattacks also mean losing huge amounts of data. The worst part is that the stolen data may be vital to running your business. That's why you should ensure regular backup of the information on your computers.
Make sure all vital business information has a copy elsewhere in case of a cyberattack.
You may consider storing a copy of your business information on an external hard disk or in the cloud storage.  No matter the way you choose to back up your data, always ensure the info is well secured.
Consider securing your backups using encryption and passwords for added security and enjoy the benefits of cybersecurity for your business.
4. Limit Access
This is one of the best ways to minimize the chances of a cyberattack in your business.  You can limit access to vital info by ensuring unauthorized employees don't have access to computers and accounts.
This should be the case for even well-known, trusted people as long as they are normally unauthorized to access the business information.
Your company's employees in different ranks and positions should similarly have different access to vital information. No single employee should share information with their personal accounts.
A company's accountant, for instance, shouldn't share their business accounting software password with a marketer.
To help you limit the privileges of specific employees, consider keeping individual logins for employees.
5. Secure Your WiFi
When it comes to cybersecurity, your business's WiFi can be a major weak spot. That's why you should secure your WiFi to only grant access to your employees.
You can also enhance security by setting up your business' WiFi in a way that keeps employees from identifying the password.
Since your company's guests shouldn't have access to the same WiFi as your employees, you can set up a separate open network for them to use.
By doing that, you'll reduce the chances of hackers from joining your business WiFi and accessing vital information.
6. Use a Password Manager
In a business set up, you have many unique passwords than you can possibly remember. So, how can you remember all the different passwords to your accounts? One of the best ways is by using a password manager.
These tools help you to keep track of all your passwords for you, in turn, ensuring all business information is stored in a secure vault. They also help you create unique, secure passwords for all your business' accounts.
Eventually, you enjoy the security benefits of changing your passwords without making things challenging for your employees.
Choosing the best password manager will allow you to share your passwords with other people. For instance, you can easily share your social platforms' passwords when you need something posted.  
7. Install Firewalls 
Firewalls offer an extra layer of security that intelligently detects and responds to intruders. That's why having a good firewall on your computers is essential to preventing cyberattacks.
A firewall typically blocks outside sources from gaining access to your company's network system. A firewall can also be set up to follow some rules.
These rules determine the people that can connect to the network, the kind of connections that can be made, and the type of files that can be shared over the network.
As such, this provides a high level of protection and security for your business' data against cyberattacks.
Implement This Solid Security Plan for Your Business Today
With all the tips mentioned above for improving your business cybersecurity, you can seamlessly protect your business' vital information and against cyberattacks and data breaches.
To reap the advantages of cybersecurity for your business, it'll take a collaborative effort of everyone in the company, including the I.T. staff and other employees.
You should also consider cybersecurity as a part of your business' risk management. You may hire IT experts to help you audit your system for vulnerabilities and help you create and implement solid cybersecurity measures.
Check out some of our other articles for more information on how you can boost your business' security by creating a comprehensive security plan.

You might also like...