Naomi Aharony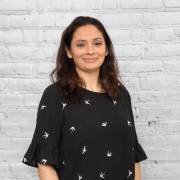 Naomi Aharony is SEO expert and Managing Director of Reboot SEO and Web Marketing agency, which specializes in making brands relevant.
She is in charge of all of the day to day tasks for the client base, covering pretty much everything, from copywriting to link baiting. She has been working for Reboot Online for over 13 years now.
Naomi was never really sure what she wanted to do and that inevitably resulted in her having two degrees. The first is a Bsc Hons in computing from Middlesex University and the second a PDGL (law degree) from The College of Law.
Naomi has never really seen herself fitting into the IT or solicitor mould and in her heart has always really wanted to work for herself. Along her journey she has also worked for a number of blue chip companies including Reuters and Cegedim.
So, together in 2001 with Shai, they started Reboot Online and have been going from strength to strength. Naomi tends to take care of the office tasks, some of the groundwork and initial study of any new clients. She also gets her teeth into any domain, copyright or legal matters that need answering.
Follow them on Twitter @Rebootonline.