Jennifer Grygiel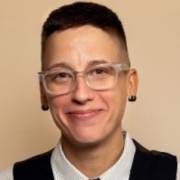 Jennifer is a social media expert with up-to-the minute understanding of the technology. They most recently served as social business and emerging media manager and assistant vice president at State Street Corporation in Boston.
There, Grygiel developed a social listening and marketing data and analytics program and was the lead project manager for the Social Intranet Project, which received an IABC Gold Quill Merit Award. Their social listening work has also been recognized and received a Gold Wommy for Social Media Monitoring Implementation from Womma (Word of Mouth Marketing Association).
Over the course of Grygiel's career, they have served as the executive director for public affairs and communications and chief of staff at the Committee on Capital Markets Regulation, a Cambridge, Massachusetts-based nonpartisan research organization dedicated to improving the regulation of financial markets.
Grygiel has also worked at the Program on International Financial Systems at Harvard Law School and is the founder of No Gay Left Behind, which advocates for the development of virtual gay-straight alliances (VGSAs) via social media.