8 Awesome Home Decorating Ideas on a Budget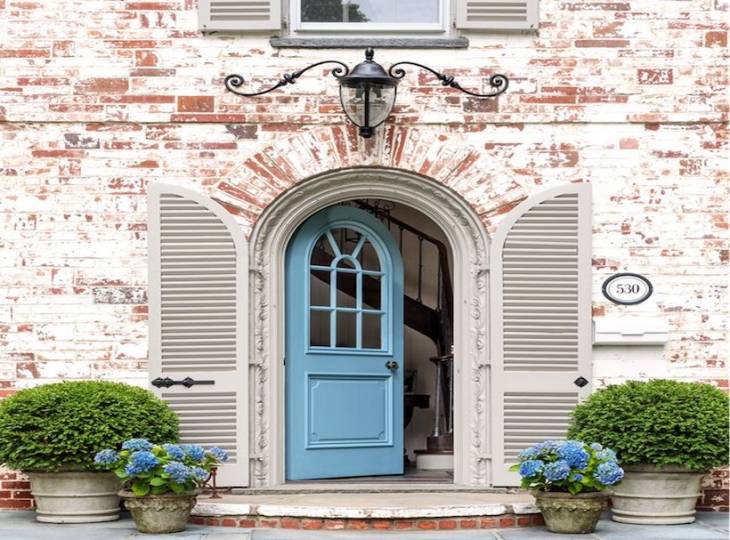 Staying on a budget can be really challenging if you want to create a luxurious-looking home. Luckily, there are some home decorating ideas for achieving the modern and luxurious appearance you desire, even on a tight budget. 
Interior designers have acknowledged a few amazing tips that we'll highlight which have helped many people learn how to make their homes look exquisite without spending a fortune. These budgeted decorating ideas can include adding cushions, a new paint job, window coverings, or flooring to design a home that appears to have come out of a prestige magazine.
Here are eight of the easiest, effective, and most affordable ways to decorate your home without spending a fortune on it. Your home will certainly get an extra dose of interior style with these modern home interior designs:
1. Add a Fresh Lick of Paint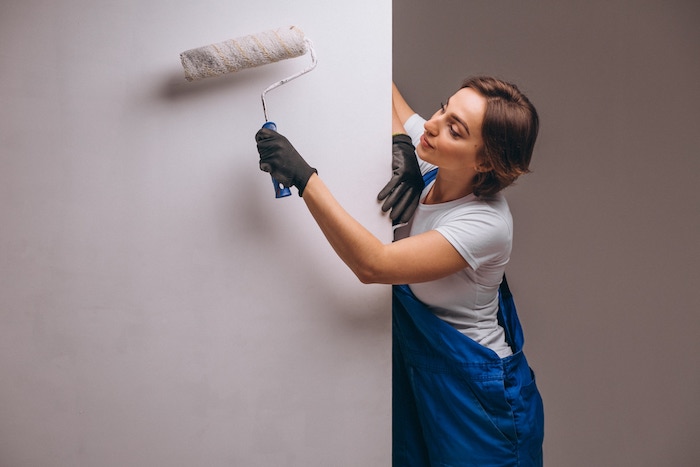 A fresh coat of paint can easily and quickly change your home decor while staying within a budget. There are many places where you can paint to give an updated and modern look to your home.
i. Doors
To start off with a remarkable touch, change the paint color of your doors. They can be room doors or main entrance doors. You can select any color from the dark or light side of the palette. It is best to plan in advance what theme you want to go for. You can keep it simple, vibrant, or royal. Bright colors look stunning on doors.
ii. Cabinets
The next step of change is to paint the cabinets. With the passage of time, cabinets become dirty and look very ugly if they are light-colored or scratched. Coating them with a lovely iron color or morning blue color can spark a decent chance. Hues of green also look extraordinarily unique in kitchen cabinets.
iii. Ceiling
Do not forget the ceiling of your home. Most people naturally keep the ceilings plain white and don't give much attention to them. However, painting your ceiling with a light-shaded color is a great and trendy idea to make it look like a modern home interior design. Colors like pale smoke, pewter blue, or wild blue yonder can look aesthetically pleasing on home ceilings.
2. Change the Appearance of Walls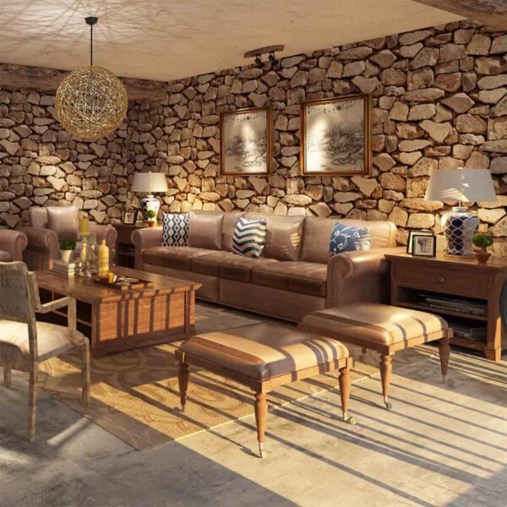 Walls can have a major impact on your home's interior design. Therefore, decorate your walls in a new manner for a modern change. 
There are numerous ways to redecorate your walls. You can either choose to paint your walls or add wallpaper. 
If painting the wall seems out of budget or too much of a struggle for you, then simply add new wallpaper. You can find many lovely patterned or textured wallpaper designs on a budget. 
Other than this, you can select plain white wallpaper and make your own pattern or design on it. It will be very easy to make an inspiring geometrical pattern or linear design on the wallpaper.
3. Revamp Home Decoration Fabrics 
Clothing and fabric materials constitute a lot of interior design space in homes. They can be in the form of curtains, sheets, sofa covers, or cushions. Therefore, changing the looks of these items can be a great option for staying within a budget.
i.  Sheet & Curtains
You can decide on bedsheet colors or designs that come within your specified budget. You can also choose to make the pillow covers contrast with the bedsheet or match them. 
Similarly, the curtains create a major difference. You can select dark or light-colored curtains depending on the color of your room's walls. 
Remember, the contrast of colors and patterns matters in interior design. Therefore, do not repeat the same color in all the items as it can look dull. 
On the other hand, too many colors can also make the interior look disoriented.
ii. Covers & Cushions
Change your sofa cushions and sofa covers to add a refreshing look to your living room. You can cover the sofa with a knitted or woven fabric. For plain sofas, use patterned cushions and vice versa.
4.    Add Some Rugs and Mats
Adding a rug can be an elegant budget option for interior design. Carpeting the floor can be quite pricy for most people. Rugs are a quick and portable solution, with availability in so many design variations.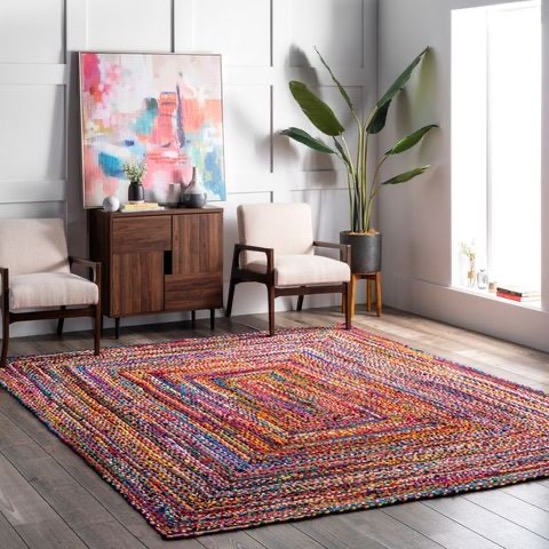 i. Rugs
The placement of rugs also matters to enhance the look. 
For bedrooms, you can either place a fluffy plain rug beside your bed or place it at the foot of your bed. 
In living rooms, patterned rugs look stunning when placed around the sofa. 
Moreover, some tasseled woven placed in the doorway or entrance hall can reflect a modern and welcoming look.
ii. Mats
Mats are another important aspect that you should not forget. Discard those dirty old mats and replace them with new ones. 
You can also buy a simple mat and make it look like a creative modish item by adding a splendid DIY craft to it. You can make your own DIY mat using some weaving, pompoms, pebbles, stencils, dyes, and much more.
5. Add Floral Décor
The beauty of flowers cannot be ignored when decorating your interior. All the greens and colorful flowers inside your home will create a modest and natural picture. 
Buy some cheap yet simple vases and flower pots. You can spray paint them if they don't look as appealing as you want them to. Place them on shelves and windows, or hang them on entrance walls. 
You can also use faux flowers for this purpose.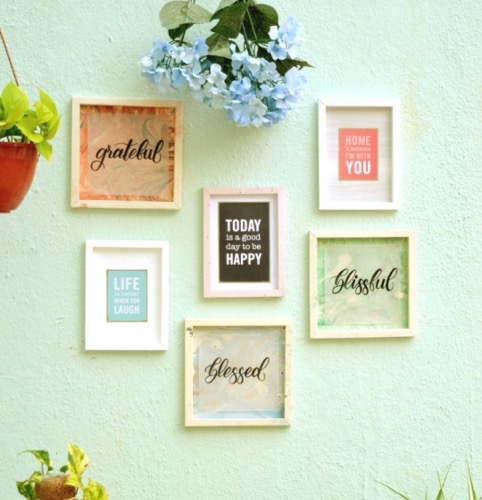 6. Hang Some Frames
For a quick change on a tight budget, you can use multiple small-sized frames to set up on a wall in the living room or bedroom. 
You can also add family pictures on a big soft board. For cool aesthetic frames, you can cut out art designs from magazines or calendars.
7. Make Room for Accessories
Modern home interior designs are filled with decorative accessories. This area is also huge in scope and welcomes DIYs, creativity, and other budget-friendly ideas.
Adding accessories like decorative sculptures, mirrors, vases, or wall clocks will bring a gorgeous and attractive image to your interior. If you have a love for creativity, then you can make most of these items at home from scratch. 
One idea you can work on is using glass bottles. There are different colored glass bottles you can use for decor. Fill them with glitter or pebbles, or paint them with different attractive and colorful patterns.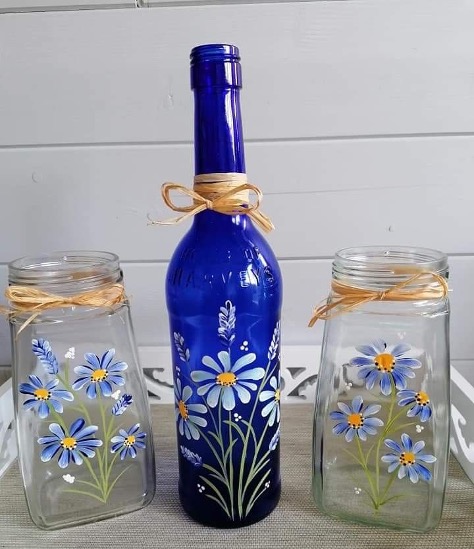 8. Decorate with Lights
The best home decor ideas on a budget can include lighting. You can incorporate lighting on the ceiling or walls. Set up a table or floor lamp to make your home's interior look more modern and classic.
A cute idea is to use mini string lights or fairy lights. You can use them to hang around a frame, mirror, window, or around flower pots. The subtle lighting effect of these gives a beautiful image of the room. 
Candles can also be used to create a classy retro or vintage look. You can find many amazing candles on a budget, or make your own custom-scented candle by adding some essential oils.