16 Empowering Thoughts to Help You Stay Strong, Get Through Trying Times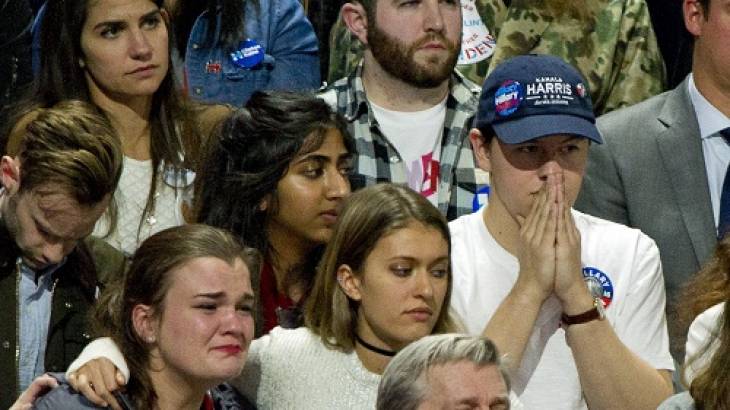 Acceptance. (Ron Sachs / CNP / MediaPunch/IPX)
For many Americans, the recently concluded Presidential campaigns were arguably the ugliest campaigns ever. This election has taken a massive emotional toll on the nation.
And, for those who oppose Trump, waking up to the reality that he emerged victorious in what some have termed the biggest elections upsets in recent history, felt like a nightmare that just kept going.
As it turns out, millions of people are heartbroken by Donald J. Trump's election, and have taken to the streets to protest a Trump presidency. But, as difficult as it may be, life has to go on through good and bad times; sunny and rainy days. We need to acceptance what has transpired and keep moving forward. There is a lot of work to do, and we need to do it together.
Here are empowering thoughts by lovely people about acceptance and moving on to help us stand strong and get through the trying times that inevitable must come in business and life. 
"Certain things may start as a joke… But for some reasons, they may end seriously…" – Jomel
"Bad things do happen; how I respond to them defines my character and the quality of my life. I can choose to sit in perpetual sadness, immobilized by the gravity of my loss, or I can choose to rise from the pain and treasure the most precious gift I have - life itself." - Walter Anderso
"Let it hurt. Let it heal. Let it go."  – Unknown
"Grief is in two parts. The first is loss. The second is the remaking of life." – Anne Roiphe
"Acceptance of what has happened is the first step to overcoming the consequences of any misfortune." – William James
"Denial, like an alibi is a weakest defense... When everything can be fabricated, there is nothing we can trust to seek for the truth than our conscience." – Sir Ross
"Beginnings are usually scary, and endings are usually sad. But it's everything in between that makes it all worthwhile." – Lourdes
"The best way to escape reality without running is smiling even though, it is fake!" – Sheena
"Everyday, we smile and act like nothing's wrong… It's called, putting everything aside and simply being strong…" – Michael
"Proving happiness isn't on how many times you smiled, but it's finding that sensible reason every time you smile." – Dahlia
"Things are as they are, we suffer because we imagined different." – Rachel Wolch
"Don't dwell on what went wrong. Instead, focus on what to do next. Spend your energies on moving forward toward finding the answer." – Denis Waitley
"Forget the past - the future will give you plenty to worry about." – George Allen, Sr.
"Never get mad at someone for being who they've always been. Be upset with yourself for not coming to terms with it sooner." – Unknown
"God balances our lives by giving us enough blessings to keep us happy and just enough burdens to keep us humble." – Mam Tintin
"In three words I can sum up everything I've learned about life: it goes on." - Robert Frost
See Also: 8 Effective Ways to Calm Your Mind When Things Don't Look Too Good.