Wildmoka Launches World's First Vertical Live Video Format for Mobile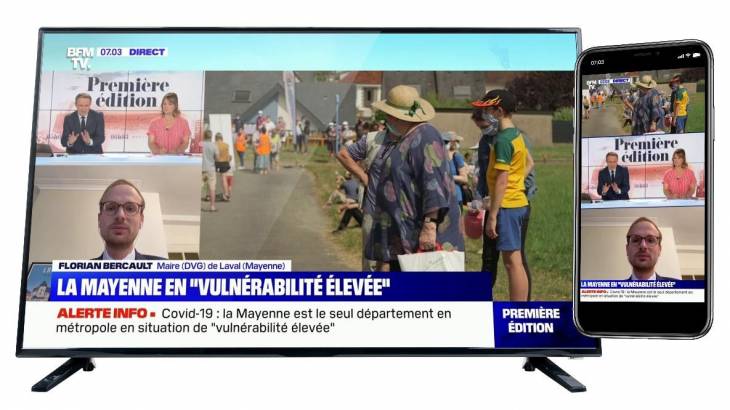 French start-up, Wildmoka, has launched 'Live Vertical', a solution which automatically converts the horizontal frames of standard TV streams to a vertical format better suited to smartphone screens.
'Live Vertical' is the first innovation of its kind in the world for vertical live streaming.
'Live Vertical', a world first  
The launch of 'Live Vertical' is a world first. Developed in collaboration with Altice France and its BFMTV channels, it revolutionizes the TV viewing experience on a smartphone. Thanks to a new way of managing live production workflows and the addition of a dedicated stream, the traditional horizontal format of television is automatically 'rezoned' into a mobile-friendly vertical format.
Now, whenever BFMTV is viewed from a smartphone, the entire mobile screen will be occupied with content, regardless of device, brand or model. This is a major improvement on the standard approach which broadcasts a horizontal image into the vertical screen making it too small and difficult to watch. Turning horizontal TV images to a vertical format represents a significant technical advance. It also responds to the central role smartphones now occupy in the consumption of news media.
By being the first news channel in the world to offer vertical viewing on smartphones, Altice France and Wildmoka have defined a new standard for the industry.
This innovation also overcomes the mismatch between the fact that most smartphone users naturally hold their devices in a vertical position, whereas TV content continues to be broadcast for a horizontal screen.
Wildmoka, based in France, specializes in real-time enrichment of digital media content and has exclusively developed 'Live Vertical' in collaboration with Altice France. Thomas Menguy, President and CTO of Wildmoka added:
"Wildmoka is proud to have gained the confidence of several Altice Group channels over the past three years and to once again be able to launch, within Altice France, a global innovation based on artificial intelligence and the latest cloud technologies.

 

After assisting in the creation of sports content for RMC Sport, it is BFMTV's turn to use Wildmoka's unique expertise around AI and ML to verticalize its content for News in real time, in order to better respond to an increasingly connected and mobile audience."