Simple Guide for Hiring & Managing Dedicated Software Developers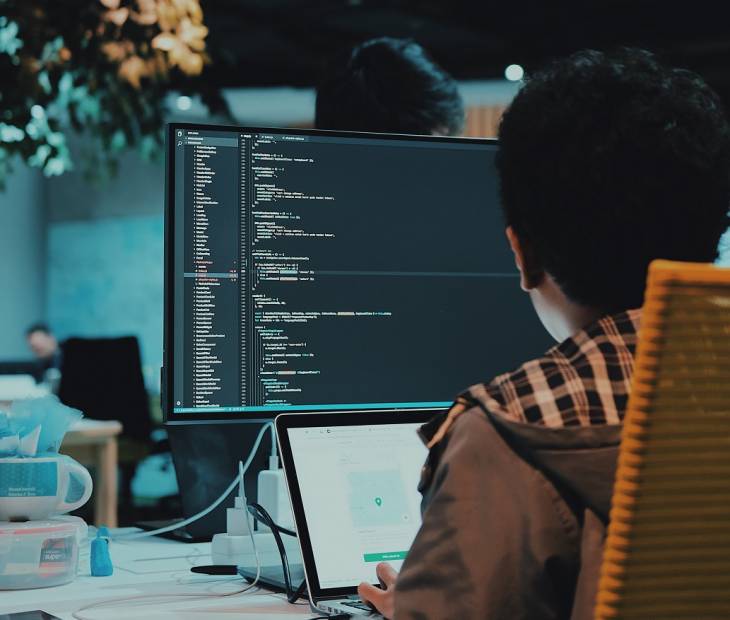 Hiring software developers can be a time-consuming process due to the interviewing process, adaptation, hardware and software expenses, and many other challenges you're going to face. But if you do it right, it can be a worthwhile effort for your business.
Of course, everything depends on how you'd like to hire programmers – whether you're interested in working with in-house specialists or prefer a remote or offshore development team.
Today, more and more businesses and product owners are opting to work with remote and offshore developers as that means they don't have to cover additional expenses and worker care policies, such as vacations, sick leaves, and other unexpected issues.

To help you get the best developers for your products and business projects, let's review the top qualities of dedicated offshore and freelance devs, their hourly rates and hiring options, as well as how to best manage them in your business.
Dedicated Software Developers: Top Hiring and Management Tips
So, if you're interested in working with a team of professional developers who get the job done – take a few minutes to read and apply this guide.
Qualities of Dedicated Developers
 
As you're hiring offshore/remote developers that won't work directly from your office, it's extremely important to pay attention to their main qualities.
Good dedicated developers should have the following characteristics:
 
1. Self-reliance
 
They should be ready to face and resolve any issue when providing mobile or website development services. Finding the right solution in any situation is what defines experienced devs among juniors.
 
2. Self-motivated
 
As developers are working remotely, they won't have a manager standing behind their back. That's why they should be motivated enough to work effectively and complete all the tasks on time. They should be able to inspire themselves forward.
 
3. Dependable
 
Software developers should always remember that the greater share of product success lies in their hands. Therefore, they should keep up with the requirements and ensure your future product quality.
 
4. Self-driven
Developers should be able to get to the core of the issue and share their results with the whole team. Also, this should be done on their own initiative, without any pings from managers.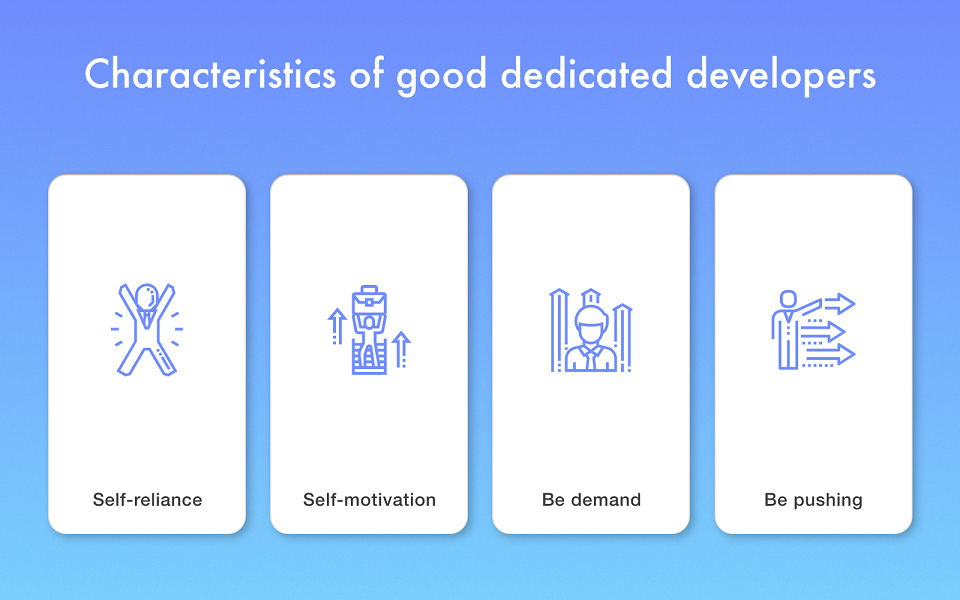 Visual of best offshore/remote developers qualities
Where to Find and Hire Dedicated Developers
Currently there are a few ways of hiring software developers according to their skills, salary rates, working conditions, and so on.
The two best options you can use to find talented developers for your project are:
I. Outsourcing companies 
 
Hiring a team of offshore developers is a great way to deliver a product of any complexity and with any budget and remain sure that true professionals are working on it.
You can use such resources as GoodFirms and Clutch to start searching for the right developers for your products.
Moreover, in order to identify the right outsourcing company to hire remote developers, follow the following steps during the selection process:
Make sure the company appears on at least pages 1-2 in search engine results pages.
Check if the company has a well-designed website, providing details about their services.
Check the company's experience and the number of employees they have.
Look through their portfolio and pay attention to the average rating from customers and clients.
Benefits of Working with Outsourcing Companies
There are quite a few advantages of working with outsourcing companies and agencies. The most notable benefits include:
No hardware and software expenses
High quality of provided services
Lower hourly rates compared in-house development, and
A number of qualified employees that can cover any project.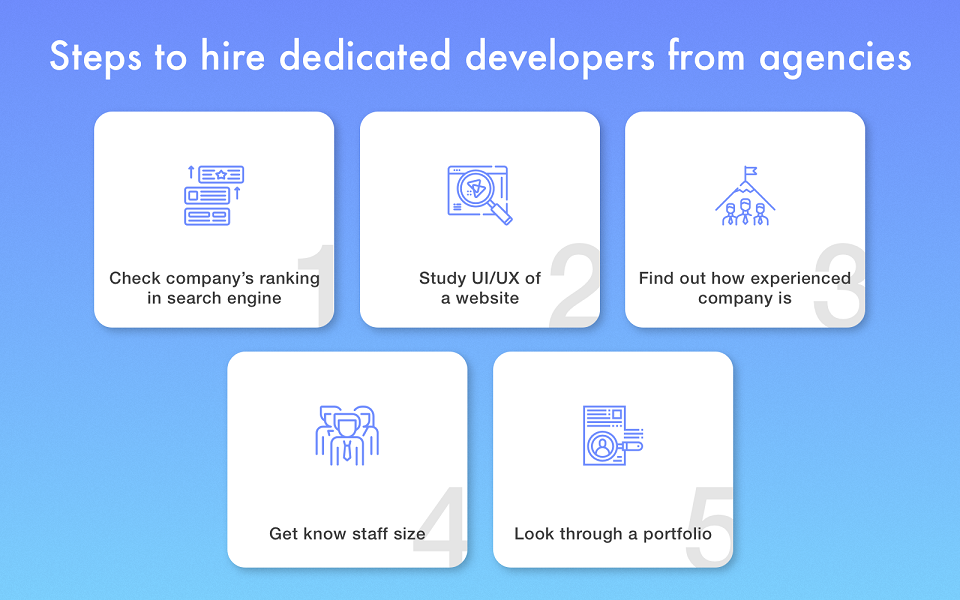 Visual of what to consider before hiring an outsourcing company
Cons of Hiring Offshore Outsourcing Companies
 
As for cons, typical disadvantages of hiring an offshore outsourcing company or agency include:
Language barrier, and
Odd working hours due to different time zones.
However, when working with an experienced team and agency, these cons are easily  overcome. For example, competent companies hire product managers can be contacted anytime and who are proficient in English.
II. Freelancers
 
Another way to find and hire dedicated developers is to higher freelancers. Freelance developers work for themselves and have no product managers or team leads monitoring their performance. This can make them more agile and flexible to work with.
Although freelancers' hourly rates are usually lower than the ones of offshore companies, no one can guarantee that your project will be finished in time and in a proper way. Thus, it may be better to hire freelance developers mainly for small projects or for adjusting minor changes to your already existing app or website.
You can find freelance developers on such resources as Toptal, Stack Overflow, UpWork, Codementor, and so on. On these freelance marketplaces, you can sort the freelancers you want to work with by location, ratings, and hourly rates.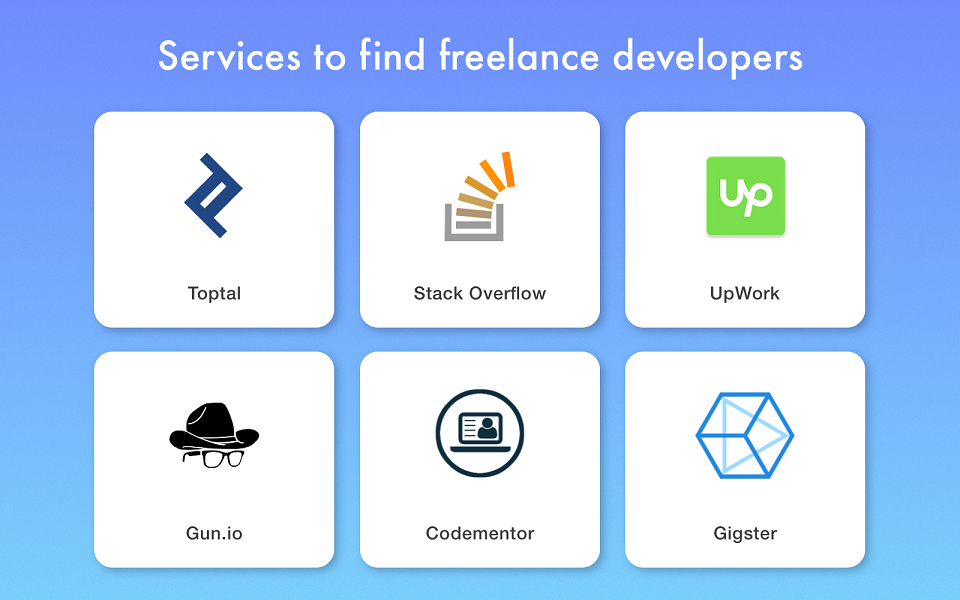 Visual representation of where to find hire freelancers; the most popular resources.

Benefits of Hiring Freelance Developers
As for the benefits of working with freelancers, we've already mentioned:
Relatively low hourly rates
A wide pool of specialists to choose from
Generally, more flexibility and agility when handling projects.
Cons of Hiring Freelance Developers
On the other hand, there are a number of disadvantages of hiring freelance for your software development project, including:
Broken deadlines are more likely
Irregular work schedules
Inability to check for hard skills (If you're not experience in hiring developers).
How to Manage Your Team of Dedicated Developers
In case you've found a team of software developers you are ready to work with, you'll need to know how to manage them effectively from abroad.
Software development process often implies a lot of challenges, so devs' workflow cannot be compared to one of the regular staff members.
The usual management approach based on tracking the time spent by employees and checking if the job is done according to the requirements won't work here.
For example, when developers are working on implementing a feature, they may face a few bugs they'll need to fix, and after fixing them – another bunch of unexpected issues may arise. Moreover, bug-fixing can take a few hours to a few weeks to fix.
With this in mind, a good management approach for developers is to set clear tasks and deadlines, with margins taking into account possible pitfalls.
In order for you to always be aware of how the process is going, it's advisable to use tracking applications like Trello, Jira or Kantree. These web applications can greatly help with managing dedicated developers and monitoring their workflow.
In addition, you can update tasks or create new goals for the team.
Best Countries for Hiring Dedicated Software Developers
 
Now that you know the best hiring options available to you, ways of managing software developers, and characteristics of the right candidates, let's get down to finding out their hourly rates and choosing the top regions to find them.

Currently there are tons of companies that offer software development services, and the hourly rates are different for all of them. However, according to an Accelerance report, the average hourly rates for hiring software developers in different regions are the following:
| | | | |
| --- | --- | --- | --- |
| Region | Junior devs ($/hour) | Middle devs ($/hour) | Senior devs ($/hour) |
| USA | 108 | 136 | 158 |
| Latin America | 39 | 41 | 50 |
| Asia | 21 | 25 | 36 |
| Eastern Europe | 67 | 44 | 58 |

Wrapping Up

Having gone through this simple guide, you can see that it's not that hard to find qualified software developers if you know what to look for. Because there are tons of options and offers in the IT market, there are some points that should be taken into account, like checking devs' experience, choosing the region, time zone, and planning the budget.

Finally, we would like to point out that the success of your product also depends on the development team, so it's always a good choice to check and double-check hard and soft skills of potential candidates.
Best of luck to you and your software development team.