Ed Sheeran's Guitar Makers 'Sheeran by Lowden' Range Launch on Amazon in U.S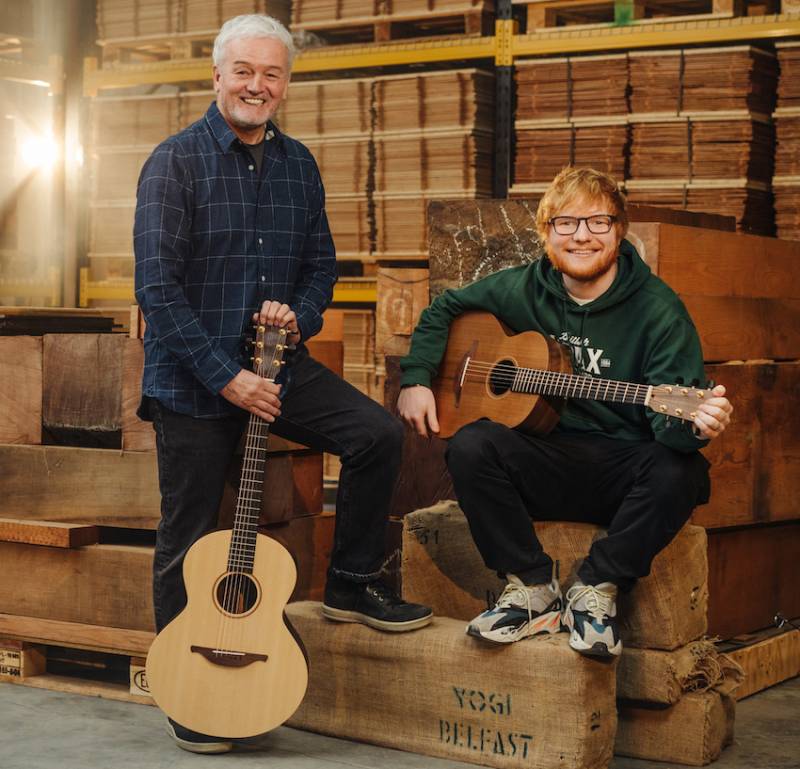 Northern Ireland's Lowden Guitars has set sight on the global stage by partnering with Amazon to make its popular 'Sheeran by Lowden' range more accessible to U.S. customers on Amazon. 
The U.S. launch comes ahead of Ed Sheeran's 25-date North American leg of his 'Mathematics' World Tour, playing to almost 1.5 million fans.
Lowden Guitars benefitted from the collaboration between the UK Department for Business and Trade and Amazon Global Selling Workshops, unlocking the company's ambitions to tap into global exporting opportunities, with logistics taken care of by the Fulfilment By Amazon service. 
Ed Sheeran previously said:
I grew up wanting to play Lowden guitars, but they were so rare and so expensive I didn't end up getting one until I was given one by my friend Gary [Lightbody] from Snow Patrol in 2012. Through Gary I met George Lowden and he started making my tour guitars for me, which were amazing both on stage and in the studio."

 
Sheeran by Lowden collection is a collaboration between the 50-year-old Northern Ireland-based guitar makers and Ed Sheeran. Founder George Lowden and the star share a passion to build the best guitar for all budding musicians at an affordable price.   
David Ausdahl, Managing Director, Lowden Guitars, said:
Our friendship with Ed developed as he started to play and write his songs on the Lowden and visited our workshops to choose more guitars. We were so pleased to see how much he loved the guitars, so when Ed wanted to play a Lowden on stage, we of course voiced some especially for his stage use. That was the magic moment!"
Ed and George began to dream together of making a range of quality guitars more accessibly priced, that would inspire new players to make music. Sheeran by Lowden was born!
The range was introduced in 2019 and the vast majority of the thousands of guitar sales in the range to date, have been through distributors and merchants worldwide.
The company, whose guitars have been played by the likes of Eric Clapton, Damien Rice, Lewis Capaldi, and Niall Horan, saw an opportunity to grow sales with the reach that Sheeran offered. They attended an Amazon Global Selling Workshop arranged in collaboration with the UK Department for Business and Trade which opened their eyes to the potential of exporting their guitars to even more customers around the world.
Minister of State for Business and Trade, Lord Dominic Johnson, said: 
Lowden Guitars is another brilliant UK export success story and even better that they've benefitted from collaboration with the UK Department for Business and Trade and Amazon Global Selling Workshops. Musicians across the United States will be delighted that Sheeran by Lowden Guitars are now available on Amazon and I look forward to seeing how the company continues to expand globally."
David Ausdahl, Managing Director, Lowden Guitars, added:
The workshop made everything so clear and simple to understand, from getting the brand registered, building our listings, managing all of the details like exporting paperwork and taxes, and how to handle shipping. For a small business, like Lowden, it has really educated us to the scale of the opportunity globally by working with a partner like Amazon. The whole experience has been seamless and so positive.

One of our key considerations has been the capability to store the guitars in a climate-controlled environment and ability to ship them without damage. We need to know our guitars are in a safe location and we are very reassured by the Fulfilment By Amazon service. In addition, it's also very reassuring when you sell on Amazon, you know that your brand will be protected globally."
Lowden's first foray into selling on Amazon was the release of a small shipment of guitars during the recent Australia leg of Sheeran's tour. The Sheeran by Lowden store launched in record time and was a top seller within weeks of launching.
Now they are set to make waves on a much bigger stage and have shipped hundreds of guitars to the US in time for the start of Sheeran's North America gigs which began in New Orleans and ends on September 23 in Inglewood, California.
John Boumphrey, UK and Ireland Country Manager, Amazon said:
Online stores like Amazon offer a fantastic route for small businesses to reach more customers – both in the UK and overseas. Lowden Guitars are in the early stages of their journey with Amazon and have already seen the value that we can offer them as they look to grow their business globally. I'm excited to see them expand to the US in time for the Ed Sheeran tour and the opportunities for them to reach new customers in collaboration with Amazon."
David Ausdahl added:
After launching in Australia with Amazon, we have experienced first-hand the global opportunity available. The sky is the limit because they give us a much bigger audience through access to regions where we have no representation at all.

We are looking to expand our relationship with Amazon globally as we see it as an opportunity for growth. There are many regions we don't even exist in, like Brazil and India. We get a lot of traffic to our site from India so those regions seem so much more accessible now through Amazon."
Amazon provides a range of products and services to support small businesses as they look at export opportunities in the EU and around the world. This includes Amazon's Global Selling programme, which allows the 85,000 UK independent selling partners on Amazon to list and sell products on any of Amazon's 21 online stores including the USA, Australia, and Japan, with access to over 200 million Prime account holders.