Ras Al Khaimah Launches Multi-Million Dollar Investment in Over 20 Sustainable Tourism Development Initiatives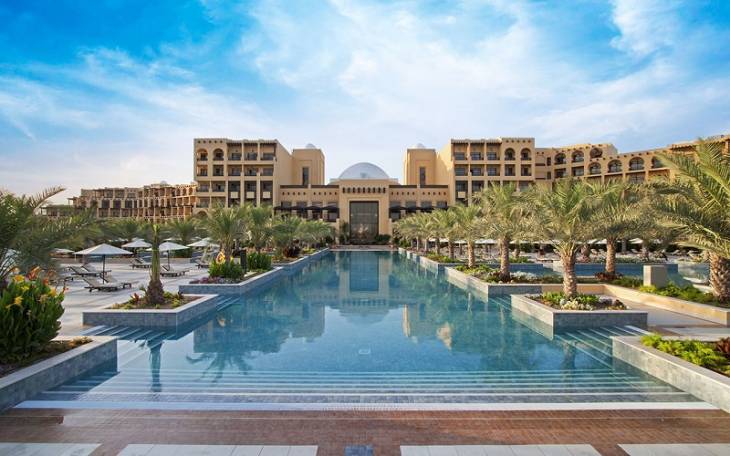 Hilton Ras A Khaimah Resort Spa.
Ras Al Khaimah, the United Arab Emirates' fourth largest Emirate located just 45 minutes from the busy metropolis of Dubai, has announced a total investment of over £96 million ($136 million) in its tourism sector, resulting in over 20 exciting sustainable tourism development initiatives as part of its aim to attract 1.5 million visitors by the end of 2021 and 3 million by 2025.
The latest announcement comes on the back of the Emirate's previous efforts as the region to introduce a Tourism Incentive & Stimulus Package in April 2020 followed by an Emirate wide certification as the first safe destination worldwide from Bureau Veritas and the World Travel and Tourism Council (WTTC).
Further underlining its credentials as a destination of distinction, in the new normal of post-pandemic travel, the new developments include a pop-up hotel concept offering cliffside accommodation on the UAE's highest peak, Jebel Jais; a luxury mountain lodge opening in 2022 and the Bear Grylls Survival Academy, teaching the skills necessary to enjoy the mountains and desert in safety.
The projects center on Ras Al Khaimah's new destination strategy that focuses on nature, leisure, adventure, sustainability, accessibility and authenticity in the post-pandemic age. It is spearheaded by the Ras Al Khaimah Tourism Development Authority (RAKTDA), which was established in May 2011 under the government of Ras Al Khaimah.
RAKTDA aims to develop the Emirate's tourism infrastructure and establish Ras Al Khaimah as a world-class destination for leisure and business travel, creating sustainable investment opportunities and enhancing the quality of life for its residents.
With the desire for social distance, tourists are no longer attracted to bustling cities and crowded beaches, seeking instead personal space and a closer connection to nature. This change in direction will allow the spotlight to shine on Ras Al Khaimah, enabling it to step out from the shadow of its well-known neighbors, offering world-class hotels and infrastructure in a wild and unspoiled landscape of desert, beach and mountains.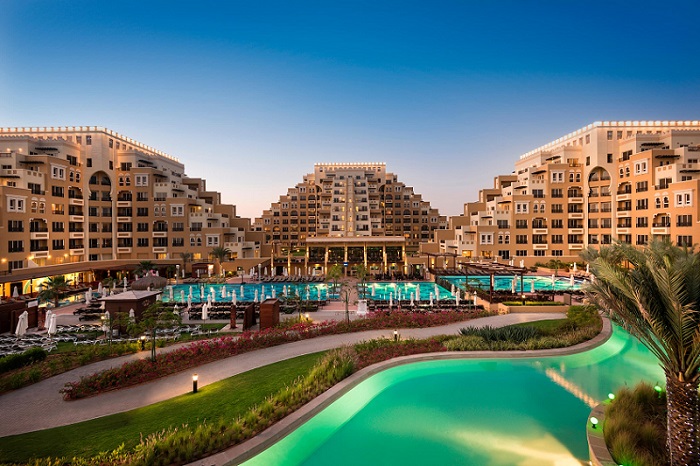 RAKTDA world-class hotels.
Raki Phillips, Chief Executive Officer of Ras Al Khaimah Tourism Development Authority (RAKTDA), said:
"It's been an incredibly busy and proactive time at RAKTDA as the Emirate evolves into a global destination of distinction. This multi-million investment plan further demonstrates our resolve and commitment to tourism, despite the global challenges faced this past year that continue to shake our industry today.

 

These projects also align with our vision and strategy moving forward with our new brand identity, based on the destination's natural topography – the sea, desert and of course, our spectacular mountains – as well as our desire to progress, grow and evolve in tune with tourism aspirations and needs."
The Emirate, currently the Gulf Tourism Capital for 2021, is the first destination in the world to receive the World Travel and Tourism Council's (WTTC) Safe Travels certification, and since October has been offering free Covid PCR tests to inbound travelers, the first in the world to do this.
Efforts such as those, with costs absorbed by the tourism board rather than passed on to visitors, has resulted in Ras Al Khaimah being classed as Covid-safe, including all 46 of its hotels and the world's longest zipline on Jebel Jais mountain peak.
As part of the destination's objective to boost sustainable tourism, Ras As Al Khaimah has also been working with EarthCheck, the global environmental experts, to co -create genuine sustainable practices, including reduced food wastage, increased recycling, decrease in energy and water consumption across all hotels, tourist sites area clean -ups, green procurement and more.
Additionally, looking at hotel inventory across the Emirate, an addition of 4,718 rooms is in the pipeline: a marked 70% increase to existing inventory of 6,726.
Upcoming projects in Ras Al Khaimah
The new initiatives include over 20 projects across the destination, including Jebel Jais, the UAE's highest peak and an attraction that draws visitors from around the world.
Mountain:
Earth Hotels Altitude, an eco-based pop-up hotel concept set to feature 15 fully fitted accommodation units, an activation center and swimming pool.
Saij, A Mantis Collection Mountain Lodge, comprising of 35 luxury lodges, will provide a pure mountain retreat that focuses on nature as well as mind, body and soul with guided treks, mindful pursuits and creative experiences.
Cloud7 Camp Jebel Jais – the ultimate glamping experience with 30 accommodation units built out of sustainable material.
The new Basecamp Jais will offer affordable accommodation for outdoor enthusiasts, thrill seekers and nature lovers as well as a range of activities such as yoga, Emirati live cooking and will serve as a leisure hub at the base of the rugged mountains.
Jais Yard - an F&B Village with food trailers, kiosks, retail containers, vintage truck restaurants, open air cinema and children's play areas which will drive further visitation to Jebel Jais.
Jais Wings - adventure seekers can take off on a paragliding experience from the top of Jebel Jais with landing pads near Saraya Islands and Al Rams. It will be the region's first dedicated paragliding site in the GCC.
Balloon Base with fixed hot air balloons that visitors can take in the infinite beauty of Jebel Jais.
Jais Swing - an Instagramable swing made of twin ropes that provide amazing views and a unique content opportunity.
Wadi Track at Wadi Showka will feature a new bicycle pump track that will be the perfect spot for bike enthusiasts of all ages.
Building on its rich portfolio of internationally recognised outdoor events, Ras Al Khaimah is set to host the first 'HIGHLANDER' hiking experience in the GCC in November 2021. HIGHLANDER, the only certified international hiking association in the world, is widely renowned for its one-of-a-kind curated hiking experiences.
Beachfront:
A mega-beachfront development by Marjan with a marine district, inflatable aqua park, leisure trampoline, swimming pool, outdoor gym and extensive food and beverage offering.
Scallop Ranch at Al Hamra Marine will offer oyster/scallop diving, live cooking, family and kids' experiences, and cultural activations. As a first of its kind attraction in the UAE, it will support and enhance understanding of the marine ecosystem with seagrass and sea cucumber species within the farm.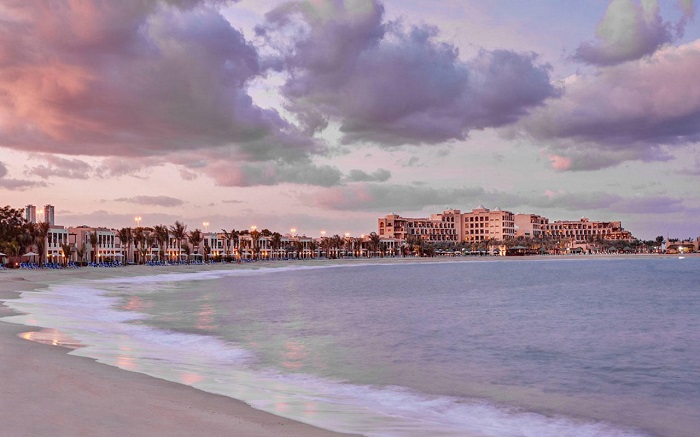 Desert & Land:
Cloud7 Camp AlSawan – a luxury glamping experience with 60 units where guests can learn what it takes to become an agriculturalist.
Flying Arch @Manar Mall will welcome the region's first 130-metre aerial structure composed of over 1.5 million knots and around 300 km of twine that will cause the wind to create a choreography of constantly changing shape and color.
Luminaze at Manar Mall will also welcome an aesthetic and playful art installation based on a light maze, ideal for family and team activities.
Ras Al Khaimah is also strengthening its hospitality infrastructure through new hotels, such as the all-new Mövenpick Resort Al Marjan Island with 418 hotel keys and direct sea views. Guests can choose from large-sized family rooms, suites or 28 beachfront chalets with private pools and gardens. The upcoming Hampton by Hilton Al Marjan Island, comprising 515 rooms, will be the largest Hampton by Hilton globally and the first to offer an all-inclusive resort concept. Other new openings include Radisson Al Marjan Island with 388 rooms InterContinental Mina Al Arab with 351 rooms.
Progress on current projects
In addition to announcing new projects, significant progress has been made in the development of several tourism attractions: 
Sky Room, the UAE's highest meeting room that can host up to 10 people.
Wingsuit Diving Platform - the first base jump platform in the UAE for professional base jumpers and home to Khalifa Al Ghafri, also known as the 'UAE Batman'.
The Jais Sledder, a toboggan ride that runs a length of 1,840 meters, will be the region's longest and is scheduled for completion in the third quarter of this year.
Jais Eco-Golf - a mini putt-putt 9-hole golf course with two to three hitting bays
The world's first Bear Grylls Explorers Camp that opened at Jebel Jais last year will provide additional accommodation following the launch of nine units in February 2021 bringing its total to 30 cabins.
The UAE's highest restaurant, 1484 By Puro on Jebel Jais, will be enhanced and enlarged to create an even more memorable dining experience.
Work on several hiking health and safety improvements on Jebel Jais is also underway, including the installation of markers and reflectors, implementation of Hikers Safety & Registration gates, lower trail restoration, a new trail development, safety & information boards as well as a hiker's shower room and shaded picnic benches at vantage hiking spots.
Alison Grinnell, CEO of RAK Hospitality Holding said:
"As we navigate through the new normal, we are witnessing a reimagined travel and hospitality sector. Our ability to build sustainably, especially on Jebel Jais with a number of hospitality offerings including Earth Hotels and Mantis Collection with eco-principled luxury lodges as well as accessible attractions will only enhance Ras Al Khaimah as a leading tourism destination moving forward.

 

Moreover, our large-scale hotel developments, in particular on Marjan Island with the Movenpick brand is a genuine step towards renewed confidence in our industry."