Netflix Party Extension: Your Solution for Streaming Movies Remotely with Friends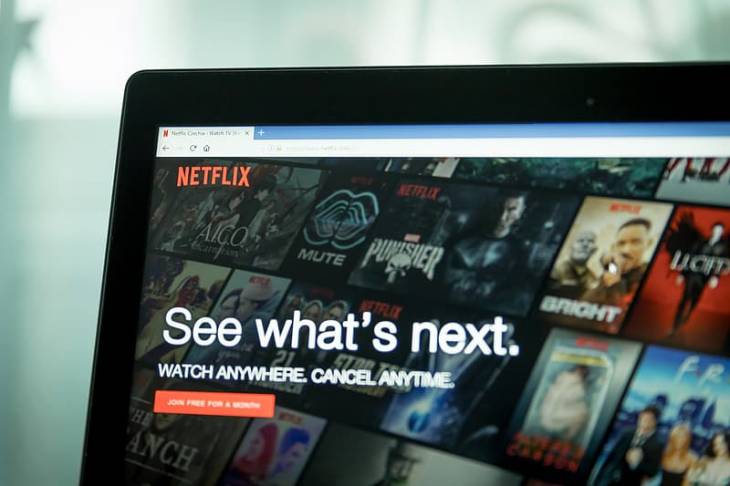 This year, social distancing has denied everyone an important aspect of human interaction – that is to be socially active with others and we miss it.
With Covid-19, social distancing has become a norm, which is a necessity and also a draw back at the same time. A necessity because, as you know, it saves you from the deadly coronavirus outside. And a draw back because you now cannot be socially active and meet up with your friends, which puts you in a very tight (and sometimes) lonely spot.
And if you are someone who loves to hang out with friends and watch movies, your suffering must be palpable. But don't despair, there's a way to hang out remotely with friends and watch movies—with the Netflix party extension.
Netflix party extension lets you watch movies with your friends anyplace and anytime. You and your friends can log in to your separate Netflix accounts. Then, you guys can pick a movie you all want to watch and the Netflix party will sync the playback across your screens, so you are all watching the same thing at the very same time from your individual Netflix accounts.
How cool is that? Now you can have a great social distancing Netflix viewing party!
Out of its many exciting features, the Netflix party extension has a text chat function on the side of the screen (similar to the YouTube chat during a live stream), which lets you and your friends interact with each other in real-time.
Still wondering how does Netflix Party work?
How to Make the Most of Netflix Party Extension
Here's a quick guide to teach you how to make the most of the Netflix Party extension so you can have fun with your friends while following all the norms of social distancing.
Organize a Netflix Party with "Teleparty"
The Netflix party extension (Teleparty) has proved itself a game-changer this year. It allows you to sync your favorite streaming TV shows and hold exciting movie nights with your friends.
The group chat allows you to express your excitement and share your thoughts with friends in real-time.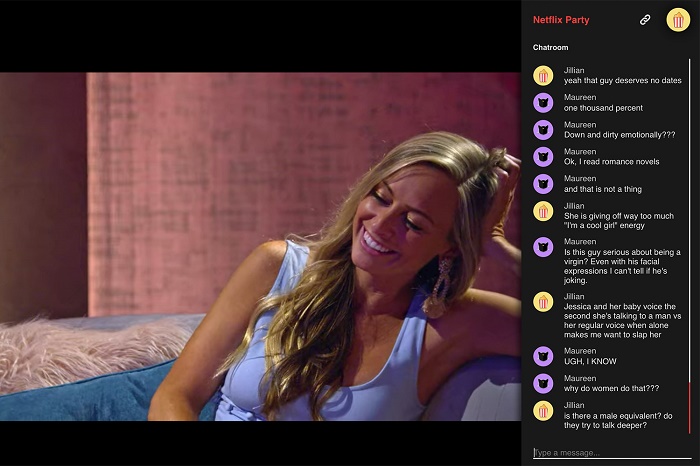 Here's how to set it up
Download the Netflix party extension (also known as Teleparty) from your browser app store. You'll see the Netflix Party extension icon is visible next to your address bar. As soon as you are done downloading it will turn from grey to red. A window will appear to show you how to "Create a Netflix Party."
Next, you have the option to either give yourself total control over the playback or leave it open to everyone. Click "Start the party"
Another window will pop up guiding you to "Create a Netflix Party." Now you can choose to either give yourself total control over the playback or leave it open to everyone who is in the party. And let the party begin!
Next, a link will pop up with "Copy URL," which you need to share with your friends. In case you lose the link, you can find it again by clicking the Netflix Party extension icon.
Why You Should Try the "Teleparty" Extension
There are many reasons why the "Teleparty" extension is fun to use:
Active Live chat, enables you to blurt out all your thoughts about a movies and discuss it with your friends while you are actively watching the show remotely together.
Another reason is the smooth performance. You'll hardly face any issues while streaming a movie. Just sit back, relax, and enjoy the show with your friends while observing social distancing.
Besides, another great feature of holding a Netflix Party is that you are not confined to any timings. You can watch movies and organize parties whenever you want.
Unlike watching movies in theaters where you are supposed to follow a special set of timings, with a Netflix Party extension you are the boss of time and can watch shows whenever you want.
However, if you are still not content with this app, you have more options to choose from that also work seamlessly with Mac.
Let's hop onto some other options you have for hosting remote Netflix parties with friends.
Host a Netflix Party with "Scener"
This is again a great way to hang out with your friends and host a fantastic Netflix party. It has an attractive and visually appealing dark-purple interface, a live-chat section, and most interesting of all – webcam functionality.
With this impressive extension, you can see your friend's reactions while you are watching your favorite movie or a TV series together.
Here's how you can use it
Download the Scener extension from the Chrome web store
Create an account with the assistance of the Scener's extension.
Click on the Scener extension once again, located on the right of the address bar, and log in to it with your Netflix credentials.
Tap on "Create a private group," enter your name and click "Next."
Copy the URL and share it with your friends.
Once everyone has joined the Scener Netflix party, tap on "Watch Together." This will prompt a new set of icons to appear. It lets you turn on your webcam and mic by clicking on the camera icon and microphone icon, sequentially.
What Makes "Scener" Special? Let's Find Out
With "Scener" you can share the remote with another friend. You may know that sometimes the weight of responsibility becomes too heavy and you need to share it with others. This remote sharing option lets you do just that.
So, if you wish, you can handover the remote to someone else at your Netflix party and let them choose tv-series or a movie of their choice for everyone to watch together.
You are not confined to one tv-series or movie with Scener Netflix party. This extension lets you switch to another episode, show, or film and your Netflix party won't get kicked out of the session. You can see those priceless reactions on your friends' faces in real-time.
Once again, you'll feel the sensation of actually watching a movie with your friends, which you've probably missed all this year.  
The Show Must Go On
It doesn't matter that you cannot physically watch movies together with your friends because of the global pandemic. There is a work-around for doing it safely and remotely with Netflix Party extensions like those mentioned above. The show must go on!
The experience of watching movies remotely with friends is always thrilling just like it was before the global health crisis forced us to keep away from each other. This is exactly what Netflix party serves, the feeling of closeness with your friends watching movies or TV-shows together – having a good laugh and a great time with each other, while you create beautiful memories.
What are you waiting for? Organize a Netflix party with your friends and have the best time of your life while sitting on your bed, wrapped under a blanket. Make sure you invite all your friends, so no one is left behind from having a great time.