7 Books Bill Gates Wants You to Read That We Actually Love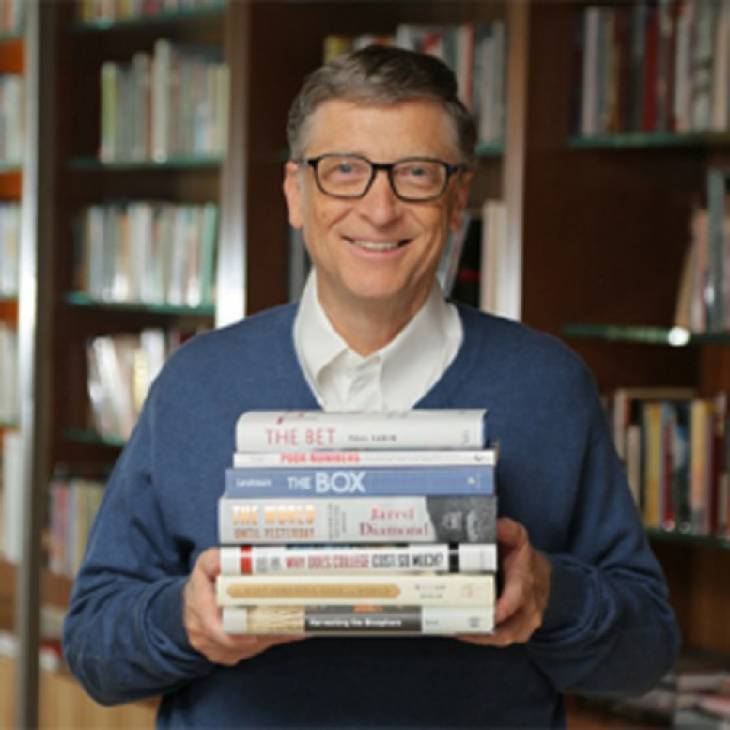 Ever wondered what books the richest, most successful people in the world read? Well, you don't have to wonder any more. Bill Gates, one of the richest men in the world, often opens up and shares his current list of favorite books on his blog, along with brief descriptions of the books and sometimes his personal review. Check out these seven books Bill Gates recommends you read that we actually love. The books include novels, inspirational books and a few great business manuals. Enjoy!
This classic was published in 1963 and became an instant hit soon after. It's a must read for every businessman not only because it is the story of one of the world's leading motor vehicle company, but also because it contains invaluable lessons from the unique experience of a leader who led the company to immense prosperity. Bill Gates says of the book: "This is probably the best book to read if you want to read only one book about business." And he is right. It is a manual for future business tycoons.
This is one of the all-time greatest classical works of American literature. The novel almost always features in "Top 10 American classic books" lists, and for good reasons too. It is a first-person account of an expelled student of sixteen named Holden Caulfield who encounters many events that seem to preclude adult. In an interview on Achievement.org, Gates says, "I didn't actually read Catcher in the Rye until I was 13, and ever since then I've said that's my favorite book. It's very clever. It acknowledges that young people are a little confused, but can be smart about things and see things that adults don't really see. So I've always loved it." And we love it too, Mr. Gates.
A separate Peace is a story about two boys, Gene and Phineas, who are studying in a boarding school in the early 1940s. The two friends face many obstacles that are unique but also characteristic of real life, including the Second World War that threatens to separate them. The book might not be the most popular out there, but it certainly is a respectable book. Gates says it is his second most favorite. In his own words: "My second favorite book is the book by John Knowles called A Separate Peace. And that's a phenomenal book. I've been reading it to my son recently. There is actually a movie made of it that's fairly good, but I'd say the book is incredibly good."
Set in the delightful Jazz Age of the 1920s, the Great Gatsby is a wonderful story of Jay Gatsby, a very wealthy and powerful billionaire who is in love with Daisy Buchanan. Like many people with his kind of power and money, Gatsby likes to throw luxurious parties and invite beautiful people to come and have a good time. Written in pleasant stylized language, this 20th Century classic is a delightful read that Gates urges all to read. Other famous people also recommend the book, including American novelist and freelance journalist Charles Michael "Chuck" Palahniuk.
You would be forgiven for thinking this is the life story of Peter Buffet, but the author – who bears such a famous last name – claims he hasn't inherited much from his parents in terms of materialistic issues. What he has inherited, though is the family philosophy that "Everybody must find his own way in this life." And that is what he shares in this heartwarming, mind broadening and inspiring book. The question posed as you read the book is this: What will you choose, the way of least resistance or the way of greatest satisfaction? Gates says about the book, "Melinda and I have both read it and like it a lot. We've known Peter for many years because of our friendship with Warren and the whole Buffett family. It's a thoughtful and touching book, and we plan on reading it with our older children."
This is yet another great read Gates recommends you read and which is also recommended by his billionaire friend Warren Buffett. Gates says, "Don possesses a special combination of experience, wisdom, self-confidence and self-awareness. His ten commandments for failure will reach you more about business success than a whole shelf full of books."
This eye-opening book answers some of the most fundamental questions about language as a mode of communication, including questions like: what exactly is language? Who made it? How is it structurized? How come we understand each other? It's certainly a fascinating read. Gates recommends everyone reads it, as do we.