Investing in Real Estate: How to Find the Right Property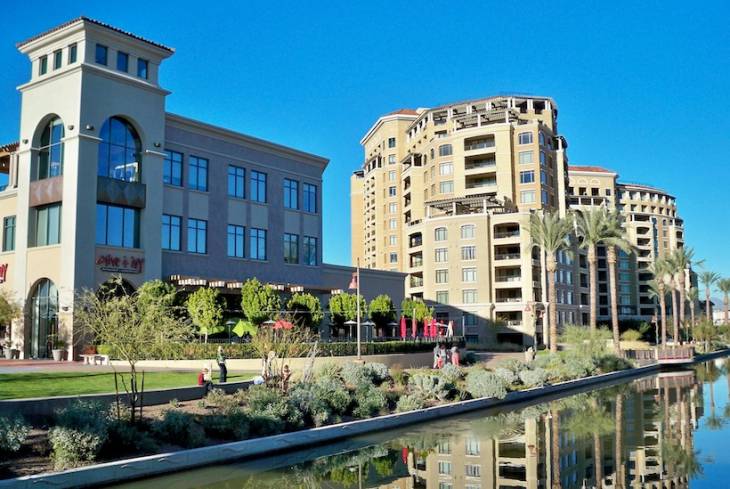 View of the Scottsdale Waterfront on a clear day. Photo: Joseph Plotz / Wikipedia.
When it comes to real estate investment, the location of a piece of property plays a huge role in the value and viability of the property. It is the location that determines the affordability and demand for housing. 
As an investor, you need to consider the site of a property carefully to determine if it is a good investment. For example, the Scottsdale Waterfront real estate market located in the heart of Scottsdale in the desert city of Arizona east of state capital Phoenix has been hot for some time now.
If you were to invest in real estate in Scottsdale, AZ, you would need to first investigate why the property market in the area is hot (or not) before deciding to invest in the area.
Data shows that home prices continue to increase across the U.S., with Scottsdale leading the way with a 29.3% increase in homes' value over the past year from May 2021 to May 2022. Projections also show that homes values in Scottsdale will continue to rise over the next twelve months.
The data
Arizona omes are becoming increasingly popular, and living costs are a major factor. Scottsdale is located in Maricopa county, and the average home sales price was around $530,000 in 2021. This is a little more affordable compared to other coastal areas. 
There are many activities for people of every age group in Scottsdale. From waterskiing to fishing, luxury pools, spas, and beautiful restaurants make it an ideal place—no wonder Scottsdale in 2014 was voted the no.1 city to raise children in America.
Staying in Scottsdale means the door is open to numerous travel destinations. From trips for couples to family vacations, there is something for everyone. Scottsdale is near the U.S-Mexico border and also offers wine tasting and horse-riding activities.
The majority of months are warm and sunny in Arizona. Only about 2-3 months of the year do people experience hot weather. These climatic conditions also make it a win for people.
The real estate market in Scottsdale is hot during the spring/summer, similar to the weather. One can expect higher mortgage rates and more listings then.  
When conducting your market research and analysis in Scottsdale, AZ, you should be able to uncover such market details to help you determine if this is a good investment opportunity for you.
Things to Check to Find the Right Property Anywhere
In general, some of the main things and key factors you should consider before investing in real estate anywhere are:
1. Liveability quotient
Check if the social and physical infrastructure in an area can support the life or lifestyle you want. Facilities like schools, hospitals, shopping complexes, and transport facilities are something to watch out for before investing in an area.
Also, research whether anything is going to substantially change the area or the living standards you have identified, such as any planned construction or developments projects. 
As an investor, you should always understand and be clear about the present and future prospects of the place before making any investment.
2. Location
Location, location, location" is a common mantra in real estate. The location of the real estate property you invest in should suit your current needs and projected requirements.
Ideally, find a place that is in a developed location and has modern facilities and low crime rates. It should also have job hubs to offer work to residents. People like to move to neighborhoods with better job opportunities and convenient entertainment centers.
A location with good facilities, affordable prices, and solid growth potential is likely to bring the best value and returns on your investment. 
3. Costs
Another important factor when determining the right property is cross-checking the appraisal, inspection, acquisition, and ongoing costs of the property. Other factors like your budget and income sources also come into play when investing in the real estate market.
Moreover, consider the land where the house sits on, landmark features and views, as well as if the property itself needs repairs and updates. Property repairs and update costs can add up to a significant amount so that should be factored in as well.
And a dilapidated house in need of repairs but with a huge lot may be a better investment than a house in tip-top shape that sits on a small lot. That's because the lot can't change but will likely appreciate in value overtime relative to a house that can always be updated.
In Conclusion
Finding the right real estate property to invest in will always be a big decision that relies bigly on personal choices and preferences. But the aforementioned considerations will go a long way in helping you find the right property for you. Good luck!