How Expert Gutter Cleaning Services Can Protect You & Your Home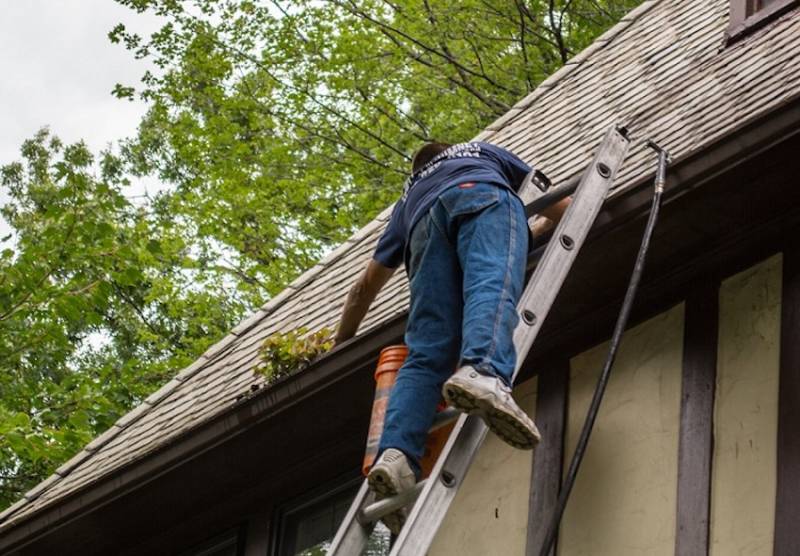 Gutter cleaning. Photo: Tim Evanson/Flickr.
The importance of cleanliness cannot be denied. And cleaning your gutters is a crucial part of house upkeep and maintaining a clean home.
Gutter cleaning on a regular basis ensures your gutters also fulfil their duty, which is to protect your home from harm caused by excessive water flow.
While you can skip hiring professional gutter cleaners and instead clean your gutters yourself, this can be a risky option and not always advised.
Ladder falls are known to cause serious injuries when inexperienced homeowners use them to get to their gutters in attempts to clear them out
When cleaning your home gutters or performing other house repairs, it's very important that you know what you are doing, are very careful when working, and where possible seek the help of professions. Professional gutter cleaners, for example, can help you with a range of issues.
Typical Gutter Issues
A lot of issues with gutters occur in many homes and buildings. Most of them can be handled by gutter cleaning services. The following are the most prevalent gutter problems and their likely consequences:
Gutters with Blockages
Broken or Cracked Gutters
Gutter Installation Errors
Gutter cleaning experts will have all of the necessary education, insurance, and experience to safely address all your gutter issues.
Gutter Cleaning Services will also have the necessary professional equipment to address your issues and keep your gutters clean and your building safe.
You may think that if you have gutter guards, you do not need professional gutter cleaning services. That couldn't be further from the truth. While gutter guards keep large twigs and leaves out of the gutter, silt will still seep through, necessitating gutter cleaning.
Permanent gutter protection might make regular gutter cleaning more difficult, if not impossible. Rather than installing gutter guards to avoid frequent gutter cleaning, embrace regular cleaning, making sure your safety and the safety of the people in your house or office is assured.
What If You Want to Replace a Gutter?
If you want to replace your gutters, there are many types of gutters available in the market. Copper gutters, aluminum gutters, and other materials are among the options you can buy.
It's a good idea to enlist the expertise of an experienced roofing company to guide you in the selection process. This can guarantee that the gutters you buy are the best for your home, budget, and specific requirements.
Roofing contractors have a lot of experience in the field, so they know what to look for in a reliable gutter and can propose the finest option for your property. Where possible, leave gutter cleaning to the professionals.
Investing in Gutter Cleaning
A little annual investment in gutter cleaning services can go a long way in protecting your property and keeping everyone in it safety. It will also help you increase the aesthetic value of your property and avoid costly property damage.
If gutters are not cleaned and water overflows from the gutters, the water will fall along the foundation of the building. This can soften the soil around and under it, which will bring about foundation cracks. In extreme cases, water damage can cause structural failure in a building.
So, ensure your gutters are cleaned at least twice a year. However, depending on the sort of foliage you have near your home (such as pine trees), you may want to clean once every three months or so.
Remember...
The quality of your gutters is directly proportional to the health and safety of the people who live in your building, whether it's a family home or a business. You are protecting the health of your family and employees by hiring skilled gutter cleaning services.
You might even be saving your own life from serious injuries caused by ladder falls, as well as fire outbreaks and other health risks linked with blocked gutters.