Digital Out of Home Advertising: What It Is and Different Ways to Use It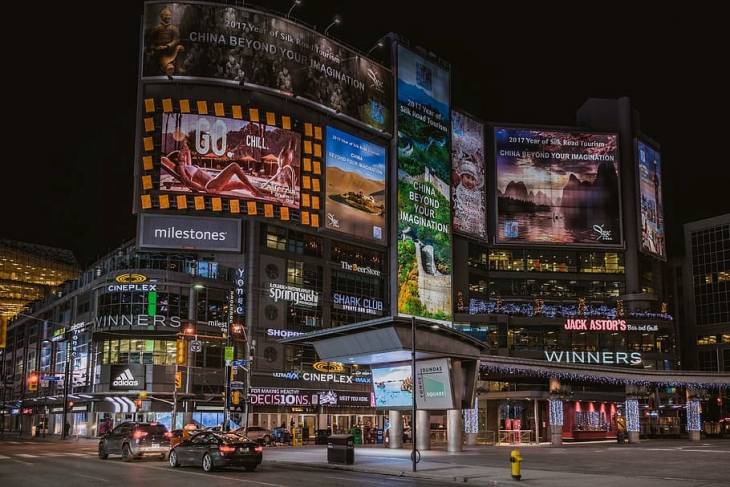 We all are probably very well familiar with the traditional Out of Home Advertising (OOH) or outdoor advertising where the only means to advertise outside included billboards, posters, hoardings, and so on. Now, these traditional forms of advertising seem like a distant past.
Today, with the emergence of Digital Out of Home (DOOH) advertising, digital marketing has become the face of this era. The advent of this highly impressive and effective DOOH advertising technology uses digital screens and signages for offline outdoor advertisements.
DOOH advertising has seen tremendous growth in recent years, with a sharp rise of 40% from 2015 to 2017. This figure is expected to only keep increasing in the coming months and years as the world continues to be engulfed by digitalization and new digital technologies.
Incidentally, the rise of social media and smartphone use has also promoted the convenient adoption and use of DOOH advertising.
Let's explore how DOOH advertising is integrated to form cool trends in marketing you can use in your own business to promote your brand and products.
1. Use of LED and LCDs
With the drop in the prices of LED and LCD screens, DOOH advertising has gained much more popularity. The use of LEDs and LCDs make it easy to accommodate more digital screens in a place.
Also, if you want to stay ahead of the curve in digital marketing through DOOH advertising, focus on buying premium LED/LCDs so that your background noise doesn't come in the way of your advertising and the messages are transmitted to your audience seamlessly.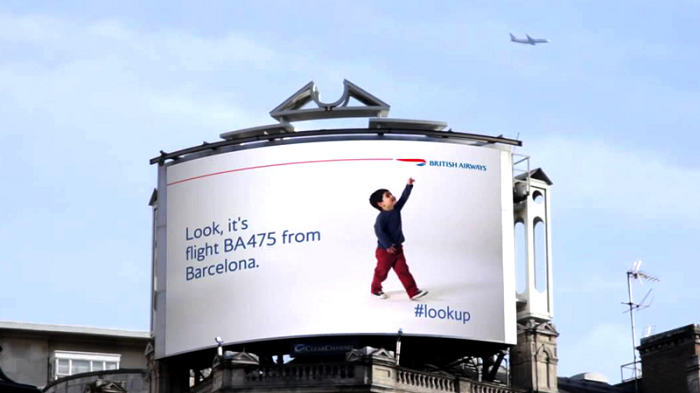 2. Integrate Mobiles and DOOH Advertising
You can make use of mobiles and DOOH together to communicate with your audience instantly. Want to know how? This method of communicating with your audience may blow your mind and it has levelled up the standards of DOOH advertising.
With the help of augmented reality, users can link their smartphones with the digital displays as was done by Ocean's NHS Blood Campaign in their recent blood donation camp.
"What we wanted to do with this campaign is to normalize blood donation by feeding live NHS Blood and Transplant blood donation data onto a digital screen on your high street, showing real appointments as well as blood donations happening in your neighborhood," Sean Kinmont, founding partner and creative director of 23red, said of the NHS digital out-of-home campaign. "We hope the data-led approach combined with the emotive imagery strikes a chord with people."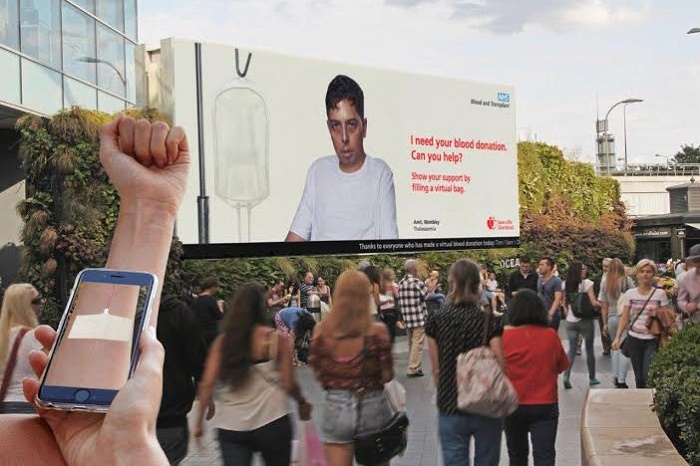 In the NHS digital out-of-home campaign, you could connect DOOH mobile audio content with live NHS data that informed donors of the volume of appointments available in their local area, and it also used Bluetooth low energy beacons to deliver timely messages from DOOH.
3. Adding to Modern Infrastructure
DOOH advertising has also emerged as a parameter that can be used to differentiate a developed country from a developing country. In cities like London, Paris, Manchester and Birmingham, DOOH advertising has already become a part of their everyday lives. Citizens there, for example, can use Wi-Fi with the help of DOOH ads and be connected with facial recognition.
In New York, users can charge their mobiles and access digital screens to find local maps. In Paris, more than 100 of the city's iconic newspaper kiosks were fitted with external DOOH touch screens that let people book tickets, charge their mobiles and provide other self-servicing.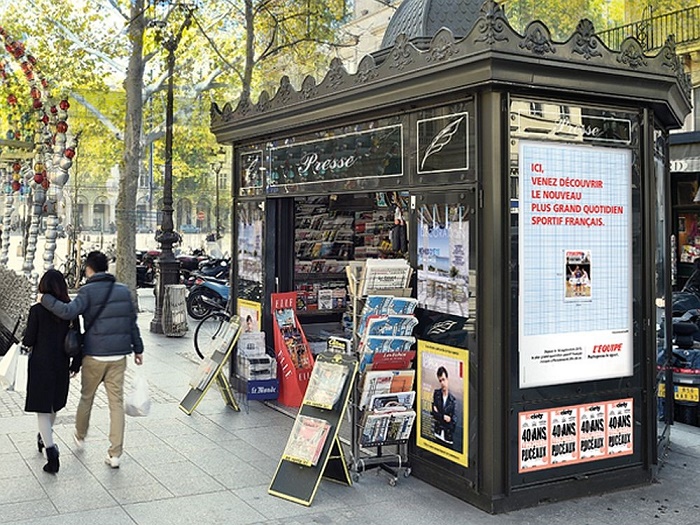 Accommodating your advertisement in these DOOH utilities requires your adverts to be creative out of the box and relevant to get audience engagement. Whether you choose to make use of integrated features of DOOH or you choose to move your customers through the use of moving images, you need to have creative ideas to make the best use of DOOHs.
4.    Enhanced Recognition
Digital displays enable next level abilities to recognize your audience with the help of technologies like gender recognition, vehicle recognition and gaze tracking technology.
In the recent digital advertisement by Renault, they actually called out customers by displaying tailored personalized messages while people were driving at Holland Park Roundabout in London. They were able to do so by identifying drivers through their number plates.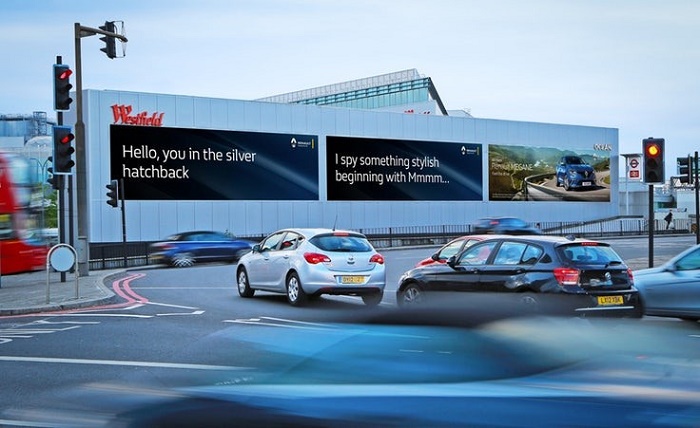 Recognition features like these have taken another turn by not just recognizing through identification, but through emotions too.
Emotion recognition is a marker of today's era. With this, advertisements raise the bar and place ads over digital screens related to the mood identified. Wouldn't that be eye-catching? Interactive facial detection has already made its way to DOOH and is impressing audiences.
You can also start leveraging new advertising trends like these one from now so that you don't fall behind in the ever-evolving digital marketing space. Personalize your advertisements with recognition of sorts and leave that long-lasting, positive impression on your audience.
5.    Integrate Social Media Feeds
Another integration that is so in talk nowadays is the integration of social media feeds with DOOH screens. There is arguably no better medium to show off your user generated content (UGC) than on digital screens and digital signages.
Integrating social media feed on DOOH undoubtedly result in greater audience engagement and brand awareness. Various UGC platforms like Taggbox in the market make the job even easier.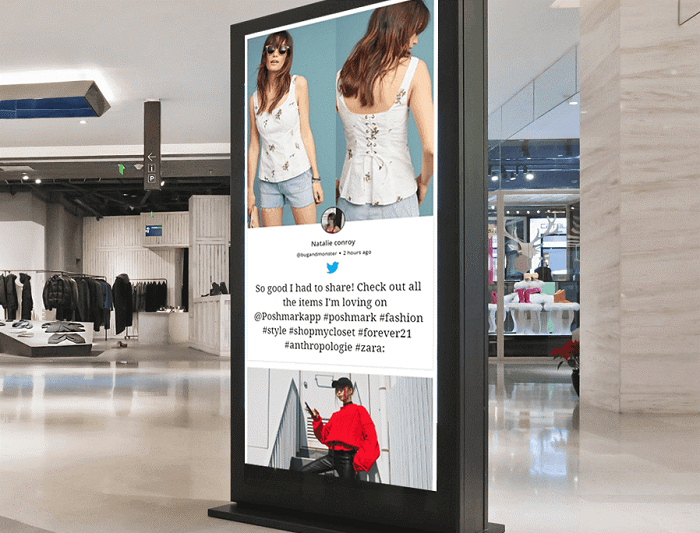 6.    Engaging HD visuals
Don't restrict your advertisements to a particular screen shape. Instead, switch to high definition displays, OLEDs, quantum dot, HDR and transparent displays to amaze your audience.
DOOH has revolutionized advertising in incredibly powerful ways and having brighter and clearer visuals with wider viewing angles is one of the ways to tap into this digital revolution. You can also stream live content on your DOOH (like the UGC) through fibre connectivity too.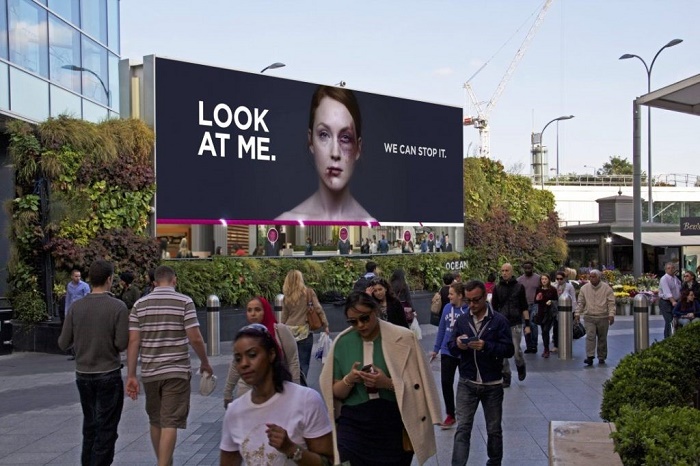 So, those are just some of the really cool trends in DOOH advertising that are happening currently and likely to see a surge in the coming years. Make sure you keep pace with new and future DOOH trends to excel in the world of marketing.