Creative and Best Game of Thrones Bobbleheads in the Market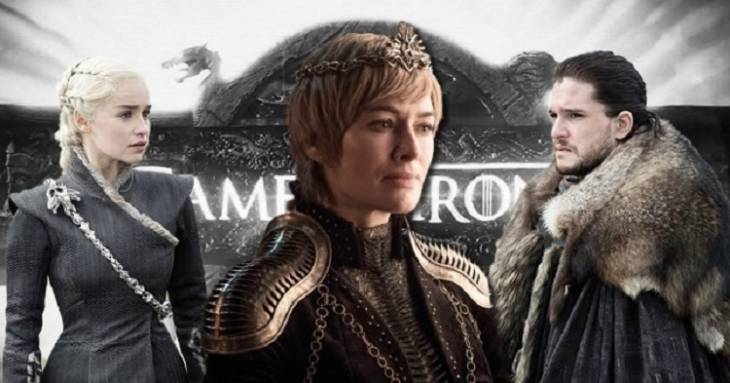 GoT characters Daenerys Targaryen (Emilia Clarke), Cersei Lannister (Lena Headey), and Jon Snow (Kit Harington) in the epic fantasy television drama based on the bestselling book series by George R.R. Martin, and created by David Benioff and D.B. Weiss for HBO. Picture: HBO
Game of Thrones (GoT) was the most popular show to air on television in the recent past. Many people are still hooked on to this epic TV series even after it ended with the Season 8 finale.
It is estimated almost 20 million viewers tuned into The Iron Throne when it aired in the US on 19 May 2019. That's just above 16% of that country's entire population, according to media reports. GoT was the most popular show of the decade, if not the most popular TV show in modern times, and some continue to argue that we won't see anything to rival it again any time soon.
Because of its popularity, GoT launched a market with a variety of merchandise, such as toys, shirts, accessories, and other items. One hot merchandise produced to date is the bobblehead.
Many bobbleheads have emerged that are created to resemble various characters in the Game of Thrones. Bobbleheads are a very popular way to celebrate the cultural phenomenon that was the show, and they create a wonderful sense of interaction because of their adorable head nods.
If you loved GoT and would love to showcase your fandom with creative GoT merchandise, getting Game of Thrones inspired bobbleheads is a great way to show it.
GoT bobbleheads can also be the perfect gift item to fill that GoT-sized hole in your friend's, colleague's, or family member's heart.
Among the most creative and best GOT bobbleheads you can find for your inspiration are:
1. Game of Thrones MLB Bobbleheads by FOCO
Entertainment collectible makers FOCO was licensed by HBO and MLB (Major League Baseball) to produce a line of Game of Thrones bobbleheads featuring each Major League baseball team, thus the creation of impressive GoT bobbleheads crossovers.
Not only do these creative bobblehead show how dedicated you are to your baseball team, but they also showcase your fandom to the epic TV series. This is a special treat for people who collect Major League Baseball collectables and at the same time are a big fan of GoT.
For some of its creative bobbleheads, the Night King holds a baseball bat standing on the ice with the dragon behind him and a flag beside him. Another original bobblehead design is of a mascot sitting on the iron throne or riding on the dragon.
Other designs show the players in their baseball uniforms wearing a crown while sited on the iron throne while holding a sword like a bat.
FOCO bobbleheads. Photo: FOCO.
You can check out more of their products on the FOCO website, where you will see a range of bobbleheads from different baseball teams designed based on the show.
Prices range from $45 to $60 each available on foco.com.
2. Funko POP Game of Thrones by Funko
These Funko POP bobblehead are great collectible figures of all the characters in the show, including the much revered dragons.
One of their best-selling products is the Night King on Dragon Collectible Figure. The figure shows the Night King riding the dragon named Viserion. From the marketing photos, you can easily tell that these products have been created with great attention to detail.
The reviews for the products were highly recommended and positive, especially for its quality. These Funko bobbleheads are perfect for a gift or an addition to your collection of Game of Thrones collectible items. They are normally 3 3/4 inches tall made from vinyl.
You can buy items by Funko through Amazon. List prices range from $8 to $20, depending on your location.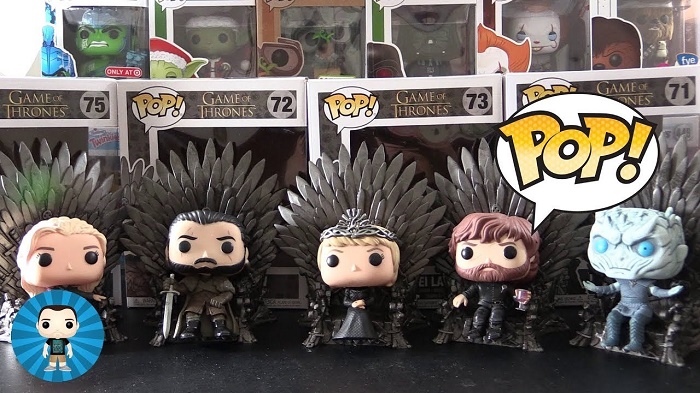 Iron Throne Funko Pops bobbleheads, including Daenerys Targaryen, Jon Snow, and the Night King. Photo: Pop Sideshow.
3. Custom Bobbleheads
If you are looking for bobbleheads that are individual, customized, and carefully made to suit your exact needs, then tailor-made custom bobbleheads are a great option for you. You can even get custom bobbleheads that are custom-made to make the head look like you or a friend.
Custom GoT bobbleheads can be ordered from sites like cheapbobbleheads.com, including the Night King, Daenerys, Jon Snow, and other characters from the series. The best part about custom bobbleheads is they are a great candidate for collectibles with deeper sentimental value.
When ordering custom bobbleheads, make sure to ask further specifications and provide complete instructions so that the manufacturer can make it exactly how you want it to be.
Overall, bobbleheads look amazing in your fan cave, and also on your home or office desk.