Cost of Living Crisis Statistics Revealed: Impact On Business Lending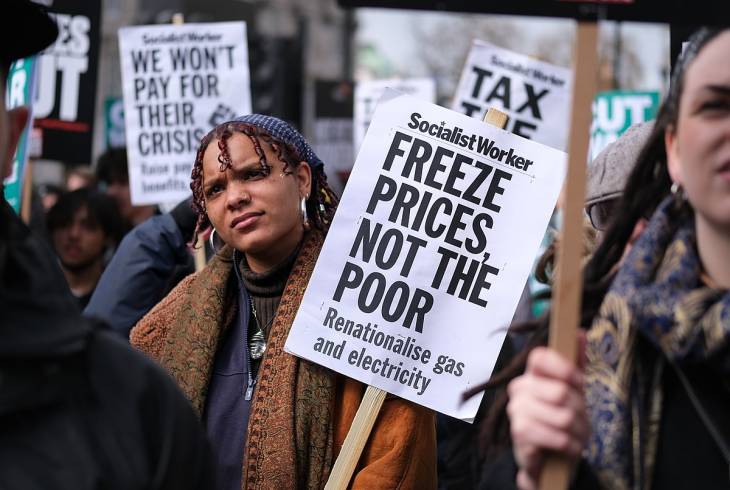 A protestor concerned about rising cost of living and its impact on the poor. (The protest took place on 2 April 2022, outside Downing street). Photo: Alisdare Hickson / Wikimedia.
A new report reveals that 54% of SME owners say rising fuel and energy costs are one of their greatest threats to survival. 
Intrigued to find out how the SME market has coped with such challenges, and as part of their new business statistics report, the business finance team at money.co.uk delved into how the cost of living crisis has impacted business lending statistics in 2022. 

The findings within this release are a snapshot of an extensive study on business statistics.
Business lending statistics in Q1 2022
The business statistics report found that successful finance applications amongst small businesses have been plunging in 2022. 
Fewer than one in ten (9%) small businesses applied for finance in the first quarter of 2022. Of this small proportion, only 43% had their applications approved. 
That is just half of the application success rate recorded from Q3 2020 to Q4 2021, in which eight out of 10 (85%) small businesses had their applications approved.
Use of credit by companies that secured finance in Q1 2022
| | | | | |
| --- | --- | --- | --- | --- |
| Use of credit by business | Manage cash flow | Invest in equipment | Expansion of business | Recruitment |
| % of responses | 42% | 21% | 9% | 4% |
When it comes to using credit, 42% of the companies that managed to secure finance in Q1 2022 plan to use it to manage cash flow. This is relatively low when compared to 81% who secured finance for this reason in Q4 2021. 
Only 21% of businesses plan to use credit to invest in equipment, with 9% utilizing funds for expansion, and just 4% for recruitment in Q1 2022. This suggests that many small businesses across the UK and many other parts of the world are struggling with the ever-growing cost of living crisis and rising inflation rates.
Driven by post-pandemic changes to small businesses' debts and lack of business investment, Bank of England figures show that demand for lending has eased. The annual growth rate of lending to SMEs is at a record low, despite small businesses making net debt repayments totalling £65.7billion in 2021.
That is an increase of 14% from 2020 and 19% higher than 2019–and close to £1 billion in March 2022 alone.
The cost of living crisis and its impact on small businesses
An extensive study on business statistics has broken down how the cost of living crisis will likely impact SMEs, and how they can deal with this stressful time.
Rising energy bills - A breakdown of the prices of business energy in the UK (2020-2022)
| | | | | | |
| --- | --- | --- | --- | --- | --- |
| Electricity | Electricity  | Electricity | Gas | Gas | Gas |
| Year/Quarter | Small/medium businesses (p/kWh) | Average (p/kWh) | Small businesses (p/kWh) | Medium businesses (p/kWh) | Average (p/kWh) |
| 2020 (Q1) | 14.89 | 13.66 | 2.34 | 2.3 | 2.41 |
| 2021 (Q1) | 14.19 | 14.09 | 2.2 | 2.13 | 2.3 |
| 2022 (Q1) | 19.38 | 18.14 | 3.33 | 3.98 | 3.95 |
| Source: GOV.UK |   |   |   |   |   |
Recently, there have been significant changes in the rates businesses have been quoted for gas and electricity as unlike residential properties, there is no price cap. Wholesale prices are at a record high for companies, which is having a knock-on effect on consumers who are having to pay through the roof for these necessities.

At the beginning of 2022, SMEs paid an average of 19.38p per kWh for electricity – slightly more than the average. This is an increase of 37% since the same period in 2021 (14.19p per kWh).
The cost of travel 
Around half of all train fares in England and Wales have increased by up to 3.8% in March 2022 – the biggest price hike in nine years. 
Public transport fares in London also experienced an increase of 4.8% in March 2022, meanwhile, driving saw fuel costs reach an all time high in 2022. UK motorists are currently paying an average of £1.75 per litre for unleaded and £1.85 per litre for diesel. 
James Andrews, senior personal finance expert, said: 
"2022 has been a hectic year due to the cost of living crisis and inflation rates reaching a record high, so it comes as no surprise that SMEs have been struggling this year. Research from the beginning of the year shows that, of those businesses securing finance, 4 in 10 plan on using it to manage cash flow problems.

 

In this challenging environment, it is important that businesses are aware of how to monitor their finances efficiently. In addition to shopping around for energy suppliers and speaking to a specialist regarding rent costs and potentially considering the move to a remote workplace, there are various government grants that businesses can apply for - including travel costs."