What to Check When Buying a CPU Holder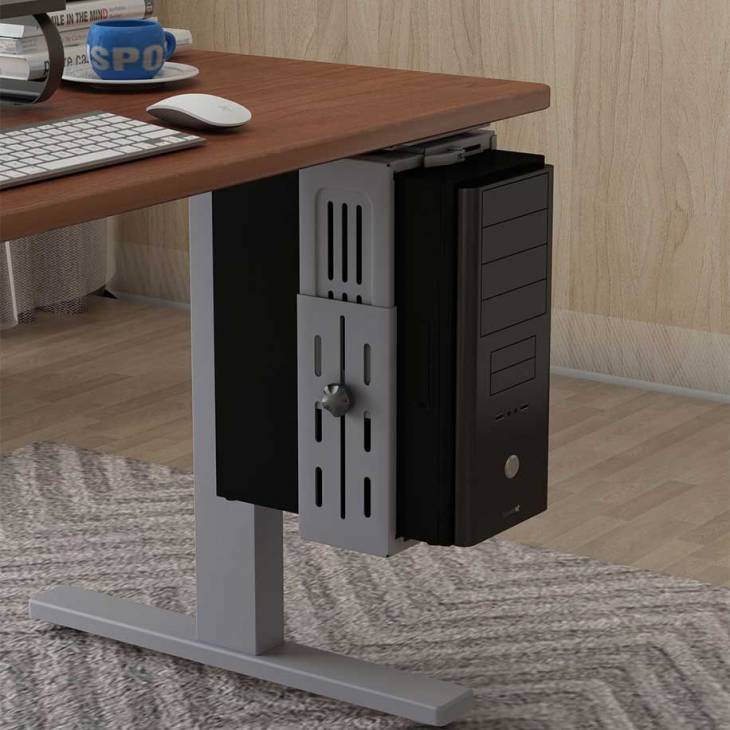 A CPU holder has slowly become an essential part of everyone's workstation. Whether you are working from home or in an office, it is essential to protect your CPU and, at the same time, access both the front and the back parts. For the uninitiated, CPU holders are a kind of frame that can be added to your desk. This frame will house the CPU and protect it from the floor.
With people spending hefty amounts of money on the right chair, desk, and monitor, the next logical step should be to protect the machine that facilitates your work. A CPU cabinet holder can eliminate overcrowding on your desk, and you don't need to deal with tangled wires anymore.
Let's look at some things you should keep an eye out for when looking through options.
What Is the CPU Cabinet Holder Made Of?
A cabinet holder is not only supposed to protect the CPU, but it should also be able to support the CPUs weight. Most options that are available in the market are made of either nylon or metal.
The metal holders will provide more stability and will last longer. The best option would be to find holders made of steel as those are sturdier.
Does It Have Mobility?
CPU holders come in many variants, and it's up to you to decide which one is the right one for your workstation.
Some holders can be positioned as a drawer right under your table, making them a good choice for a mini CPU.
Others have wheels so that you can shift their positioning under your desk based on your comfort. Some holders can rotate and swivel, giving you instant access to any part of the CPU.
Does It Fit with Any Desk?
Most CPU holders are designed based on the standard desk type. This is because most office desks are designed in a similar shape. But even if you have an unconventional desk in its shape, you can still find CPU holder options.
The best ones are built with a design where the type of desk is not an issue. Evaluate where you want the CPU to fit on or under your desk and check out options that work for you.
Does It Protect the CPU?
The primary purpose of CPU holders is to protect your PC. Most offices tend to orient their workspaces so that the CPU ends up lying on the floor. This not only builds dust and dirt particles on your CPU over time but also tangles up wires.
When these wires are strained or yanked, they can cause short circuit issues. Only go for the CPU holders that suspend your CPU above the ground and keep it safe against elements.
In conclusion
Most CPU holders in the market are meant for a universal type of desk, but if you go for options with a one-size-fits-all approach, you are more likely to find a CPU holder that fits perfectly into your workstation.
Check out reviews of any seller before you zero in on the best product for your needs.