Up Your Holiday SEO: 7 Tried-and-Tested Tips to Boost Traffic and Sales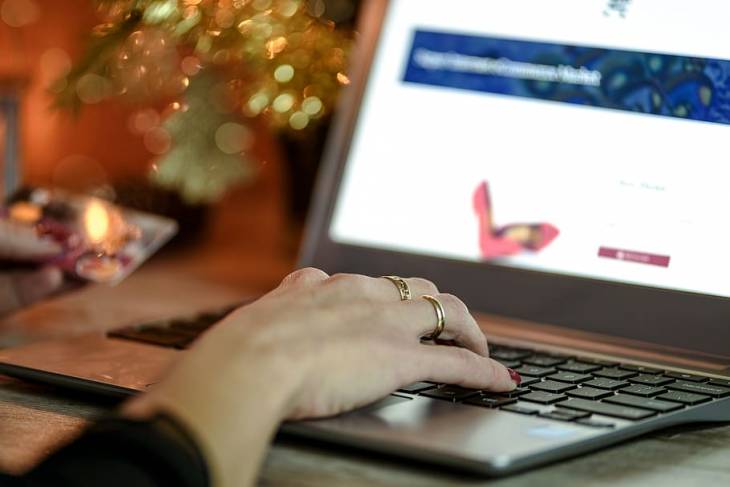 The holiday season is upon us once again. This is unarguably the busiest time of year for everyone, making it the most important time for businesses to get and convert those leads into sales.
With more and more people increasingly opting to shop online, this means your online visibility is also more crucial than ever during the holidays.
However, with the plethora of promos and sales pitches out there, it's easy to get lost in a sea of competition.
Brands and SEO companies all over the world from the US to the UK and Asia are working overtime during the holidays to gain prime spots in search engine rankings, and you should too.
To help you make the most out of the holiday rush and increase sales and traffic to your website, we highlight top tips, tried-and-tested SEO rules and techniques for the holidays.
Best SEO Rules and Techniques for the Holidays
Use these tips to increase your online visibility, skyrocket conversions, and grow your sales numbers this holiday season.
1. Start Early
If there's one thing you should know about Google, is that it takes a while for your keywords to start ranking. This isn't an overnight process. In fact, it's commonly said that you should follow the 45-day rule if you want your content to rank. Meaning if you want your content to rank on search engines such as Google and Bing, you need to get it out at least 45 days prior.
But there are a lot of factors that go into ranking such as the strength of your domain (also known as your domain authority) as well as how competitive your keywords are which is why we believe that there's no such thing as starting too early when it comes to seasonal SEO.
Starting early gives Google the chance to crawl and index your web page, which could take anywhere from a few weeks to 2 months. By starting early, you ensure that your content is up and easily searchable by users by the time the holidays come in.
2. Audit Your Site for Performance Issues
It's always a good idea to regularly monitor your site to ensure it's running at its optimum. This could not be more important than during the holiday season, when people are scrambling to get their holiday online shopping done quickly and efficiently.
Having a slow or buggy website will, without a doubt, turn away most of your visitors and send them running towards your competition. You don't want that to happen, so…
Check your site's load speed
Page speed load time is an integral part of a positive user experience. Research shows that users are found to leave websites which take more than 3 seconds to load. That's a scary statistic. It shows that even a one-second delay can cost you precious sales. There are site speed tools you can use to monitor your page's loading time.
 Fix Broken Links
Nothing is more annoying than taking the time to head to a link and it not being there. Now imagine all of your holiday customers having the same experience. Not only will you lose the sale but you could possibly be losing this customer for good. Take the time to find and fix the broken links on your site. Google Search Console is a great and free tool you can use to find broken links. Just go to Crawl > Crawl Errors > Not Found.
3. Update Your Keywords
Before improving any of your content, enter keywords that your customers would enter when searching for your products or services on search engines like Google and Bing. By entering these keywords on search engines, you'll see where your website and competitors appear in the results.
There may be cases where your results appear on the 1st, 2nd, or 3rd page of results. This is what you call page ranking. The closer you are to Page 1, the better. This is because websites on the first page get 91.5% of Google's traffic. Visitors hardly check on the succeeding pages. In fact, websites on the second page only get 4.8% of the traffic. Third page results? Only 1.1%.
See if there are any pages ranking well and leave those untouched. On the flipside, improve the other pages that could use a boost in the rankings. These are the pages you should focus on and rework.
Now it's time to take a look at your keywords. It's a good idea to incorporate holiday-related terms into your retinue of keywords. Google's Keyword Planner is a great tool that allows you to categorize keywords by month, making it easier to find high-volume keywords during the holiday season.
Another great tool you can use is Google Trends. It allows you to see the trending words, topics and even products. It also lets you see how certain keywords have fared in terms of search queries throughout the year. Just input the keyword and your desired timeframe and it will give you a line graph of your keywords' popularity within your chosen timeframe.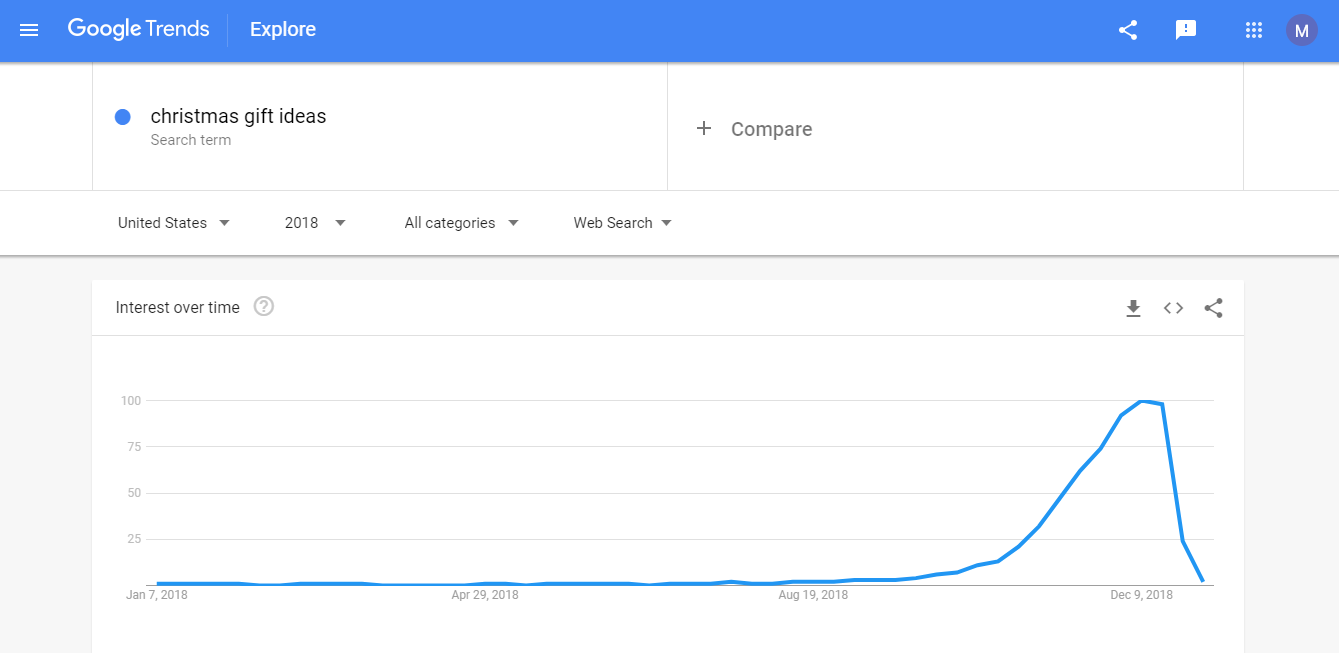 From the Google Trends figure above, we can see that search for "Christmas gift ideas" began picking up around November.
With this information, you can perfectly time when to release your seasonal content and services/products. You'll want to release your seasonal content and services/products BEFORE the peak to give it time to rank on Google and so that it's ready for viewing by the time the surge of searches comes in.

Looking at 5 years' worth of data depicted in the diagram above shows that the keywords "christmas gift ideas" peak at the same time each year.
When we typed in "christmas gift ideas" into Google Trends, it showed that it peaked the week of December 16 - 22, 2018. It also showed that it started gaining popularity the week of October 28 - November 3, which is around the time you should start releasing your Christmas-related content and products/services.
4. Create Holiday Content
Once you've found and decided on which keywords to use for your holiday SEO, it's time to start planning for your content. You'll want to make content that makes sense for you and your business - don't force content that isn't in line with your brand.
If you have an ecommerce site or sell products or services, it's easy to incorporate holiday themed blogs into your page. Think must-have Christmas presents or holiday deals. Don't forget to keep your customer persona in mind. Will you be targeting stay-at-home moms or other businesses? This will be key when it comes to creating your content.
On top of holiday-themed blogs, it's also a good idea to create a special landing page just for the holiday season. This is to drive traffic from search queries, particularly those searching for holiday-related keywords,
5. Optimize for Mobile
Around half of holiday shopping in last year was done through mobile devices (particularly through smartphones), and this number is only expected to rise in the coming years.
You'll be missing out on a huge number of potential customers if your website does not adjust to their screen or makes it difficult for them to find what they need to find.
Things to take note of when optimizing your site for mobile include:
Optimize videos to make them compatible with smart devices.
Make content scrollable and readable (we recommend a font size of 16 pixels).
Avoid using long paragraphs. Instead, cut it up into easier to digest sections.
Make sure buttons are spaced apart far enough for easy clicking.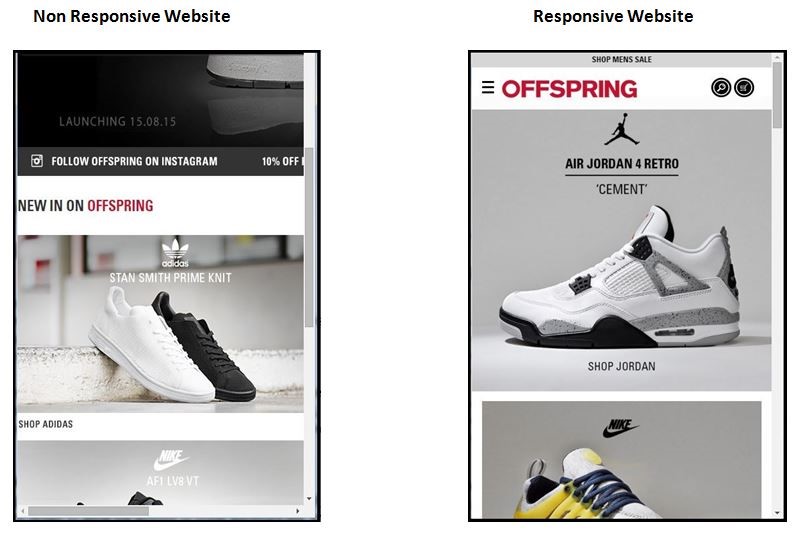 Offspring's website before and after they applied a mobile-responsive design. Image from Moz
Back in 2016, Offspring, a UK company selling sneakers, underwent a migration to a mobile-friendly website. The results they got were astounding:
15.19% increase in mobile/tablet conversion rate.
102.58% boost in mobile/tablet revenue every year.
Improved Google mobile usability score - from 60/100 to a perfect 100/100.
Improved rankings on SERP, leading to a 25.59% increase in organic traffic.
77.59% increase in first-page visibility three months post-launch.
6. Tie-In Your SEO Efforts with Other Marketing Efforts
Although doing SEO is crucial for getting noticed online, that should not be the only thing you focus on. In order to fully maximize the benefits of your SEO efforts, you should tie it in with the rest of your marketing strategies.
Social media is a great place to start. Just as with SEO, you should create a social media strategy well ahead of time. Plan your posts carefully, such as teasers to promote your holiday deals or offers. Make sure you have a clear start and end date for your promotions, especially if you plan on boosting your posts or creating social media ads. Don't forget to link your blogs and relevant content on your social media accounts as well.
Facebook is the perfect place to start. It has 2.37 billion monthly active users, giving you a lot of people to access and convert into customers. On top of this, Facebook also has built in insights and allows you to monitor:
How many likes and followers your page has (including total likes, new likes and net likes)
How many people are your posts reaching (including how many people see your page in general)
How many people engage (like, comment and share) with your post
How many people visit your page and where they're coming from
When your page likers are online
Top posts from pages you watch (which can help you see what kinds of posts your competitors are sharing)
Video views
How many people watched your video for more than 30 seconds
Your most viewed videos
The age, gender and location of your page likers
This data not only helps you monitor your results but because it gives you real-time data, it also helps you streamline and tweak your strategy as you go along. You'll get a better feel of what kind of content works best with your audience so you know which types of content are providing ROI and which ones to abandon.
7. Measure Your Efforts
The holidays will be over before you know it so it's more important than ever to stay on top of your analytics. On top of monitoring your rankings, keep a note of the organic traffic coming to your site, bounce rates, and dwell times to measure your success.
Scout for possible areas for improvement and adjust accordingly. Google Analytics is a great way to monitor all of these. Google Analytics helps you monitor:
How many people visit your site and the pages they visit
How long people are spending on your website
Your bounce rate (or the percentage of people who leave your site after looking at only one page)
Your visitors demographics (age, gender, location and type of device they used to view your site)
The websites your traffic came from
The number of leads converted
The websites your leads came from
If you haven't set up your Google Analytics account, you can do it in a few easy steps. You'll want to set up your Google Analytics before starting on anything for your holiday SEO.
Once you've set up your Google Analytics, you can then use it to look into your traffic as it comes in.
You'll first be greeted by the Home tab. It will give you useful information about:
Your users (how many visitors have come to your site in the last 7 days)
Websites sessions (the activities on your website taken by a single user during a single time frame)
Average session duration (the average amount of time all sessions took on your website)
Bounce rate (the percentage of users who left after viewing only one page)
Goal conversion rate (sum of the overall conversion rate on your website).
On the left side panel, you'll find five report options that Google Analytics can generate for you:
Realtime - shows the number of users on your website right now. If you're looking for live activity, this is the report you should get. It shows you which pages currently have visitors on them, where the visitors are coming from and how many there are.
Audience - this gives you an in-depth look at your traffic. There are multiple kinds of data this report can show you ranging from the age and location of your visitors to the types of devices they use to visit your site.
Acquisition - tells you how people reach your website. There are four main ways they can do so: organic search (traffic the comes from search engines), direct (traffic that comes from someone typing your URL or accessing it through a bookmark), referral (traffic that comes from any other source (like a link found on another website), and social (traffic that comes from social media platforms like Facebook or LinkedIn)
Behavior - helps you learn more about what people are doing on your website. It gives you the pageviews (total number of pages viewed by visitors), unique pageviews (when a visitor has viewed a specific page at least once on your site), average time on page (how long a visitor spends on your website), bounce rate (the percentage of visitors who leave after viewing only one page), percentage exit (how often people exit your website's page). It also shows you your website's top performing webpages.
Conversions - shows you how many visitors completed an action (whether it's to download a PDF or buy a product). You can find the Overview tab under Goals. This will tell you the total goal completions and the location where goals are completed the most. It also gives you the performance of each product (if you have an ecommerce site) including the most ordered sizes and times of purchase.
Conclusion
The holiday season can be stressful, but it doesn't have to be as long as you begin your SEO efforts in advance. Make sure you capitalize on it and make it your most successful time of the year.
Don't forget to document all of your strategies as well as their results. These will be vital in creating your holiday SEO strategies in the coming years.