The Fundamentals for Setting Up E-Commerce Facilities on Your Website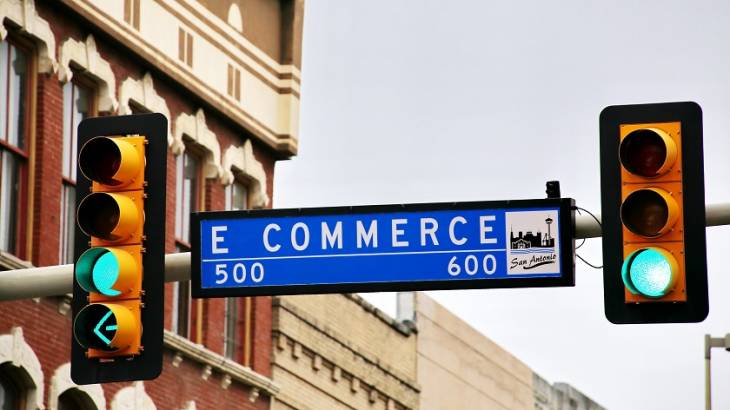 Green sign for e-commerce. Photo: Unsplash
E-commerce sites currently make up between 10 and 12% of the internet, and this percentage is expected to grow in 2021 as a result of the ultra-fast digitalization by companies from a wide array of industries.
Although necessity has spurred on the digital boom, many companies, startups, and individuals have benefited from the change, and e-commerce is one of the biggest beneficiaries that is expected to continue its exponential growth over the next few years.
If you have a product or service that you could or wat to sell and bring in an income, it is easy and recommended to offer your services online. By building an ecommerce site, you can reach a wide audience of internet users and sell conveniently 24/7 with no opening time restrictions.
But before setting up your e-commerce site, you have to keep a few fundamental things in mind to ensure your online stores offers exceptional user experience and is secure for both you and your clients.
Here're top tips and essential ecommerce facilities to consider when setting up your online storefront.
1. Content Management System
A content management system (CMS) comprises software that enables users to create, manage and modify content on their site easily and speedily, such as product photos and descriptions.
Many free and open-source managed platforms for website development (such as Joomla, WordPress, and Drupal) have inbuilt CMS that support ecommerce features/addons that can be easily plugged into any website built on the respective CMS.
There are also many dedicated, all-in-one ecommerce platforms and website builders (such as Wix, Weebly, and Shopify) that also offer seamless CMS functionalities build in you can use.
If your current website does not support ecommerce features/extensions like the popular WordPress WooCommerce plugin, then you will essentially need to tack on the extensions and features on your own and may need help from a web developer.
Another option is to build a new ecommerce site from the ground up that contains its own custom CMS, essential ecommerce features, and payment processor you need from scratch.
Whichever way you choose to go, this is something you must consider. Oftentimes, building an ecommerce site on a popular open-source CMS framework gives you great value for your money. It's flexible, robust, easy and cost effective to set up, manage, and run in the long haul. 
2. E-Commerce Platform Features
When selecting an e-commerce platform, whether it's a dedicated ecommerce platform or an open-source CMS platform, there are some essential things you should look out for:  
Your chosen platform or providers should enable you to sell what you want, regardless of how small or large your volume of goods is.
It should offer seamless integration with different apps and marketplaces, and it should be customized for your business' needs.
Moreover, your e-commerce platform should also integrate with different payment processors and offer a cost-effective way to handle sales taxes, both in your country and internationally.  
3. Payment Gateways and Payment Processors
To build an e-commerce site, you will need two crucial components: a payment gateway and a payment processor or platform. Payment gateways and processors are distinct yet interrelated.
Think of a payment gateway as the virtual equivalent of a credit card reader you normally use to pay in-store. This 'reader' captures your credit card data and sends it to the payment processor, and lets the customer know if the card has been rejected.
The payment processor works behind the scenes, securely sending data through different paths until accessing funds in the customer's bank account.
The good news is that many companies offer both payment gateway and processor services. This is handy as if any problems arise, you only have to deal with one provider.
So, keep that in mind too when setting up your ecommerce site.
4. Cost of Setting Up Your E-Commerce Store
You'll probably be wondering how much it will cost you to set up your ecommerce site. The cost will depend on a number of factors, including choice of ecommerce platform, ecommerce features used, web hosting price, and web development costs.
Usually, dedicated e-commerce platforms like BigCommerce and Shopify, which offer a host of useful features out-of-the-box, charge a monthly fee of between $25 and $30 per month, though you can expect to pay slightly lower prices if you contract the service by year. 
Additional costs to consider include setting up a domain name (which costs around $20 per year), and Saas web hosting (which can cost between $20 and $250 per month), or self-hosting (which costs between $3 and $200 per month).
These estimations are for small to medium businesses; larger businesses sometimes pay over $1,000 a month. If you are serious about e-commerce, then you should also consider investing in design by real professionals to assure both aesthetic and functional excellence of your site.
A customized site can cost from around $1,000 upwards, but it is very much worth the investment, since good design will make it easier and more pleasurable for customers to visit your site. 
In conclusion
When setting up and selecting an e-commerce platform, try to strike the right balance between price and customization. Ideally, payment gateway and processor services should be accessed from one company, so you only have to deal with one company if problems with payments arise.
Other than that, implement the tips mentioned above and you should be able to set up for success and have your ecommerce business up and running in no time.