Microsoft Acquires LinkedIn: What it Means for Both Companies - And for You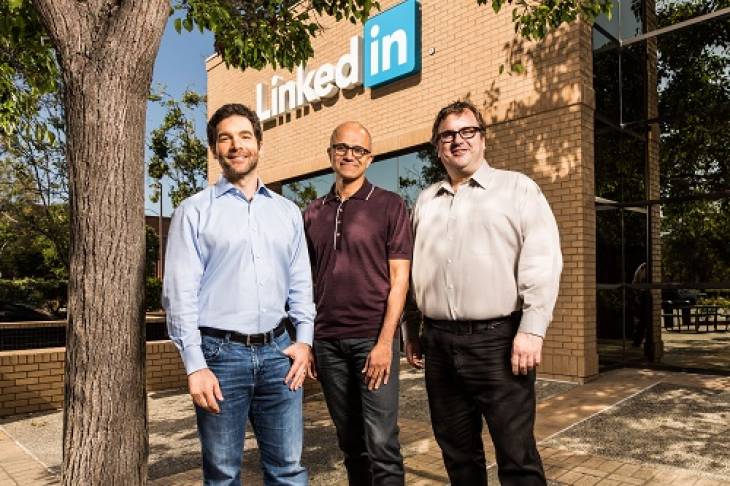 From left to right: LinkedIn CEO Jeff Weiner, Microsoft CEO Satya Nadella, and LinkedIn Executive Chairman Reid Hoffman. Photo credit: Microsoft
Microsoft Corporation recently created an online media shockwave when it announced that it is purchasing LinkedIn for $196 per share in an all-cash transaction valued at $26.2 billion. This is Microsoft's most ambitious acquisition in years that reasserts the software giant's dominance in an incredibly competitive and fast-changing technology market.
Microsoft hopes to make its venerable tech empire a major force in next-generation computing. By connecting widely used software products like Microsoft Word and PowerPoint with LinkedIn's network of 433 million professionals, the software company could be well placed to introduce a suite of new sales, marketing and recruiting services to its core business and potentially challenge computing software rivals like Salesforce.com Inc,.
"LinkedIn and Microsoft really share a mission" of helping people work more efficiently, said Microsoft CEO Satya Nadella in a conference call with analysts. "There is no better way to realize that mission than to connect the world's professionals," he added.
LinkedIn + Microsoft = Mammoth Professional Network
LinkedIn will remain distinct from Microsoft, retaining its distinct brand, culture and independence, said Nadella in the announcement. Jeff Weiner will also stay on as CEO of LinkedIn, reporting directly to the Microsoft CEO.
While LinkedIn does not have the clout of much bigger and more lucrative social networks like Facebook, it is the most widely used site for people to advertise their professional skills and work history. So valuable is the data LinkedIn has of skilled professionals that recruiters spend thousands of dollars every month to use it to recruit new talents and fill job openings.
And although Microsoft and LinkedIn operate in different businesses, they both make most of their money by catering to professionals. Executives involved in the deal said that is the common thread that prompted the acquisition.
"This deal is all about bringing together the professional cloud and professional network," Nadella told The New York Times in a phone interview.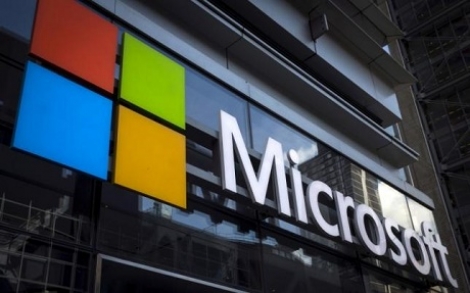 Microsoft logo is seen on an office building in New York City in July, 2015. Credit: Reuters/Mike Segar/Files
In highlighting the synergies of the two companies, Nadella gave an example of a customer walking into a meeting scheduled on a Microsoft Outlook calendar integrated with LinkedIn. That person might receive notification that one of the attendees went to college with a colleague, thereby enabling another level of connection.
Microsoft wants to leverage these types of synergies and combine them with its strong, complementary assets to reach new possibilities—including integrating LinkedIn profiles with its digital assistant Cortana and connecting LinkedIn Learning courses to Office 365 for greater results.
LinkedIn, on the other hand, will do well with Microsoft's deep pockets, totaling $100 billion in cash and short-term investments. The professional social network has in the past had cash problems. It recently issued a gloomy sales outlook, prompting its shares to fall by nearly half in a single day in February.
"This is a good time for LinkedIn to sell," noted Michael A. Cusumano, a professor at the Sloan School of Management at M.I.T. "They lost money last year. They've found it's very expensive to keep growing. They're probably as valuable as they will ever be."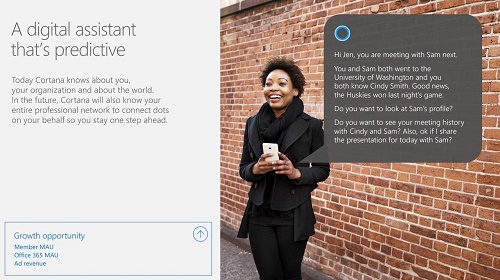 Cortana could be integrated with your LinkedIn profile to enable voice reminders or updates ahead of meetings. Photo credit: Microsoft
Easing LinkedIn Users' Concerns
To ease users' concerns about Microsoft being in control of their professional information, LinkedIn's Weiner reiterated in a blog post that his company would remain its own entity in the way that YouTube is relatively independent from parent Alphabet Inc, or Instagram from parent Facebook Inc.
As a LinkedIn user, you might be among those who feel the network's products have been a little buggy and stagnant for years. The lack of apparent innovation at LinkedIn has been frustrating for some users. Microsoft might provide a much-needed course correction, and set LinkedIn on track to improve its products. The impressive and surprising things that have come out of Microsoft (like Visual Studio's Linux support) could start coming out of LinkedIn, too. That's a definite upside, especially for users.
Publishers could also benefit from the acquisition because LinkedIn's publishing arm is set to expand. Since LinkedIn acquired newsfeed Pulse in 2013 and learning platform Lynda.com in 2015, it positioned itself as a leading destination for content creation and distributing, attracting millions of business executives, entrepreneurs and other professionals who publish and access articles on networking, business development, employee recruitment and more on the platform. Microsoft will be expanding this publishing mission, but it may also monetize LinkedIn content by charging for access.
Publishers could nevertheless see better content distribution and more user-friendly content experiences now that Microsoft has come onboard. According to an email sent from Nadella to employees, the acquisition could lead to experiences like "a LinkedIn newsfeed that serves up articles based on the project you are working on (in Microsoft Office)." These types of content recommendations could help publishers reach more targeted and engaged audiences within the 1.2 billion professionals who already use Microsoft Office today.
How the whole thing ultimately comes together however remains to be seen. But, hopefully, in three or five or 10 years people will once again start to comment how LinkedIn is a great entity.
See Also: Are you using Getty Images' 35 million+ free images on your blog?