The Impact of the Gambling Industry On US Economy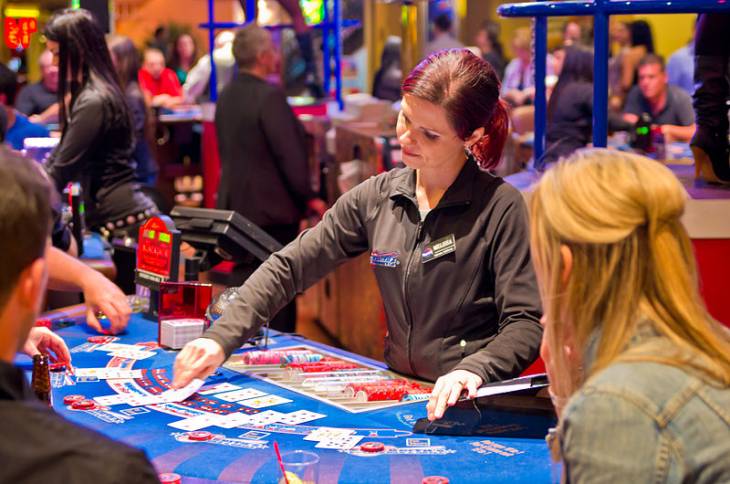 Over the past few decades, casinos and gambling have become a major industry in the United States. In the 1980s, any form of gambling was strictly prohibited in the country. The activity was legal only in New Jersey and Nevada.
Today, however, things have changed dramatically and commercial gambling is now legal in 36 states, and three others could legalize some form of sports betting and gambling in 2023.
The massive growth of casinos and gambling has had a striking impact on the U.S economy. Most states approved the activity mainly because they perceive it as a tool for economic growth. The benefits cut across sectors, from attracting tourists to generating billions in taxes. Legalized gambling represents a valuable market for the states where it is legal.
Americans have wagered about $370 billion in gambling, which is around $1,300 per US citizen. In the first quarter of 2023, U.S. gambling revenue hit $16.60 billion, marking the eighth straight record-breaking quarter, according to data from the American Gaming Association.
Key Ways Commercial Gambling Impacts the Economy
The public has different opinions of how beneficial or harmful the casinos and gambling sector is. Yet, the fact that the sector has a huge impact on the US economy is undeniable.
1. Casinos Increase Tax Revenue
Casinos and gambling are without a doubt one of the fastest-growing industries in the United States. In 2022, commercial casino gaming generated a record $13.48 billion in direct gaming tax revenue paid to state and local governments—up 15.3% from 2021. More states continue to report an increase in gambling revenue every year.
As more states open to casinos and gambling, it is expected that we'll see these figures reach new record-highs. Tax revenues is the main driver of states approving commercial activities in the gaming/casino industry. States see billions of dollars going straight into their coffers thanks to the ever-growing popularity of the sector.
Most of the states then use collected casino tax revenue to fund various programs, including public education which is a favorite destination. However, casinos also fund some local development projects as well. As such, legislators often support construction of commercial gambling to generate millions of dollars in taxes that later benefit local consumers.
In a way, casino tax revenue makes states richer and also does some good in local communities. Ideally, the more money a state has, the more local projects it can complete. At the end of the day, everyone gains from such developments.
2. Casinos Increase Employment and Wages
This is one of the most significant effects of gambling on the economy of the United States. Casinos and gambling facilities improve local employment. In the U.S, the gambling industry employs an estimated 1.8 million people in different positions.
Casinos need plenty of staff—from security guards and attendants to managers and accountants. There are also many other simple jobs at casinos where no skills are required and people can still earn a decent salary. Each expansion means new jobs and open positions for more people.
As such, the gambling industry offers many employment opportunities and economic benefits to U.S families. Moreover, it is also beneficial to the U.S economy as it contributes to the per capita income.
3. The Spillover Effect to Other Businesses
There's no better example of the spillover effect of the gambling industry than Las Vegas. Besides being very profitable for what they provide, casinos and gambling venues have a major impact on local businesses, particularly in the service industry.
Casinos are visited by both locals and tourists. The local clientele boosts retail sales, benefiting local retailers. When it comes to tourists, the benefits are even more pronounced with non-local visitors also needing hotels for accommodation.
Besides, casino clientele go to restaurants, nightclubs, shopping centers, and always seek more entertainment options. This creates a spillover effect and gives a nice boost to local businesses.
So, Should More/All US States Legalize Gambling?
As of 2023, more than 30 states have already legalized some forms of gambling and casino gaming, and they've benefited hugely from it. However, the rest remain hesitant to welcome the concept.
Legalization of the activity would have an enormous impact on the local economy. Casinos, both online and offline, create opportunities. With the current economic challenges and uncertainty in the world, everyone could use an economic boost, and new job opportunities are needed.
Many U.S citizens already visit casinos and gamble, but they do it online and on foreign websites. Imagine the economic impact it would have if every state decided to legalize the activity. They would harvest the financial gains from this profitable industry and make a huge difference for local communities.
Since millions of Americans log into sites based overseas and gamble every year, it's safe to say that the U.S government is leaving money on the table and not profiting as much as it could.
All in all, the gambling industry has had many benefits for the U.S economy. It generates billions of dollars in annual revenues, while casino destinations like Las Vegas are popular tourist spots. This industry creates jobs for people from all walks of life and boosts business for local businesses.
But, of course, not everyone is happy with the industry. Land-based operators seem reluctant to accept remote gambling, while problem gambling remains a concern for many. However, with proper government regulations in place, governments and local communities could reap the benefits the sector can bring and prevent all the harms of problem gambling in the sector.