How to Design a Banquet Hall for a Grand Wedding Ceremony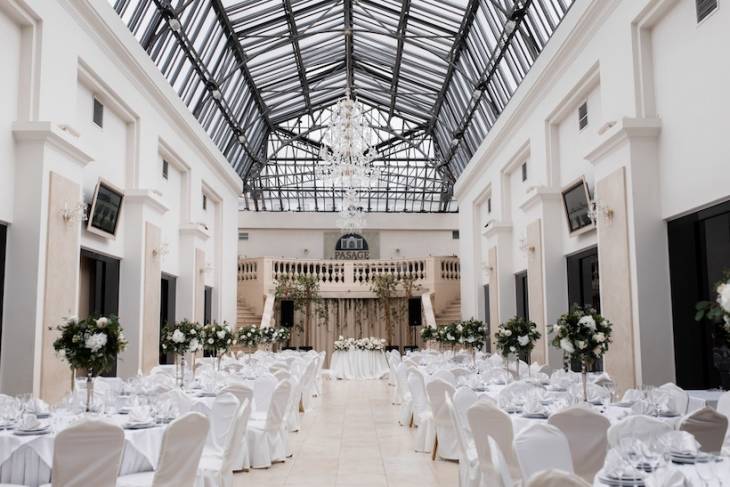 Many people dream about the big day of their wedding. A beautiful setting, mouthwatering treats, a classic motif, a delectable banquet, superb service, and happy guests. If you are planning on hosting a wedding, then you may want to look into reserving a banquet hall.
Many couples opt for a wedding banquet hall because it is flexible enough to accommodate all their particular needs, preferences, and demands. Banquet halls also tend to be quite affordable, so even a couple on a tight budget will be able to find what they want.
How you decorate your banquet hall will depend entirely on your style preferences and how much money you have to spend. The size of the hall will also affect how you decorate your banquet hall.
To help you make your big day truly memorable, we'll highlight a few expert tips on how to design a banquet hall for a grand wedding ceremony.
But first…
What Exactly Is a Banquet Hall?
A banquet hall is often used to host weddings. It can also be used to host private gatherings, such as birthdays, anniversaries, graduations, bridal showers and receptions. 
Some banquet halls are standalone buildings. Others may be a part of a larger establishment, such as a restaurant or hotel.
Most banquet venue suppliers will not only provide clients with permission to use their facility, but will also provide catering and food services as well.
How much they will end up charging you will depend on the number of visitors that will be attending your function, as well as the size of the space that is reserved for the special day.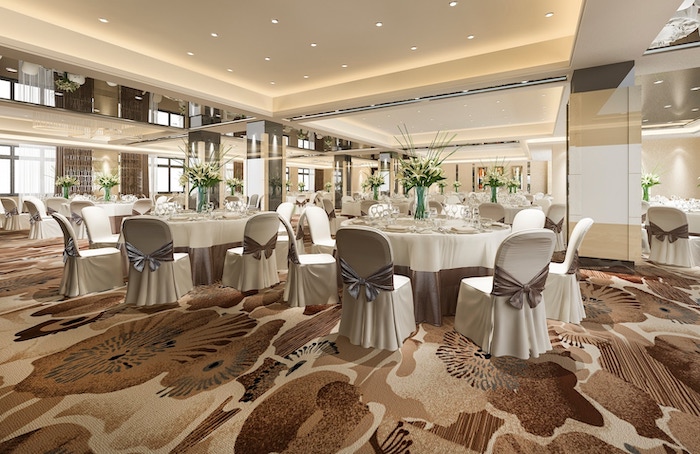 Tips to Choose a Banquet Hall
When you start looking around for the ideal banquet hall for your wedding, there are several criteria that you should keep in mind. Remember, a banquet hall is an essential part of your wedding that should be chosen with care.
The location that you choose will impact the atmosphere of your wedding. If you want a more tranquil or rustic atmosphere, then you may want to look for a venue in the suburbs.
However, you will also need to factor in the extra travel time that will be required for your guests to reach your suburban hall.
If accessibility is your top priority, then you can select a banquet hall that is in the heart of downtown or some other hot spot that is easily accessible by car or public transit.
Privacy is also very important. Gate-crashers make the news on a daily basis, so you need to prevent unwelcome guests from ruining the most special day of your life. The banquet hall needs to provide all of your guests with uninterrupted privacy.
A very attractive banquet hall is also a plus, as a more attractive hall will require less of your money and time on decorations. For example, the lighting should also be spot on.
The perfect lighting will help create the perfect atmosphere. The room should not be too bright or too dark. Choose a setting that reflects your unique preferences.
The banquet hall should ideally also not echo like a church. The acoustics of the hall can make or break an event.
Ensure that the acoustics are pitch-perfect, and bonus points should be awarded to a banquet hall that comes with its own state-of-the-art sound system.
As regards the decorations, you should also ask the provider if the decorations will be included as part of the rental price.
You also need to determine how many people the banquet hall will accommodate. You want to book a hall that will not be too spacious, but you also want to ensure that your guests will not feel crowded or uncomfortable either.
The pricing for the meal, as well as the menu, should also be assessed carefully. Some of your guests may be vegan, while others may have certain food allergies.
Religious guests may also need to avoid certain food items or ingredients too, so ensure that the menu will have something that everyone at your wedding can enjoy.
The supplier should be flexible in order to accommodate all of your needs. Ample parking must also be available so that guests do not need to spend hours trying to find a parking spot.
Obviously, none of these aspects will matter if the hall is not available on the day of your wedding, so first checkavailability to ensure the venue will be available on your special day.
Moreover, consider the cancellation policies. Cancellation policy documents are paramount. Very few people take the time to actually read the terms and conditions of their agreement.
Go over each page of the venue contract and resolve any doubts that you may have with the banquet authorities.
Design Ideas of a Banquet Hall
You should create a design that is based on the bridal colors of the wedding. The ceiling should also be wrapped properly, and floral arrangements should be hung from the ceiling.
A sweetheart table should be set aside for you and yours, and you can create a beautiful illusion by using a table lamp.
You may also want to make use of lighting art to make your wedding extra special.
Your Big Day
Most people tend to be in high spirits before and during a wedding. Most wedding planners will go above and beyond the call of duty in order to find a banquet hall that matches the personal tastes of the engaged couple. Ask trusted friends and family to provide you with references.
If you've decided to hire a wedding planner, don't forget to do some checking before you choose the person who will fill this crucial role.
Check online reviews and ask the wedding planners tough questions to ensure they are qualified to plan what may be the most important day of your life.
The wedding planner should also have liability insurance in the event that something goes awry during the ceremony.