Five Best Types of Ads to Run on Facebook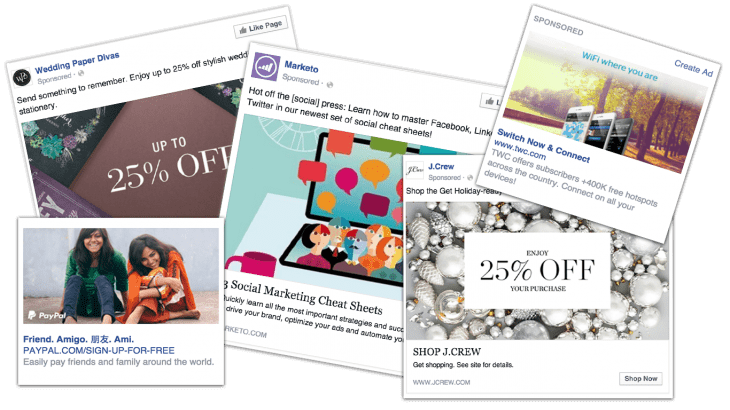 With a staggering 2.7 billion monthly active users, Facebook is the biggest social networking platform in the world. As such, it is only natural that brands and digital marketers seek ways of using the platform to reach wider audiences and potential customers.
Because Facebook collects massive amounts of data about its users, running targeted ad campaigns that make use of this data can prove very effective for brands. And while Facebook is a passive ad platform, it is relatively easy to create and run effective campaigns on the platform.
On the platform, ads are displayed in the newsfeed on mobile and web even when people are not actively looking for them. But you have to design the right type of Facebook ads for the right campaigns and run them at the right time for the ads to bring the best results and impact.
Facebook ads are displayed per the company's algorithms that are based on some given data. When you create the right type of ad creative that's inline with Facebook's criteria and it is well crafted, the system will judge it relevant and allow it to reach a bigger audience.
When that happens, you'll be able to reach the most valuable audiences en masse and get your message in front of the people who are most likely to want your products or services.
So, which are the best Facebook ad types you can use for maximum impact, reach, and retun on investment?
Best Types of Ad Creatives on Facebook
While there isn't just one way to market your brand on Facebook, and no single ad format is outrightly favored by the platform's algorithms, there are some ad types that have been found to bring great results.
Currently, there are six main Facebook advertising formats: image, video, carousel, slideshow, collection, and instant experience. These ad formats can be used depending on your advertising objective.
Having so many Facebook ad formats has given advertisers much more choices, but you'll need to employ some creativity and strategy to use the formarts to create an ad type that's well placed to bring optimized results.
Here are the top five most effective ad types you can create and run on Facebook for best results in reaching large audiences and growing your business.
Using any of these variations of ad types on Facebook will almost certainly enable you to meet your overall objective.
1. Themed Ads
In general, Facebook ads are one of the most cost-effective and impactful forms of advertising. Facebook advertising costs, on average, $0.97 per click and $7.19 per 1000 impressions, according to data from Wwebfx. Considering that you are reaching out to thousands of people on Facebook, this cost is very economical.
If you make use of ads themed around relevant holidays, celebrations or occasions, then this reach can become much more effective and impactful. For example, making an ad revolving around Christmas or a New Year concept easily captures the attention of the user around this time of the year. That can be more effective.
Black Lives Matter themed ads have also seen great success since the movement began. But beware, consumers don't like to be lectured on culturally-relevant topics, whether it is BLM, COVID-19, or pride. So be very sensitive about these types of themed ads.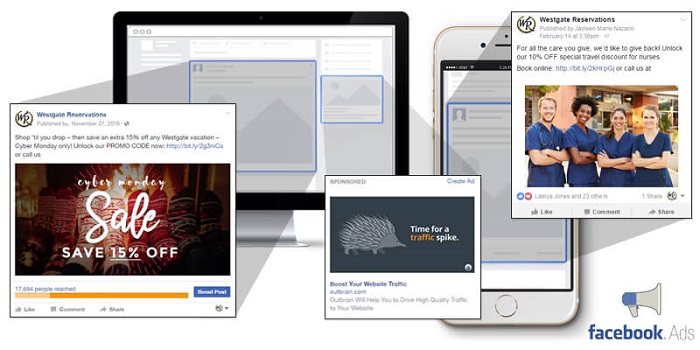 2. Leads Ads
The Facebook lead ad or lead generation magnet includes a contact form, which is filled by those who are interested in your product or service. This information forms the basis of your database and you can use it for your marketing campaigns to generate more leads.
A basic Facebook lead generation ad requires the users to fill only their name and email address to get a free copy of a certain report that they are interested in, which actually is a lead magnet. It works really well as most people find no harm in sharing this information.
Because this type of Facebook ad is created and ran to gain a wide database of contact info, it targets a broad audience and is quite effective for driving or increasing web traffic. It may use an image, video, or carousel, followed by a call-to-action (CTA) that leads to a form where businesses can collect a variety of information from interested users.
3. Targeted Ads
While lead generation ads generally cater to a broad audience, you can also have targeted ads that clearly specify what exactly you are looking for and what you are offering.
Targeted Facebook ads are sharply aimed at specific users based on their location, demographic, and profile information.
Screenshot of Facebook ad targeting people in a specific location.
The targeted ads work best when you are targeting warm traffic (as opposed to cold traffic) through a remarketing campaign.
Warm traffic, essentially consists of people who already know about you, your brand, products or services. Cold traffic are new prospects who have never heard of you.
4. Video Ads
Online video had proven to be very engaging, more so than even text. Since 2009, the percentage of adults downloading or watching online videos has gone up from 69% to 78% in 2013, according to research from the Pew Internet & American Life Project. Today, videos have become an integral part of the online social experience.
The most popular way of viewing online video clips is streaming them through video-sharing sites such as YouTube and via social media sites like Facebook. That's precisely why you will find a lot of video ads on Facebook these days.
Facebook video ads are not a "set it and forget it" advertising option. It's a dynamic and continually evolving advertising option and needs to be align with your business and marketing goals to get the most out of this advertising solution.
Video ads fall under disruptive advertising, where the clients' data is monitored on a regular basis. Based on that data, the ads are optimized so as to achieve the highest yield.
As the ad runs for only a few seconds, it needs to be well produced and hit all the right chords to deliver the message properly within this limited time frame.
Also consider creating GIF-like graphics or other animations to capture attention or explain your offer, as part of your Facebook video advertising campaigns.
Mobile-only Facebook video polls are also an excellent ad format that you can use to incorporate an interactive component with your videos.
5. Image ads
Finally, image ads are arguably the simplest Facebook ads you can create. But just because they are simple, doesn't mean they are any less effective.
According to a study from BuzzSumo, Facebook posts containing images get more than twice the engagement of those that don't.
You can create one with just a few clicks by boosting an existing post that has an image from your Facebook Page. The ads are a great way to get started with Facebook advertising.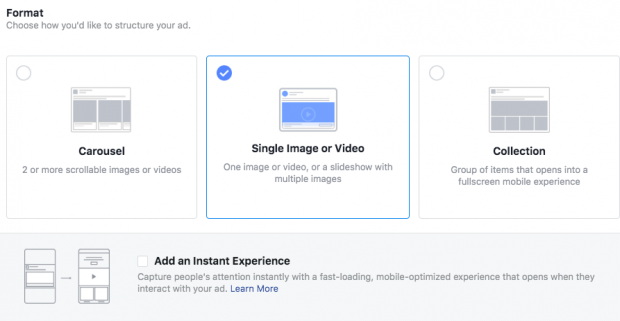 Image ads may be simple, but that doesn't mean they have to be boring. Use top-notch photos for you image ads for best result. You can find free sources of high-quality images to use in your ads on one of the many free stock photo websites online, like Pexels and Unsplash.
Just make sure to avoid blurry or pixelated photos at all costs. Your words are important, but it is your visuals that will first grab viewers' attention and create the best impression.