New Study Reveals Top UK Cities to Start a Side Hustle in Lockdown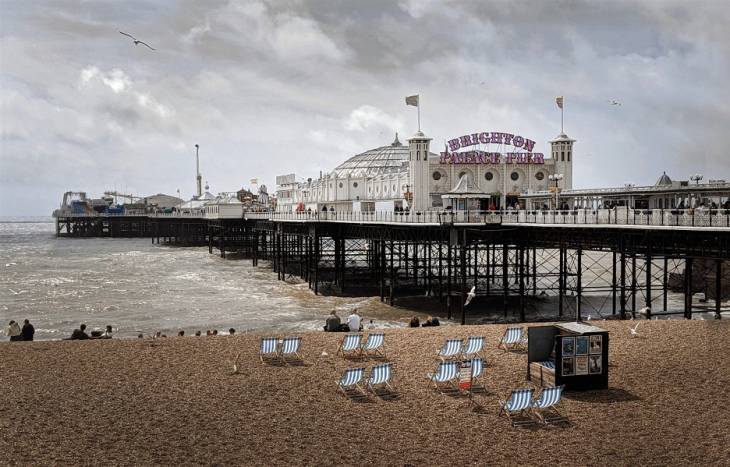 Since March, the coronavirus pandemic has forced the UK and countries around the world into a wave of economic hardship, which has caused an increase in unemployment rates, redundancies, and a reliance on furlough schemes.
However, despite these challenges there has been an emergence of new independent businesses around the UK, giving people newfound security and ambition to follow their own dreams.
Now, in the second lockdown, The UK Domain predicts an increase in online businesses and reveals the best cities to start one.
Growth Increase in Online Businesses
The UK Domain, a free educational resource that provides small business advice on starting, building and growing an online presence, analyzed the following key criteria to assess which city in the UK has the best working conditions to start a side hustle:
Population

- Number of people are living in the city
Cost of living

- The amount of money it costs to live day to day
Broadband Speed

  - How fast the area's internet connection is
Life Satisfaction

- The wellbeing and happiness of the population
Disposable Income

- The amount of money left over after deduction of taxes and necessary payments
Average Time Working

- How long the majority of residents work for
Average Time Commuting

- The length of time it takes to get to and from work
Number of New Registered Domains

- How many people registered for a web domain during lockdown

The results are as follows:
The BEST UK cities to start a side hustle – RANKED
| | | | |
| --- | --- | --- | --- |
| Ranking | City | Population | Side Hustle Index Score |
| 1 | Brighton & Hove | 290,885 | 68.79 |
| 2 | Edinburgh | 524,930 | 66.97 |
| 3 | Gloucester | 129,128 | 64.55 |
| 4 | Bristol | 463,377 | 64.39 |
| 5 | Cardiff | 366,903 | 63.94 |
| 6 | Leeds | 793,139 | 62.88 |
| 7 | Newcastle upon Tyne | 302,820 | 62.58 |
| 8 | Glasgow | 633,120 | 60.45 |
| 9 | Sheffield | 584,853 | 59.24 |
| 10 | Plymouth | 262,100 | 58.94 |
Closer Look at the Best UK Cities to Start a Side Hustle 
#1 Brighton & Hove is the UK's side hustle capital!
Scoring highly in all index ranking factors: life satisfaction, broadband speed, disposable income and low average working hours, Brighton and Hove tops the UK's Side Hustles Index making it the perfect place for new business start ups.
During the peak of lockdown the study revealed that 7,377 new domains were registered in Brighton, showcasing the amount of new budding entrepreneurs ready to kick start their business in the city. 
#2 Edinburgh is the second-best city to start a business!
Edinburgh claims the UK's second-best side hustle city with a grand total of 5504 newly registered domains during lockdown.
This beautifully historical city scored highly on life satisfaction with a potential of 524,930 customers with great broadband speed and disposable income, making it an ideal location to start up your own business. 
#3 Gloucester ranks third on the Side Hustle Index!
The city of Gloucester swoops in at third place as the best place to start a side hustle, due to scoring second highest for the quickest broadband speed, a low average working time and high life satisfaction on the index.
The study reveals that during lockdown 4909 domains were newly registered in Gloucester, making it one of the best cities in the UK to kick start a business during the pandemic. 
Other Best UK Cities to Start a Side Hustle
Other cities that feature on the list of best places to start a side hustle in the UK include Oxford, London, and Preston at number 11, 12 and 13 on the Side Hustle Index, respectively.
Liverpool is ranked number 17 of best cities to start a side in the UK, while Manchester closes off the list at number 25.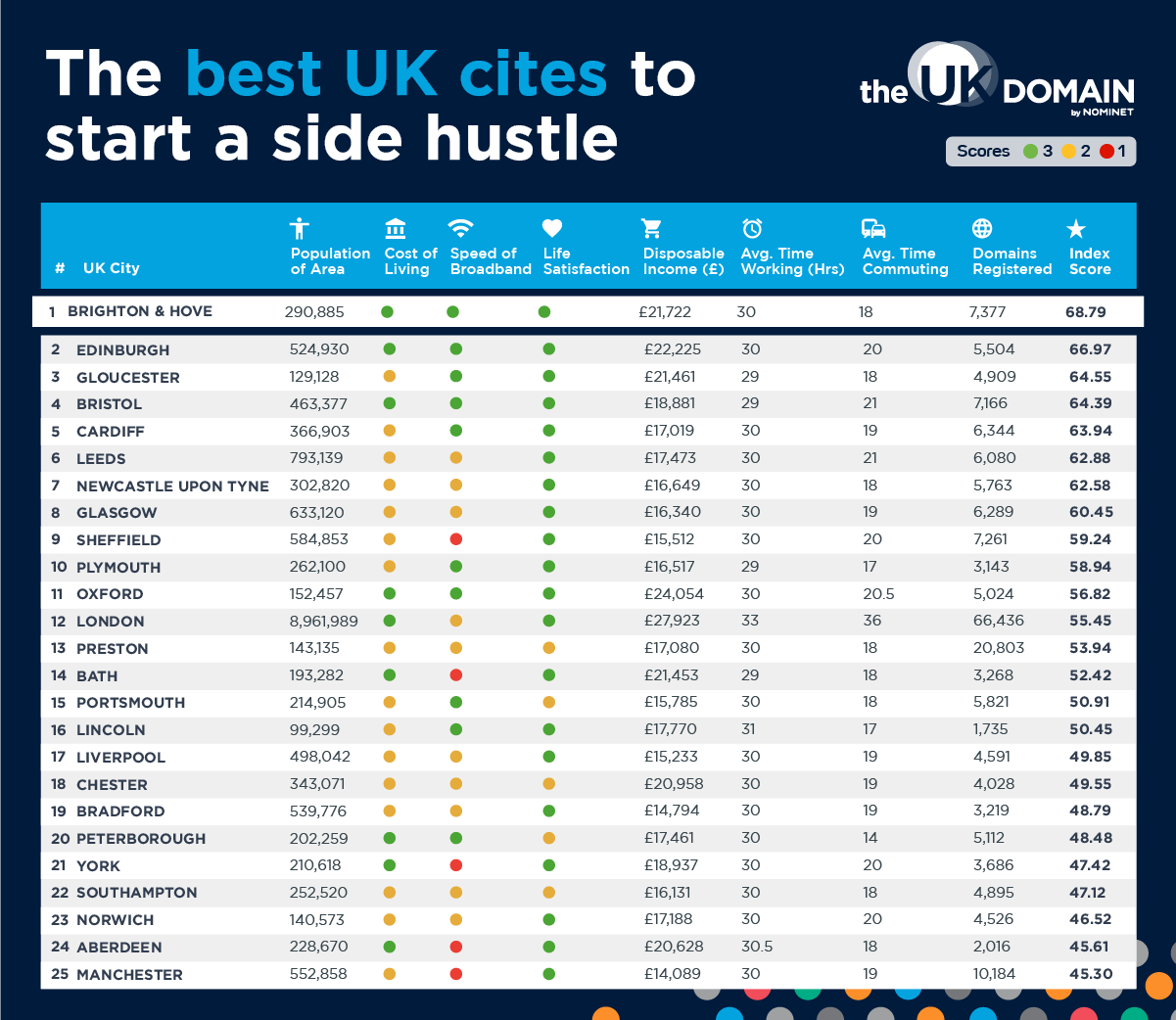 With more and more businesses and side hustles choosing the digital route, it's never been more important to ensure that your company has an online presence. These cities are said to present the best opportunities to launch your business in the UK.