5 Things You Must Consider Before Demolition of a Property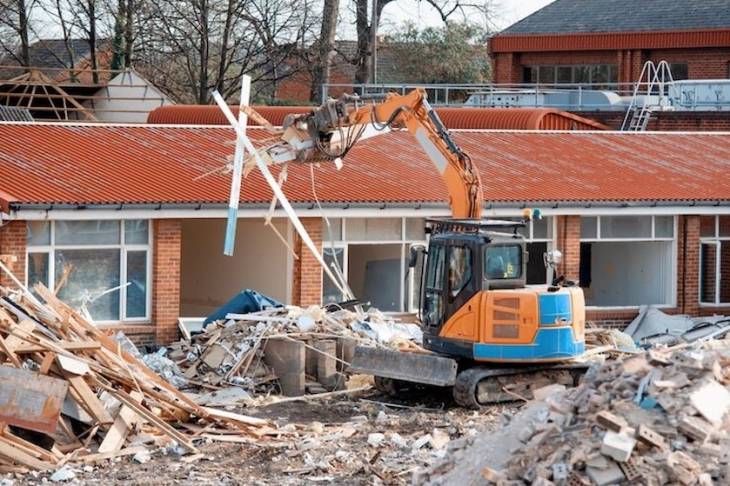 While demolishing a building is a dirty and dangerous process, it can be fun to redo a room or repurpose some of the building's old parts. 
The most efficient way to go about tearing or knocking down a property or home is to make a clear and concise plan before you start. Putting in the work ahead will save you both time and money.
Before you start, it's also a good idea to contact your local municipality to find out what you need to do. It's advisable to check if you need a permit from them or not. A professional demolition services company can also help you get the most out of your demolition efforts.
What You Should Know Before You Tear Down a Property or Home
Here's everything you need to know before you tear down a property or home:
I. Asbestos Regulations in Demolition
If you plan on demolishing a building or renovating a home or structure, you should know how to comply with asbestos regulations. The regulations are designed to protect the public and the environment from the hazards of airborne fibers. 
Asbestos is a mineral fiber in many construction materials, including millboard, pipe insulation, furnace insulation, and floor tiles. Inhaling the microscopic fibers can cause various health problems, including cancer. 
Various federal agencies have issued rules and regulations on asbestos. These rules set minimum standards for licensing and work practice. Depending on the location of the project, additional restrictions may apply. Some local governments also have regulations. 
Asbestos regulations typically require notification before work begins. This may also need a fee from the state or local government. Check with your local government agency to find out if your project falls under the regulations. 
II. Obtaining a Demolition Permit 
When knocking down a property, obtaining a demolition permit is a requirement. It provides the legal right to demolish a structure requiring a building permit and ensures proper safety measures are taken during the process.
A demolition permit can be obtained online or through the mail. However, it is important to note that there are many different regulations and rules that may be associated with a demolition permit. 
In addition to the permit, you will likely need to obtain several other licenses to complete the project. These might include a demolition bond, a plumbing permit, and a demolition permit from the city.
Demolition is a complicated process; you should be prepared to spend time and money to get it done right. Fortunately, you can seek professional guidance from property demolition agencies. 
If you are unsure about where to begin your demotion or renovation journey, it's always advisable to reach out to a leading construction company or home demolition company and discuss your requirements with them. They will be able to get you the best-suited demolition plan for your project. 
III. Preparing a Contingency Plan 
Before you start knocking down a property, home, or condo, you should have a contingency plan in place. A good contingency plan is a great way to avoid disaster if your plans change. There are several things you should know about building a good one. 
First, you must decide what you want to get out of your home. Do you have the desire to rebuild? If so, you need to make sure you inform your contractor. You can also take advantage of the many charities that assist with demolition projects for free. 
While your home may not be salvageable, you can sell or donate some of the materials you need. 
Next, you need to pick a location and prepare your list of resources. This can include labor, tools, and software to help you tear down a property.
You should also prepare a contingency plan that contains the requisite information about your property, including emergency contact numbers. Lastly, you need to think about your budget. Using pre-existing construction and demolition materials can save money in the long run. 
IV. Cleaning Up Debris After a Demolition 
Cleaning up debris after demolition is a necessary step. This is to prevent harmful materials from being left behind and to ensure that the area is free of dangerous and unhealthy debris. The process requires proper planning, legal waste disposal, and a systematic approach. 
To properly dispose of demolition debris, you must make sure that you follow all the necessary regulations. This includes the use of personal protective equipment (PPE) such as heavy gloves, helmets, and respirators.  
If hazardous materials are present, you must report them to your state environmental agency. It's recommended that you take some professional guidance from a well-experienced demolition company before you go ahead with your demolition process. 
One of the important things you need to take care of while demolishing a building is to ensure that there is no hazardous material in the construction. You can also reuse some of the debris. For instance, metal parts can be recycled and reused. Other items may be sold on the demolition site. 
V. Recycling the Material 
Recycling is becoming more and more important. Not only it helps minimize the cost of production but also it is beneficial for the environment. Some materials that can be reused include glass, plastic, metal, wood, and cardboard. 
You may be able to recycle some of the debris on your own, but you should always follow local recycling laws. Depending on your state, you might have to dispose of asbestos-containing products like pipe wrap and corrugated sheets. 
As mentioned earlier, you must ensure that you have followed and maintained asbestos regulations while demolishing a building. If you are unsure about these things, reach out to a leading property demolition service provider in your city. 
You may also want to call up your local recycling service to see what they're all about. These companies can offer a wealth of useful information on various topics, from what types of materials are acceptable to recycle to the most efficient disposal methods.
In Conclusion
You'll need to do your best to make the process as painless as possible. As with any major endeavor, be sure to ask your contractor for advice. The right builder can make the process a breeze. 
As you can see, a good demolition plan can make a huge difference to the overall cost and timeline of the project. So, before you tear down a property, you'll want to ensure you're doing the best you can for yourself and your community.