5 Things You Should Know About Fake Grass For Dogs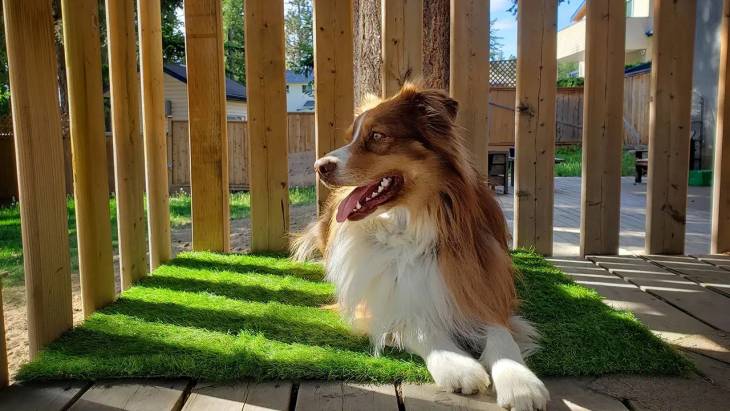 Pet owners frequently use artificial, synthetic, or otherwise called "fake" grass as it appeals to animals and people alike. Dogs enjoy playing on artificial turf because it is clean, safe, and comfy. You do not have to stress about your pets getting hurt on the soft and smooth surface. 
Fake grass for dogs is also durable (lasts all year), low-maintenance (does not require cutting or trimming), and looks just like real grass. It can restore the color and aesthetic appeal of a faded lawn and offer a surface that won't become muddy under your dog's paws.
That is not all. There is more you should know (and will appreciate) about fake grass for dogs: 
1. It Will Remain Lush Green 
Keeping natural grass in good condition for any pet owner can be challenging. Your lawn can be significantly affected by dog poop, digging, and also from their constant running throughout the year. 
Dog pee can also destroy natural grass. This is where pet owners can greatly benefit from artificial turf. Dog urine won't stain the plastic fibres of synthetic turf. This ensures you have a beautiful and lush lawn. 
Your dog will also not find much (if any) difference between the fake and real grass, and will use it the same way.  

2. It Requires Less Time to Clean
Real grass becomes muddy quickly from dogs' paws or gets dirty from morning dew or rain, so cleaning can take time and considerable effort. 
Dogs can play on the damp grass and then, when they enter the home, can trample the furniture or floor with their muddy paws, meaning you have to clean your dog and your floor too.
However, artificial turf has a perfect drainage system; synthetic grass quickly dries water from the surface to the soil underneath and won't cause any mud formation.
3. It Is Non-Toxic
Fertilizers, weed killers, insecticides, growth regulators, and so on, are necessary to maintain natural grass. These chemicals contain several toxic elements that can be bad for your pet and can affect both you and your family as well. 
However, you do not have to stress about that with synthetic turf, as it is non-toxic and harmless for your pet and family. You won't need to use toxic pesticides or fertilizers with synthetic turf.
4. It Is Durable and Resistant to Tear
Dogs' unending energy can damage your grass as they run, chase, and jump. They might even attempt to bury a few bones under real grass. 
Because dogs can't dig up fake turf, you will not have to worry about them digging holes in your backyard or causing other damage to the artificial grass. 
Synthetic turf is sufficiently resistant to claw and paw damage. No matter how vigorously your dog plays on it, it will remain in good condition for many years if maintained properly.
It's important, however, to note that picking the appropriate pile height for pets can help extend the life and wear of the artificial grass.
5. It Is Cost-Effective and Affordable 
Affordability and the possibility of saving money is likely the main factors contributing to more consumers opting to purchase fake grass. 
Fake grass is very cost effective. You do not have to pay to have it mowed, watered, fertilized, or filled in. It never becomes uneven, dry, nor does it turn brown, so you never have to worry about all that. 
Artificial grass remains unchanged all year round. It is an investment that will remain useful and bring benefits for many years to come, ensuring great value for your money. 
Conclusion
If you have pets, artificial turf is a cost-effective solution for your yard. Thanks to new-age technology, it appears more natural while also providing a safe, hygienic, and cozy surface for you and your dogs.