10 Most Popular, Instagrammable National Trust Sites to Visit This Summer!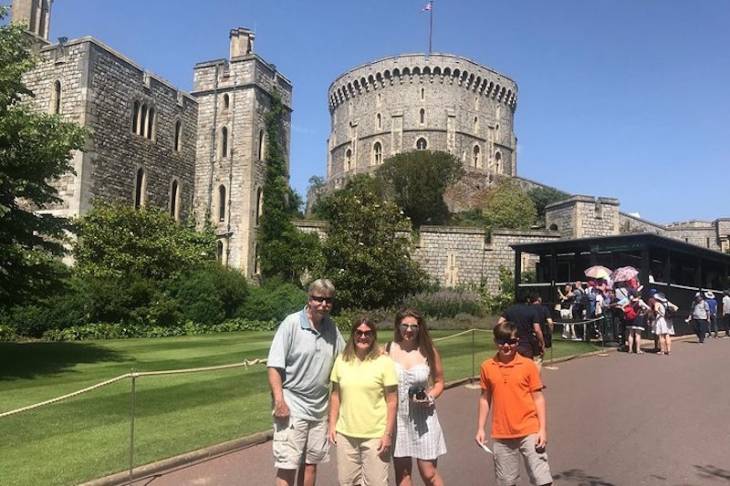 A membership for the National Trust allows you to access to over 500 sites around the UK, ranging from heritage houses and gardens to protected areas of countryside and coastline. 
If you're stuck for something to fill the days with this summer, the National Trust offers plenty of great ways to get out of the house and take in a bit of culture this summer. 
With so many stunning sites available to visit, there's something for all the family to enjoy this summer, with plenty of photo ops along the way! 
But which National Trust sites are the most popular? And which are best for a photo? 
Most Popular National Trust Properties
The garden and outdoors experts at Hayter know a thing or two about the great outdoors. They conducted a study, scouring Instagram data and site visit data, to find out which National Trust site is the most popular and Instagrammable in the country.
Key Study Findings
With over 500,000 annual visitors, Attingham Park was the most visited National Trust property in 2020-21.
Giant's Causeway, in Northern Ireland, is the most Instagrammable National Trust site, with 319,000 posts tagged at this location. 
After Giant's Causeway, there was a significant drop-off of over 200,000 posts to the second-most tagged location. 
Second was Dunham Massey, a Georgian home and deer park located just outside Manchester.
Stourhead, a famous landscape garden in Wiltshire and Somerset, took third place with 65,300 posts.
Fountains Abbey in North Yorkshire was fourth, with just under 60,000 Instagram posts. 
Most-Visited National Trust Properties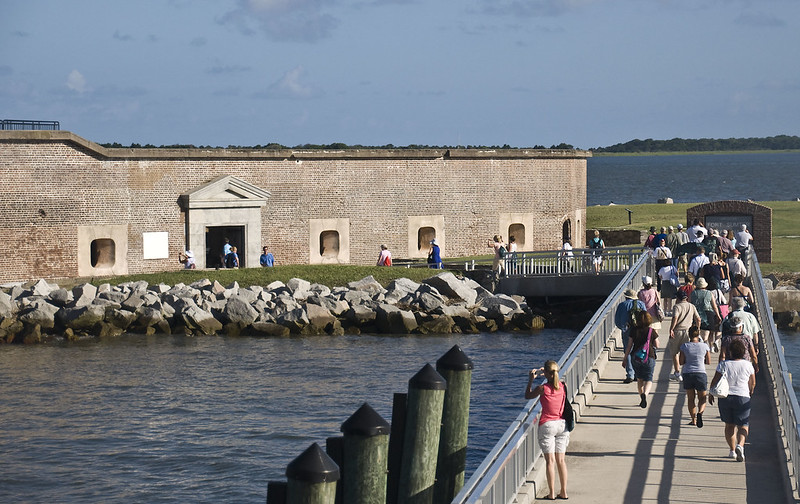 Tour of Ft Sumter -- Civil War Trust 2012 National Teacher Institute Charleston (SC) Photo: Ron Cogswell / Flickr.
The top ten most-visited National Trust properties in 2020-2021 are:
| | | | |
| --- | --- | --- | --- |
|   | Property  | Location  | Visitors |
| 1 | Attingham Park | Shropshire | 518,863 |
| 2 | Cliveden  | Buckinghamshire | 441,113  |
| 3 | Dunham Massey Hall  | Greater Manchester | 439,767 |
| 4 | Clumber Park  | Nottinghamshire | 350,188 |
| 5 | Calke Abbey  | Derbyshire | 315,150 |
| 6 | Polesden Lacey  | Surrey | 287,837 |
| 7 | Anglesey Abbey  | Cambridgeshire | 269,029 |
| 8 | Fountains Abbey  | North Yorkshire  | 264,542 |
| 9 | Sheffield Park Garden | East Sussex | 256,822 |
| 10 | Belton House  | Lincolnshire | 245,228 |
|   |   |   |   |
Best National Trust Properties for a Photo
The top ten most Instagrammable National Trust properties are:
| | | | |
| --- | --- | --- | --- |
|   | Property  | Location  | Posts |
| 1 | Giant's Causeway | Co. Antrim | 319,000 |
| 2 | Dunham Massey | Greater Manchester  | 67,000 |
| 3 | Stourhead | Wiltshire | 65,300 |
| 4 | Fountains Abbey | North Yorkshire  | 59,900 |
| 5 | Waddesdon Manor | Buckinghamshire | 45,300 |
| 6 | Brimham Rocks | North Yorkshire | 40,000 |
| 7 | Cliveden | Berkshire | 33,600 |
| 8 | Chartwell  | Kent | 30,900 |
| 9 | Belton House | Lincolnshire | 27,200 |
| 10 | Cragside | Northumberland | 25,700 |
1. Giant's Causeway (319k Instagram Posts)
World Heritage site Giant's Causeway is situated in County Antrim, Northern Ireland, and is one of the UK's best-known natural landmarks. A formation of some 40,000 interlocking basalt columns, Giant's Causeway was formed as a result of an ancient volcanic eruption. 
Giant's Causeway is a fun site to take the kids to due to the striking nature of the rock formations, which also make a great Instagram backdrop! Just be careful on the rocks – they can get slippery when the tide is in!  
2. Dunham Massey (67k Instagram posts)
Based in Trafford, in the outskirts of Manchester, Dunham Massey is a Georgian house brimming with history. Its grounds are home to a series of fun architectural oddities and a thriving natural ecosystem, as well as an ancient deer park, which offers a wonderful chance to view the magnificent creatures. There's plenty of places for a quick photo at Dunham Massey, which boosts it right up to second place. 
3. Stourhead (65.3k Instagram posts)
A world-famous landscape garden in Wiltshire and Somerset, Stourhead is a 2650-acre estate which was first described as a 'living work of art'. The garden's centrepiece is a magnificent lake surrounded by mystical grottoes, rare and exotic trees, and picturesque arched bridges. There's also Stourhead House, a stately home overlooking the estate.
4. Fountains Abbey (59.9k Instagram posts)
Located near Ripon, North Yorkshire, Fountains Abbey is one of the largest and best-preserved Cistercian monasteries in England. As well as the monastery ruins, the site is also home to Studley Royal, an 18th-century landscaped garden, and a Victorian church. There's even a deer park, where you might be lucky enough to capture some of the country's most majestic creatures.
The result is a fab family day out with plenty of scenic walks and photo opportunities – don't miss out!
5. Waddesdon Manor (45.3k Instagram posts)
A sprawling stately home once belonging to the Rothschild family, Waddesdon Manor's stunning façade, period interiors and immaculate lawns make it a great place to grab a family picture. A gorgeous fountain adorns the front lawn, and, with a summer programme packed full of events and exhibitions, you'll have no problem bringing the little ones. 
6. Brimham Rocks (40k Instagram posts)
An awe-inspiring collection of naturally-occurring rock formations in North Yorkshire, Brimham Rocks is the ideal place to bring the kids when you're looking to get them out of the house! There are plenty of rocks to scramble over, nooks and crannies to explore, and – best of all – an ice cream kiosk at the end!
7. Cliveden (33.6k Instagram posts)
The former home of the noble Astor family, Cliveden House's glorious gardens overlook the river Thames in Berkshire. With a selection of picturesque gardens for all seasons, you can grab a great picture here year round! The 2022 boating season is open this summer, so you and the family can book a boat, and explore one of the most beautiful stretches of the river Thames. 
8. Chartwell (30.9k Instagram posts)
Famous for being the home of Winston Churchill, Chartwell is a brilliant day out with a historical, educational twist! The house maintains many of Churchill's amateur paintings, creating an intimate portrait of the former Prime Minister, and his curated gardens remain as they were in the mid-20th century.
9. Belton House (27.2k Instagram posts)
Belton House is a country house in Lincolnshire which is surrounded by 1,300 acres of gardens and parkland to explore. If you're searching for an active day out, look no further! The 'Summer of Sport' programme is currently taking place, so there are plenty of activities to take part in. Oh, and it happens to host the National Trust's largest adventure playground.
10. Cragside (25.7k Instagram posts)
Can't decide between a museum or a hike? Cragside may be the perfect place for you. Famous for being the UK's very first 'smart home,' Cragside is the brainchild of Lord and Lady William Armstrong, who used hydraulics and hydroelectricity to power their home in the 1800s. Plenty of these historical gadgets remain on display today, and the house is also surrounded by 40-miles of stunning hikes, so there's something for everyone here!  
In Conclusion
If you're at a loose end one day this summer, why not head to one of the National Trust's wonderful properties? With properties up and down the country, there's bound to be a fun family day out that's not too far from home.
Plus, many of the National Trust's sites can be accessed for free! Simply head to their website to find out more.