Copywriting 2.0 – Your Complete Guide to Writing Web Copy that Converts.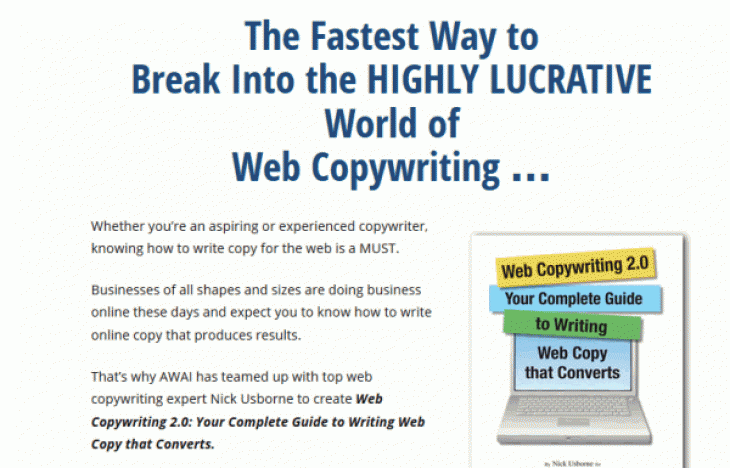 Writing copy for the web is NOT the same as writing traditional direct mail copy. There are marked differences, and that is precisely the reason companies are willing to pay so much for a Web copywriter … and why some websites convert visitors into cash, while others do not.
That's why AWAI teamed up with web copywriting expert Nick Usborne to create Copywriting 2.0: Your Complete Guide to Writing Web Copy that Converts.
Nick's been a copywriter for 30 years now, 11 of which he's dedicated solely to online copy. He's worked with, and has been a Web-copy consultant to, companies like Microsoft, Yahoo, Disney, America Online, and The New York Times.
In fact, he's so sought after, that many of these Fortune 500s have locked him down under contract for up to three months at a time!
In this program, Nick shows you how to dramatically improve any web page, email campaign, or e-newsletter.
Section 1 focuses on what it takes to be a successful online copywriter, as well as on the nuts and bolts of good Web copywriting. This section will give you a solid foundation for becoming an in-demand, highly paid online copywriter.
Section 2 is where you learn Nick's proven strategies for creating Web pages that sell. Master this section, and get ready to command fees of $1,500, $2,000, even $3,000 … just for writing a single 500-750 word Web page!
Section 3 shows you how to earn even more money by writing materials your clients are going to keep on needing … not only a constant stream of copy that they can test, but also emails, e-newsletters, and blogs to help them stay in touch with their customers and prospects. With ongoing assignments like these from just a handful of clients, getting to six figures can be a snap.
Section 4 gives you Nick's "million-dollar" tips, techniques, and insights for writing blockbuster Web copy – the edge Fortune 500s are looking for when they hire Nick.
And when you're done –you'll be able to confidently present yourself to any company, large or small, as an expert who can transform their online presence, or make money from your own online business than you ever thought possible.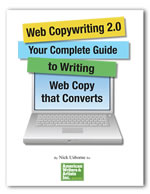 A word from Nick...
Unlike most web copywriting courses, this one isn't all about writing single-page sales letters. Instead, I focus on the kinds of sites you and I work on every day...10-page sites, 100-page sites, 1,000-page sites and so on.
In other words, I address the full complexity of web copywriting...writing single pages, page sequences, links, keywords, a variety of different kinds of email, e-newsletters and more.

The course comprises my complete body of knowledge on the subject of writing for the web. This is the whole ball of wax, presented in a sequence that makes sense from beginning to end.
Should you get a copy?
If you want to know everything I know about web copywriting, I think this course will serve you well.
I have written it in a way that will work for anyone who writes for the web, whether you are a freelancer, entrepreneur, webmaster or part of an in-house online writing team.
My intention was to write the first "professional grade" course for online writers and copywriters.

I think, and hope, I have achieved exactly that.

 
The course is published and marketed by American Writers and Artists Inc.
Read their information and sales page here...
For More AWAI training programs, click here …

You might also like...